Earlier I had written about Christopher Hitchens' poor health in the wake of his latest chemotherapy treatments for esophageal cancer.  For the first time in his entire career Chris was unable to meet a deadline and Slate had to announce the following: "Christopher Hitchens is unwell. Chris is undergoing radiation treatment and wasn't able to write this week's column on his usual schedule. He hopes to file soon." Well, it looks like he got his strength back to finish his piece which raises a fascinating perspective on the wave of freedom sweeping through the Middle East: if Saddam Hussein was still in power, these uprisings would never have been possible.  Here's an excerpt from the article:
"The most heartening single image of the past month—eclipsing even the bravery and dignity of the civilian fighters against despotism in Syria and Libya—was the sight of Hoshyar Zebari arriving in Paris to call for strong action against the depraved regime of Col. Muammar Qaddafi. Here was the foreign minister of Iraq, and the new head of the Arab League, helping to tilt the whole axis of local diplomacy against one-man rule. In May, Iraq will act as host to the Arab League summit, and it will be distinctly amusing and highly instructive to see which Arab leaders have the courage, or even the ability, to leave their own capitals and attend. The whole scene is especially gratifying for those of us who remember Zebari as the dedicated exile militant that he was 10 years ago, striving to defend his dispossessed people from the effects of Saddam Hussein's chemical weapons.
Can anyone imagine how the Arab spring would have played out if a keystone Arab state, oil-rich and heavily armed with a track record of intervention in its neighbors' affairs and a history of all-out mass repression against its own civilians, were still the private property of a sadistic crime family? As it is, to have had Iraq on the other scale from the outset has been an unnoticed and unacknowledged benefit whose extent is impossible to compute. And the influence of Iraq on the Libyan equation has also been uniformly positive in ways that are likewise often overlooked.
On the first point, I admit that Egyptian and Tunisian and other demonstrators did not take to the streets waving Iraqi flags, as if in emulation. (Though Saad-Eddin Ibrahim, intellectual godfather of the Egyptian democracy movement, did publicly hail the fall of Saddam as an inspiration, and many leaders of the early Lebanese "spring" spoke openly in similar terms.) This reticence is quite understandable since, apart from the northern Kurdish region of Iraq from which Foreign Minister Zebari hails, the liberation of the country was not entirely the work of its own people. But this point has become a more arguable one since the Arab League itself admitted that there are certain regimes that are impervious to unassisted overthrow from within. Qaddafi's is pre-eminently one of these, and Saddam's was notoriously so, as the repeated terror-bombings and gassings of the Shiite and Kurdish populations amply proved. Meanwhile, Iraq already has, albeit in rudimentary and tenuous form, the free press, the written constitution, and the parliamentary election system that is the minimum demand of Arab civil society. It has also passed through a test of fire in which the Bin Ladenists threw everything they had against an emergent democracy and were largely defeated and discredited. These are lessons and experiences that are useful not just for Mesopotamia.
… The immediate task now is to assimilate those lessons, shorten the time in which the knowledge gained can be applied, call the evil by its right name, and face Qaddafi with a stark choice between his own death and his appearance in the dock. It is morally unthinkable that he should emerge from this episode with even a rag of authority to call his own, and it is morally feeble not to say so out loud. The ugly and clumsy words mission creep take on a sudden beauty all of their own. When the Arab League meets in May, it should welcome a new Libyan provisional government on the soil of a free Iraq. Then we will have closed the circle—and vindicated all those brave people who fell in bringing down the first and worst bastion of the ancien regime."
He goes on to make a very strong case and you can read the full article over at Slate. I'm glad you're back Chris!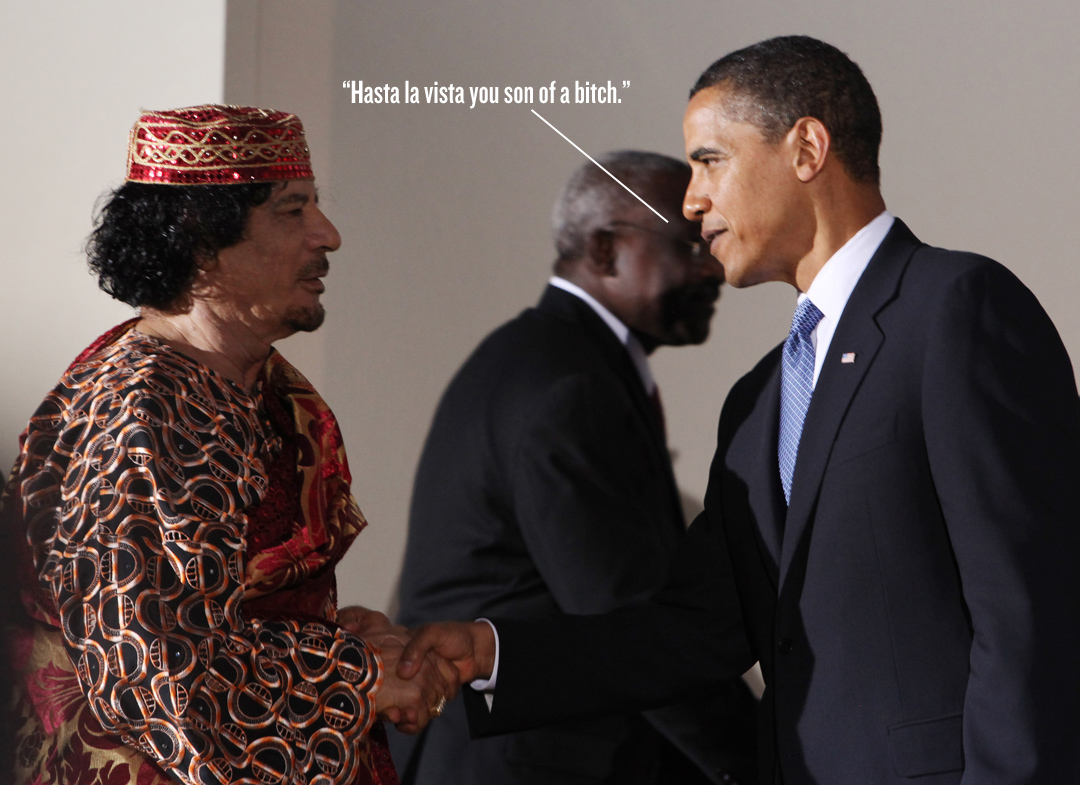 Source: Slate