Behold is the first look at the official artwork for Terrence Malick's "Tree Of Life".  Until now, plot details have been kept under wraps but thanks to the American Film Market, kicking off today (and launching 1,001 early art and casting stories), Collider has snapped some early sales art for the film. The artwork is an early poster for the flick, and we'd wager it won't be final.  At least we hope not. It's sort of uninspired, and the giant text looks like something geared more for sales than promotion—after all, that's the point of AFM.  But that said, the central tree and illuminated house in the background speaks to the ethereal quality to the upcoming film—or at least what we grasped from the script (which may or may not end up resembling the pic)—and we're glad to have an early peek.  The poster was accompanied with a very old synopsis to the film, one that has been kicking around already for a year. But you can check it out after the jump:
From the Desk of Terrence Malick….
We trace the evolution of an eleven-year-old boy in the Midwest, Jack, one of three brothers.  At first all seems marvelous to the child.  He sees as his mother does with the eyes of his soul.  She represents the way of love and mercy, where the father tries to teach his son the world's way of putting oneself first.  Each parent contends for his allegiance, and Jack must reconcile their claims.  The picture darkens as he has his first glimpses of sickness, suffering and death.  The world, once a thing of glory, becomes a labyrinth. From this story is that of adult Jack, a lost soul in a modern world, seeking to discover amid the changing scenes of time that which does not change: the eternal scheme of which we are a part.  When he sees all that has gone into our world's preparation, each thing appears a miracle—precious, incomparable.  Jack, with his new understanding, is able to forgive his father and take his first steps on the path of life. The story ends in hope, acknowledging the beauty and joy in all things, in the everyday and above all in the family—our first school—the only place that most of us learn the truth about the world and ourselves, or discover life's single most important lesson, of unselfish love.
As a reminder, Jack is played by Sean Penn (decades later), with Brad Pitt and Jessica Chastain as his parents. There might be dinosaurs somewhere in here to. The picture will hit theaters on May 27, 2011 and the suddenly productive Malick is already shooting his next picture which may or may not be called "The Burial."
SEE ALSO: Early Screening of Terrence Malick's "TREE of LIFE" Compares Film To "2001: A Space Odyssey" as well as "Tree Of Life" Producer Holding Test Screenings In His Home, Still Waiting For My Invitation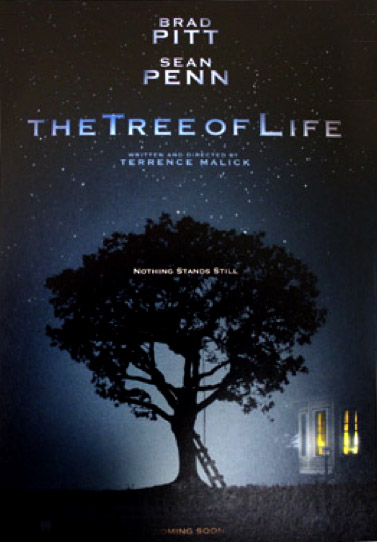 Source: The Playlist