Jonathan Demme's horror masterpiece The Silence Of The Lambs was released on February 14, 1991 to unprecedented critical acclaim.  The film, based on Thomas Harris' 1988 novel of the same name, was only the third in history to win Oscars in all the top five categories: Best Picture, Best Actress, Best Actor, Best Director and Best Adapted Screenplay. It was also the first time the Oscar for Best Picture was ever awarded to a horror film, and only the second such film to be nominated in the category, following The Exorcist's lead in 1973.  The film is considered of huge "cultural, historical and aesthetic" significance by the U.S. Library of Congress and was selected to be preserved in the National Film Registry in 2011.
With each passing year The Silence Of The Lambs continues to both terrify and fascinate film lovers and those fascinated with the powerful duality of human nature.  From the unshakeable motivation of FBI Agent Clarice Starling (Jodie Foster) who devotes her life to making the world a better place, to the unspeakable psychopathy inside the mind of Jame "Buffalo Bill" Gumb (Ted Levine), The Silence Of The Lambs is an unrivaled masterpiece showcasing everything that is right and wrong with our world.  And striding the middle is Hannibal Lecter (Anthony Hopkins) — a man of exceptional brilliance with an appreciation of beauty matched only by his deadly obsession with cannibalism and a moral compass gone completely awry.
This coming February 2013 will mark the film's 22nd anniversary, yet all these years later we are still learning more and more about how this film evolved, the people and decisions and last-minute changes that realized its final form, and the bizarre range of planned and unplanned influences that shaped it from beginning to end.  Cindy Davis of Pajiba published a brilliant look at the Top 20 most fascinating facts about the film, and the following is a brief glimpse:
1. Jodie Foster and Gene Hackman were each instantly obsessed with Harris's book from the moment it was released.  Hackman optioned the book for $250,000 with hopes to direct and star as Hannibal. Foster also expressed her passion from day one to play Starling.
2. Gene Hackman's daughter convinced him the film was too violent so Hackman dropped out.  Orion approached Jonathan Demme and he says it was the first and only film he'd ever committed to direct without first reading the script.
3. Demme desperately wanted Michelle Pfeiffer to play Clarice Starling, but she refused due to the violence.  Demme was unconvinced of Foster's ability, so he approached 300 other actresses including Meg Ryan, Gina Davis, and Melanie Griffith. Demme's first choice for Hannibal Lecter was Sean Connery — who turned down the role.  Jack Nicholson never returned Demme's phone calls, and Jeremy Irons was worried about doing another villain role.
4. Part of Foster's passion for playing Clarice was the fact that it was "almost unheard of in cinematic history to have a woman saving other women."
5. Demme says he met with several terrific actors for the role of Jame "Buffalo Bill" Gumb, but none of them were even remotely as terrifying as Ted Levine's audition.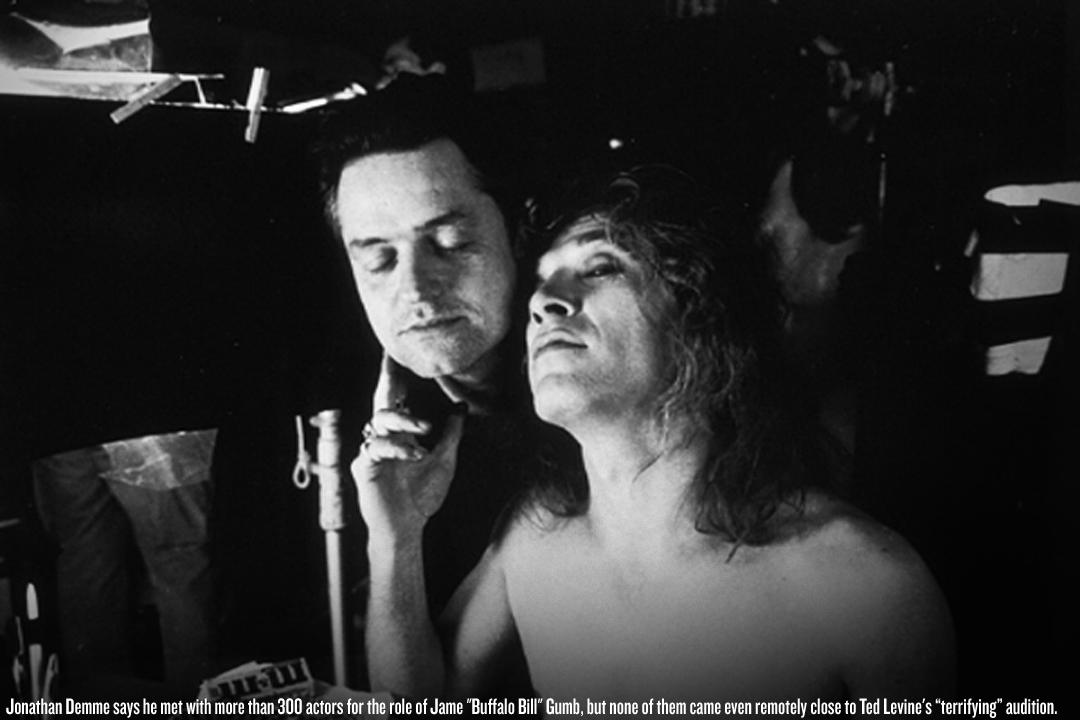 6. Scott Glenn who plays FBI Behavioral Sciences chief Jack Crawford, is in reality a huge opponent of the death penalty.  During a disturbing experience while researching his role Scott Glenn burst into tears when listening to tapes of victims of one serial killer in particular.
7. An original idea for the opening was to have Clarice burst into a room filled with terrorists and have all of the actors burst out laughing and say "Just kidding!"
8. When casting the role of Catherine Martin, the girl in the well, Demme wanted to honor real-life victims of similar cases by not using a real actress.  This is how Brooke Smith got the role.
9. To save money producers needed to keep all locations as close to Quantico, Virginia as possible.  Numerous exhaustive locations scouts drained the crew of energy and motivation, but in the end were responsible for some terrific compromises and efficient uses of space.  For instance, "The Soldiers and Sailor's Museum in Pittsburgh, PA held Lecter in his cage, a nearby GE Turbine plant that had just closed was huge and Lecter's cell area was built within, as was the Gumb home and pit."
10. Demme was shocked and deeply frustrated on the first day of shooting when Jodie Foster began to speak in a Californian accent.  Demme was confused why and asked Foster to change it.  Foster instantly switched to a Virginian accent which blew Demme away.
11. Anthony Hopkins' inspiration for Lecter came from Stanley Kubrick's HAL 9000 computer in 2001: A Space Odyssey.  Hopkins also wanted to wear crisp white due to most of society's irrational fear of doctors and dentists.  He also wanted to be standing perfectly straight and alert when Clarice first meets him in his glass cell in order to give the audience something they would never have expected.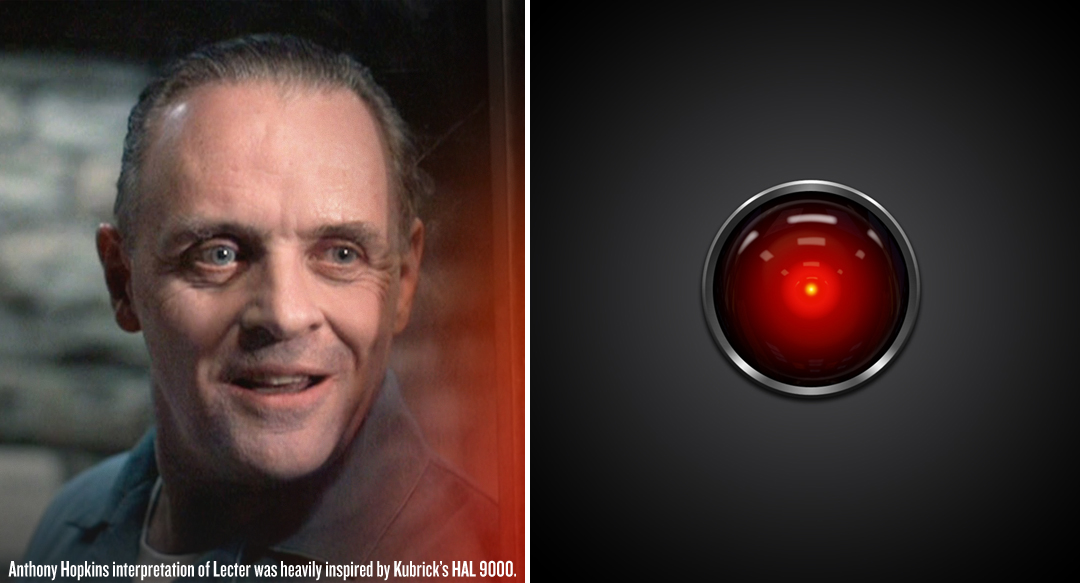 12. The shoot was gruelling for Foster because the film was shot in-camera, which meant that the actors couldn't move off mark by even an inch without going out of focus.  By the end of each day Foster says she was exhausted.
13. Hopkins was inspired to make his chianti sucking noise based on Bela Lugosi's Dracula performance — although he says he couldn't remember if it was actually in Dracula or if he had dreamed that it was.
14. The severed head that Clarice discovers in the storage unit is actually producer Ed Saxon wearing a face mask.  Several of Demme's close friends and crew make cameos in the film.
15. The Death's-head Hawkmoths that were brought in for the shoot died almost instantly from the cold.  Different moths had to be fitted with glued fingernail costumes to look like the Hawkmoths.  The skull comprised of naked women that was used in the poster is a copy of a photograph entitled In Voluptas Mors by Philippe Halsman featuring Salvador Dali.  The inspiration for Halsman's photo was taken from Dali's own drawing Human Skull Consisting of Seven Naked Women's Bodies.
16. Demme felt the scene where Starling is explaining the trauma of seeing those lambs being slaughtered when she was a little girl needed visuals.  Demme shot an elaborate accompanying scene, but cut it in the end because nothing matched the powerful emotion expressed in Jodie's face.
17. Demme asked Levine if he wanted to dance naked as Gumb during the basement scene.  Demme never felt that Gumb was gay — his inspiration for the skin costume was that Gumb hated himself so deeply he wanted to become the exact opposite of what he was.  Demme was personally devasted when the film evoked protests from the gay and lesbian community, and he says not having better clarified this point about Gumb's character its his biggest and only regret.
18. Demme called Thomas Harris for his thoughts on the film, but Harris said he was afraid to see the film because he was concerned the cinematic interpretation would be so strong it would contaminate his own imagination of who his characters already were.
19. The basement scene was the shot on the last day of shooting, and lasted a gruelling 22 hours.
20. The film was supposed to be released in the fall of 1990 but Orion was such a small studio they were too inanely busy already with Dances With Wolves.  Demme said he released it on Valentine's Day 1991 because he thought it would be a great date movie.
And this is just the beginning of the story.  The full list at Pajiba is filled with even more amazing behind-the-scenes stories, and you can read it in full by visiting Pajiba.com.  For a terrific series of behind-the-scenes photos from the making of the film be sure to visit Flavorwire.com.  And for all FEELguide stories related to The Silence Of The Lambs CLICK HERE.