The morning news is about to get a whole lot more interesting.  It was announced yesterday that CBS has signed Charlie Rose and Gayle King as the brand new hosts of CBS's morning news program The Early Show.  The show has consistently placed third in the decades-long ratings race with NBC's top-rated TODAY Show, and ABC's Good Morning America, but this could very well change in January when Rose and King take over the anchor desk.  There is no bigger fan of Charlie Rose than me, and as familiar as I am with seeing Charlie's face every night at midnight before my head hits the pillow, it will be an added bonus to see his lovely face when I wake up again the next morning.  Gayle King has always been underrated as an on-air personality in my opinion, and their addition is exactly what The Early Show needs to compete with their two heavyweight rivals.  Rose will co-anchor the 7am. hour with Erica Hill, and King will co-anchor the 8am hour with Jeff Glor.  Here is an excerpt from The Daily Beast's report on the exciting new direction for the show:
They were courted by CBS News Chairman Jeff Fager to become part of a newsier, less traditional morning program that would try to forge a new identity rather than copy NBC's TODAY Show and ABC's Good Morning America. CBS has been struggling to find a winning combination in the morning for three decades, acquiring and shedding various hosts and formats. TODAY, now hosted by Matt Lauer and Ann Curry, has held the No. 1 spot for 13 years, and GMA, with Robin Roberts and George Stephanopoulos, has lately become more competitive in chasing its rival.
CBS Vice President of Programming Chris Licht, the former producer of MSNBC's Morning Joe, has been trying for quite some time now to rebuild The Early Show to concentrate more on hard news and less on sensationalism and popular culture.  The network is building a brand new multimillion-dollar studio for the revamped program, and in an interview regarding the new show, Charlie Rose said: "I'm intrigued by the fact that they want to do it differently. They understand that their success will not lie in duplicating what's already on morning television."
Rose, who already has a CBS connection as a part-time correspondent for 60 Minutes, is known for long, discursive conversations with newsmakers, journalists and intellectuals via his longtime interview program Charlie Rose on PBS.  Gayle King is the Editor of Oprah Winfrey's O Magazine, and her brand new daytime talk show recently premiered on Winfrey's OWN Network.  You can read the full story by visiting The Daily Beast.  The Early Show was the inspiration for the 2010 film Morning Glory about the revamping of a third place nationally-syndicated morning news program.  The film stars Harrison Ford (as a very grumpy legacy anchorman — the exact opposite of the amazingness that is Charlie Rose's sweetness, brilliance, and perfection) and Diane Keaton.  For all FEELguide posts related to Charlie Rose CLICK HERE.
SEE ALSO: Matt Lauer Asking For $25,000,000 Salary (Which He Deserves)
SEE ALSO: TODAY Show Host Ann Curry Officially Ranks Among The World's 100 Most Powerful Women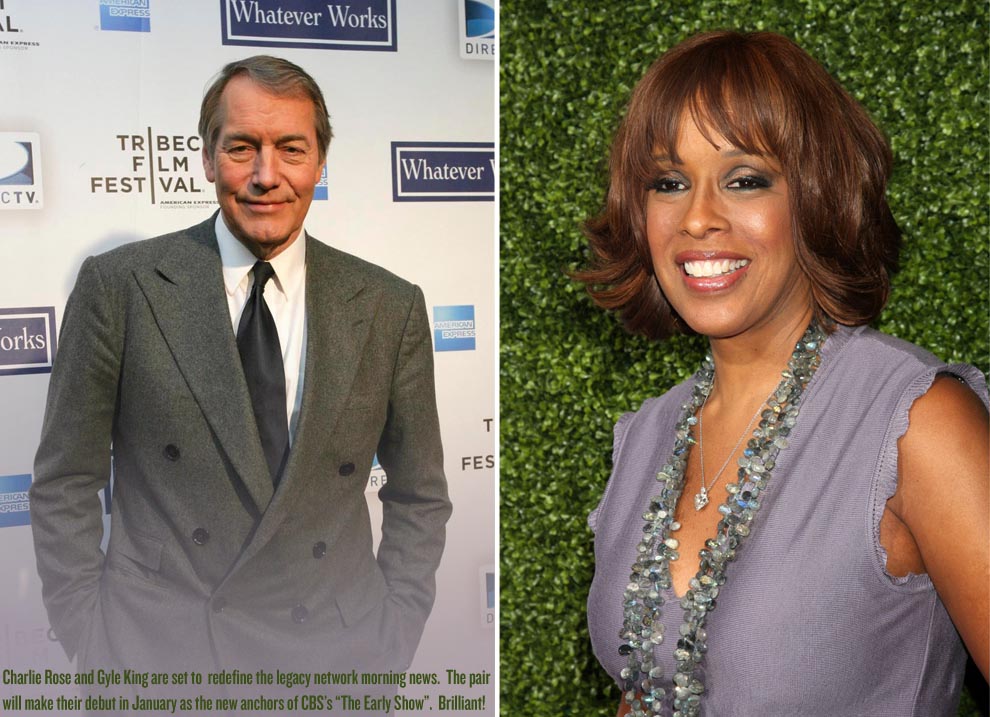 Source: The Daily Beast