DUMMY just posted this terrific piece this morning on the music of groundbreaking new London-based artist patten, and the remixes that he just commissioned for various tracks off his latest album.  His first widely available release entitled GLAQJO XAACSSO (pronounced "glack-geut zack-so") was released on September 26th to major critical acclaim including the following reviews: FACT ("Remarkable. One of the year's most exciting debuts"), Boomkat ("Among the albums of the year"), and Drowned In Sound (9/10). patten is repped by labels Kaleidoscope as well as No Pain In Pop which breaks down his sound in these words:
Working out from a space somewhere between early house, Factory Records and post punk, Warp's mid-90s catalogue, shoegaze, Musique Concrète, and 2000s Funktion One bass pressure, a myriad of forms unite into a rare, emotionally rich and euphoric whole with the precision worthy of a true auteur. This hallucinatory record is a truly unique and all-enveloping experience.  Like it's title, patten's LP appears as if from some parallel world; prismatic and mirage-like, soaked in the searing heat of urgency.  
To pick up your own copy of GLAQJO XAACSSO simply head over to No Pain In Pop.  For the remix EP, patten played things differently.  Instead of giving the original "stem" of each track to the group of talented remixers, he instead provided them each with select "chunks".  And the final remixes have resulted in what DUMMY describes as some interesting "patterns and melodies that spring forth from the fertile ground of patten's original, often obscured creations."  Take a listen to the five remixes below which includes my personal favorite interpretation "A.M./Soft Focus" courtesy of Halls.  I've also attached the original track in YouTube form below.  For all things patten be sure to follow him on Facebook, MySpace, Soundcloud, Bandcamp, as well as his website patten.com. 
SEE ALSO: The Throbbalicious Dubstep Of BURIAL, The Electronic Music Equivalent Of Banksy
SEE ALSO: Jamie XX, The Remix Guru Of THE XX, Puts Together 2 Hours Of Brilliance For His BBC Essential Mix
SEE ALSO: Listen To NAIL THE CROSS Music Festival's Latest Mixtape Of Weirdo Pop And Dronal Dance Music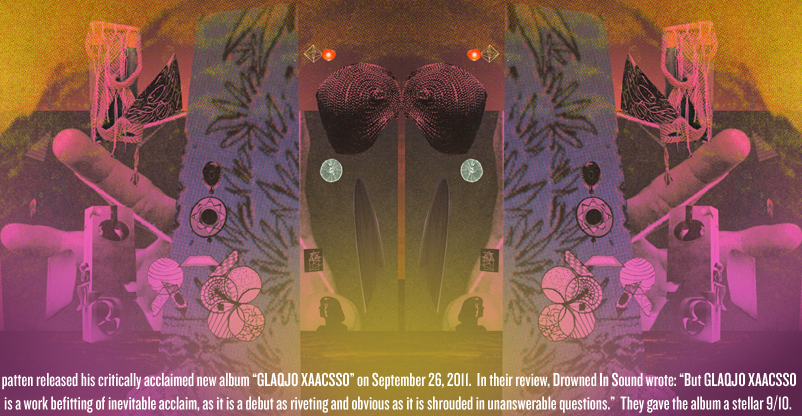 Source: DUMMY