Last week The New York Times published a profile of Magnolia Pictures' new documentary Magic Trip, a compilation of old footage that fulfills a wish of Ken Kesey, the man who filled a painted bus with both old and new friends and set out across America in 1964 in search of mind expansion and adventure.  The film is presented in conjunction with The History Channel, and it's a fascinating true account of Ken and his posse as they ventured across the country with the hopes of spreading love and consciousness to everyone they encountered — the same trip which was so famously written about by Tom Wolfe in his book, "The Electric Kool-Aid Acid Test."  The following is an excerpt from the NYT review:
Kesey was onto something similar to what we would now call reality television: scenes of people with odd names (Mal Function, Gretchen Fetchin, Generally Famished) getting stoned and behaving weirdly. After publishing the novels"One Flew Over the Cuckoo's Nest" and "Sometimes a Great Notion," he had by 1964 wearied of writing or so fried his brain with hallucinogens that he embraced what he saw as a brand new art form: a drug-enabled psychic quest that would document itself as it was happening. The famous bus — a psychedelic-painted International Harvester with a sign in front that said "Furthur" and one in back that warned "Weird Load" — was wired for sound, and there was a movie camera on board. With Kesey sometimes directing and sometimes just standing back and watching, the Merry Pranksters filmed one another and also their interactions with an uncomprehending public when, for example, Neal Cassady drove the bus backward down a Phoenix street as the Pranksters, stoned on LSD, pretended to campaign for Barry Goldwater for president.
The film, directed by Alex Gibney and Alison Ellwood, opened this past Friday and is an exercise in what they call "archival vérité."  To read the full review be sure to visit The New York Times. And to watch the film on demand simply head over to Magnolia Pictures.  You can also learn more by visiting the film's website at MagicTripMovie.com.
SEE ALSO: "The Financial Times" Looks At The Role Of Drugs In The History Of The Arts
SEE ALSO: Acclaimed Neuroscientist And Author Sam Harris Explores "Drugs And The Meaning Of Life"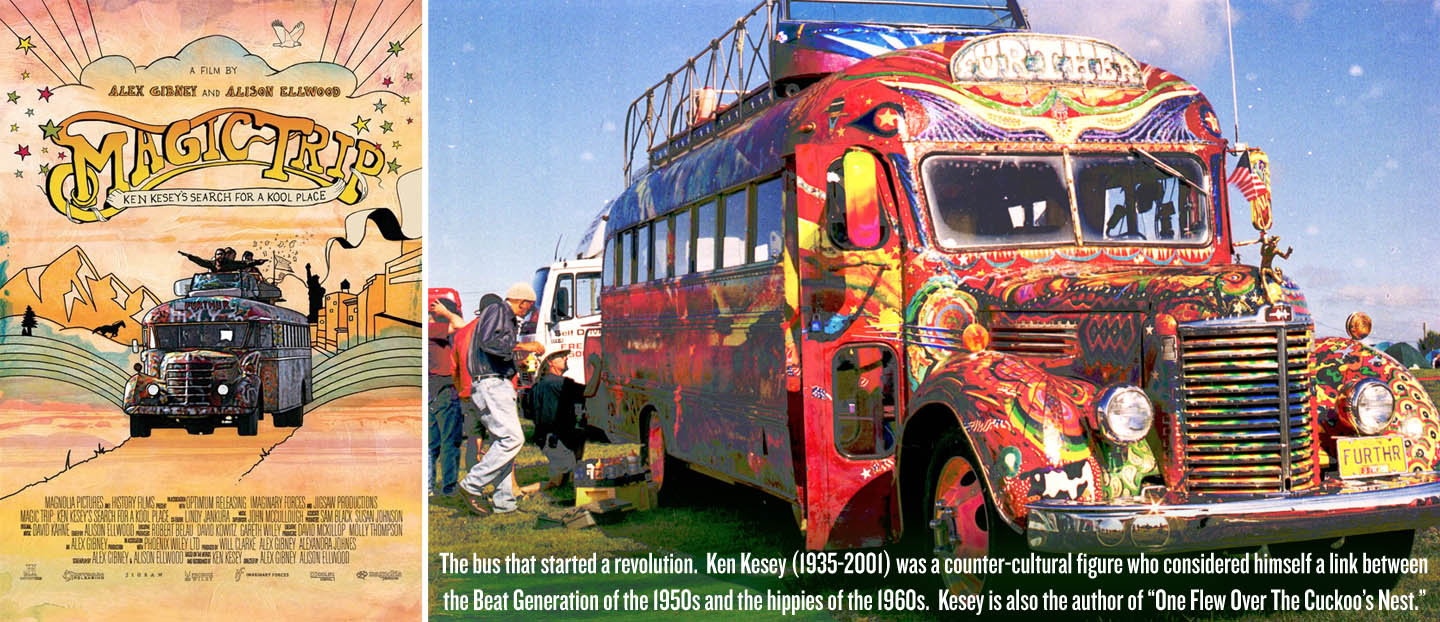 Source: Laughing Squid