Christian Marclay's art installation "The Clock" is a 24-hour-long film which assembles painstakingly sampled images from a massive number of movies to track the viewer through a full day in real time.  The process of making the piece was so intense and took so long that Marclay developed calluses on his fingers in the editing process.  But his hard work has not gone unnoticed as Marclay was just awarded The Gold Lion top prize at this year's Venice Biennale, the granddaddy of all art shows.  The prize was announced over the weekend by a five-member jury including Hassan Khan, Carol Yinghua Lu, Letizia Ragaglia, Christine Macel and filmmaker John Waters. Critics worldwide are heralding "The Clock" as one of the most prolific and groundbreaking achievements in both art and in film in decades.  The Los Angeles Times profiled the artist as soon as the news broke:
Marclay is a California-born artist and composer who has explored notions of synchronicity among music, film and video in his works. "The Clock" runs for 24 hours and features a montage of clips from such diverse films as "High Noon," starring Gary Cooper; "Titanic," with Leonardo DiCaprio; and the Arnold Schwarzenegger action movie "Eraser." Times shown on screen in "The Clock" are synchronized with real time.
The Los Angeles County Museum of Art, which acquired the work earlier this year, held a 24-hour screening of the film recently, and will continue to show "The Clock" until July 31.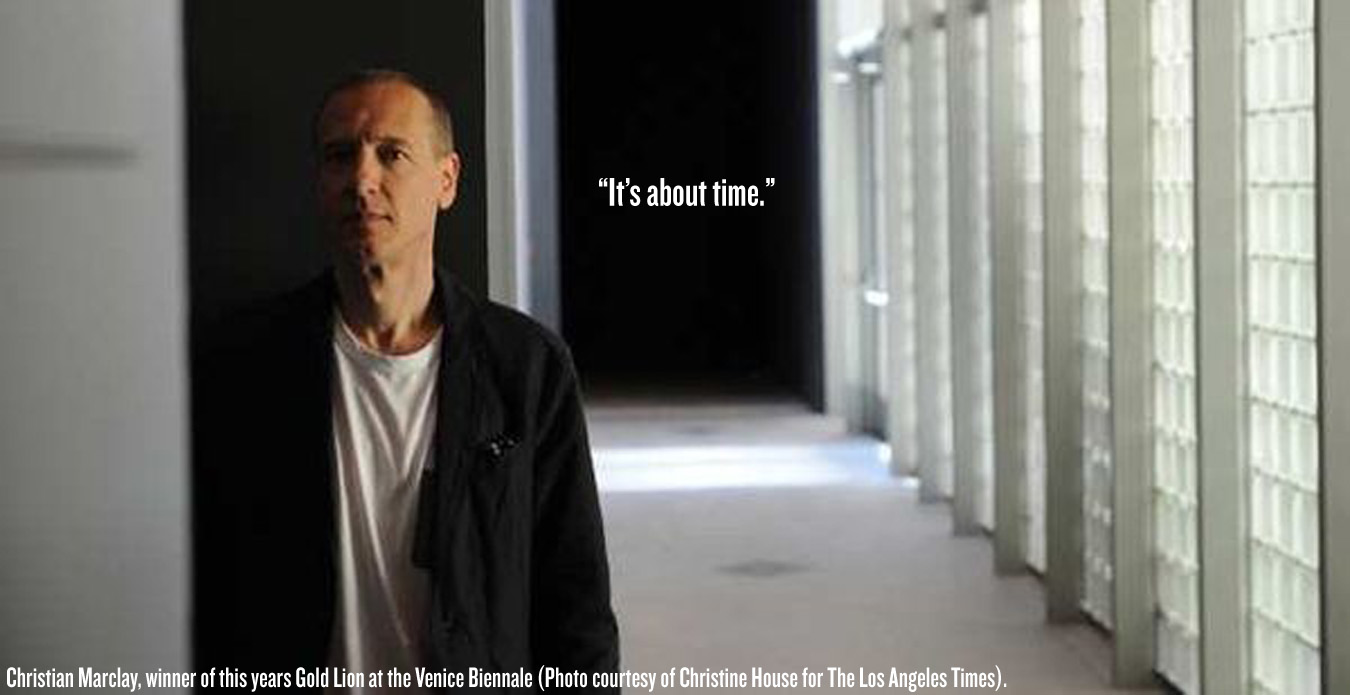 Source: The Los Angeles Times via DHC ART