I just renewed my gym membership a couple weeks ago which means I've been on a major hunt for some fresh new muscle power music.  I came across London-based music producer BURIAL (a.k.a. William Bevan) while perusing through Pitchfork last week where they reviewed his second album, 2007's critically-acclaimed Untrue (it was the second-highest rated album of 2007, according to the review-collating website Metacritic). This was a follow-up to his blowout 2006 debut album Burial which The Wire named their Album Of The Year, along with achieving fifth place in the MIXMAG 2006 Album Of The Year list, and eighteenth in the Best Of The Year ranking of The Observer Music Monthly supplement.  Adding an extra layer of intrigue to his talented young man is the fact that he's managed to remain completely anonymous in much the same manner as Daft Punk and Banksky have.  On July 22, 2008, The Guardian reported that BURIAL was a nominee for the 2008 Mercury Music Prize, and NME reported a week later that he was the favorite for the award. After much Mercury Prize-related coverage in tabloid newspapers in the UK, including speculation that BURIAL was either Richard D. James (Aphex Twin) or Norman Cook, BURIAL confirmed The Independent's information and posted a picture of himself on his MySpace page on August 5, 2008 (see below). A blog entry stated, "I'm a lowkey person and I just want to make some tunes, nothing else", as well as announcing a forthcoming four-track 12″, and thanking his fans for their support up to this point (Elbow ended up winning the award in question).  In an interview with Hyperdub, BURIAL elaborates on the genesis of his sound and style:
"Sometimes you just want music to stay where it is from. I love drum & bass, jungle, hardcore, garage, dubstep, and always will till I die, and I don't want the music I love to be a global samplepack music. I like underground tunes that are true and mongrel and you see people trying to break that down, alter its nature. Underground music should have its back turned, it needs to be gone, untrackable, unreadable, just a distant light."
Below I've attached a couple of my favorite tracks of BURIAL's, including "Street Halo" from his Street Halo EP (NOTE: the song takes a little while to build, but the real magic starts around the 1:10 mark) as well as the title track from Untrue. You can learn and hear more from BURIAL at MySpace and Discogs.com.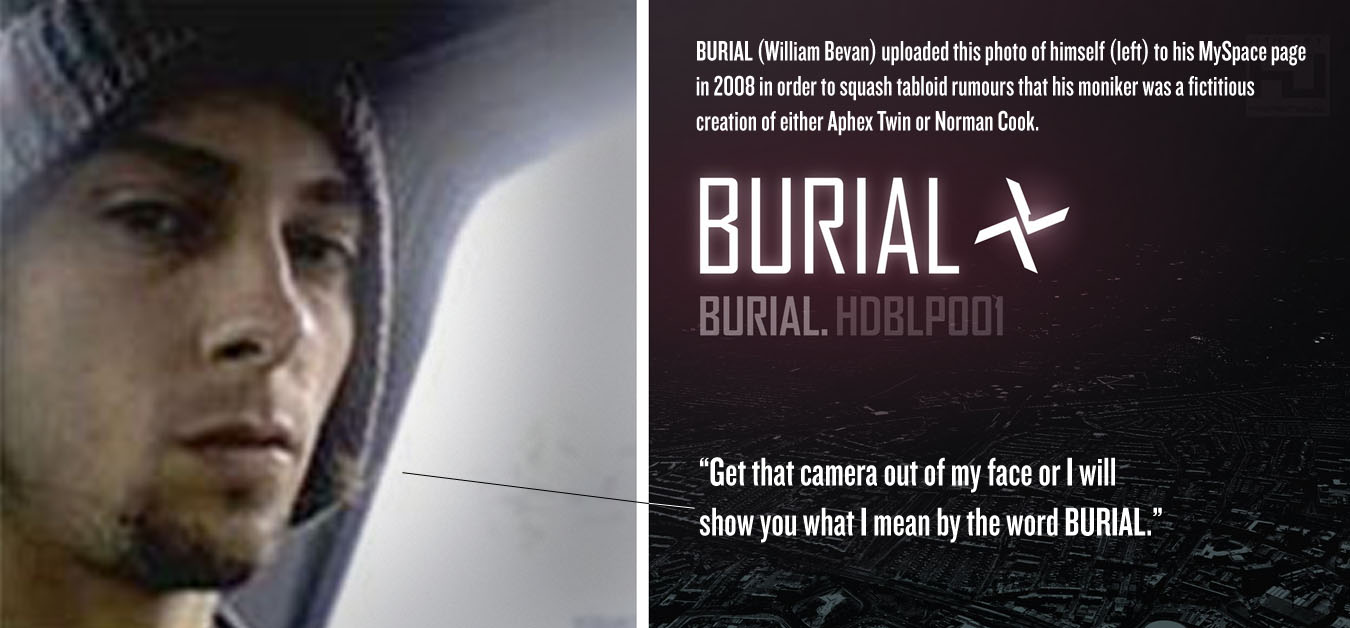 Sources: Pitchfork and Wikipedia