The first time I had ever heard of Mike Catherwood (born March 15, 1979 in Los Angeles) was a few months back when I caught the opening of LIVE! With Regis And Kelly. Instead of seeing Regis's 80-year-old teeth-bleached and orange-painted face staring back at me, I was instead captivated by the hunky chunk of perfection otherwise known as "Psycho Mike". Mike was sitting in for The Reege as guest co-host for the day, and from that morning onwards his career has gone supernova. Within minutes, this adorable and impossibly rare combo of brains, beauty, and comedy managed to captivate the entirety of North America with his charm, charisma, incredible sense of humor, and his billion dollar smile ("ooohhh that SMIIIILE!") and Mike Catherwood's life instantly changed forever.
Mike Catherwood's first brush with the entertainment industry came when he walked in the front door of legendary L.A. radio station KROQ in 2003 (the same station that launched the careers of Jimmy Kimmel, Carson Daly, and Adam Carolla) and landed a thankless job on the very bottom rung of the radio industry's success ladder as a promotions assistant. Within a year he heard of a job opening on The Kevin & Bean Show as a board operator, and after an apparently disastrous interview, Mike thought he fucked it all up; however, Kevin and Mike were smart enough to see a diamond in the rough and brought him on board. Suddenly this amateur body builder and certified personal trainer got his big break. Fast forward to 2011 where Mike's brilliant track record at KROQ as the hilarious and smart-as-a-whip sidekick VJ (he's a Rutgers grad after all) landed him the co-host position on the nationally syndicated Loveline show opposite Dr. Drew.  With this platform, Mike has been helping tens of thousands of callers and listeners overcome their substance abuse with his heartfelt and uniquely-styled pearls of trusted wisdom rooted in his combined intellectual, empathic, and experience-based advice (he showed the devil of addiction who's boss years ago when he whipped out his metaphorical Sigourney Weaver flame thrower: "Get away from me you BITCH!!!"). Mike has been delightfully candid about his own struggles and has shown countless people through the years that not only can you overcome this challenge, but also how to use this experience as an aggregate in the forging of a new life path that is infinitely rewarding and filled with dreams, light, and hope stretching from here to the stars beyond. My favorite way of looking for the hidden silver linings of these kinds of heavy chapters in our lives is to compare them to forest fires. A forest that has never been brought to its knees by a devastating fire is actually far weaker, much more vulnerable to even worse fires, and missing the critical fertilizer and minerals that these intense experiences provide.  Needless to say, the Mike Catherwood Forest is a rich and vibrant one; a true (and handsome) phoenix risen from the ashes.
Within the twenty minutes of that very first LIVE! With Regis And Kelly gig, industry phones were ringing off the hook with agents, managers, and insiders screaming "Who IS this guy? He's fucking too good to be true!?!" Well, not only is Mike Catherwood true, he seems to me to be one of those people that defines the expression "Amazing things happen to amazing people." That appearance ended up securing him a spot on this season's Dancing With The Stars — something Catherwood himself admits being reluctant to sign up for at first.  He's a serious diehard metal head, so the thought of spending weeks ballroom dancing on DWTS took him way out of his comfort zone.  Mike sat down with his KROQ buddies for an interview where they asked him about his thoughts when he first got the offer:
"They asked me originally, and I said, can I sleep on it? I went home and I thought, Carolla did it, had fun with it, understood what the show was about, didn't take himself too seriously, it was awesome. Jeffrey Ross, same thing.  [I called up Steve-O from 'JACKASS'] and asked his opinion. He said it would be the greatest thing in the world for me. After he got clean, he went out of his way to lay low. And then he comes back and does this show that again, introduces him to a whole new audience. I had personal friends, my buddy's girlfriend that had no idea that 'JACKASS' even existed but she fell in love with Steve-O through 'Dancing with the Stars'. No one really gives a shit about whether or not I'm going to be a good dancer. It gives you the ability to let your personality shine through and that's all I can hope to do. Cause Lord knows I'm not going to go in there and take myself too seriously. I've never done that my entire life, why should I start now?" (CLICK HERE to read the full interview at KROQ)
I've spent the past hour or so watching and listening to various footage of Mike in all sorts of situations: selling hot Cheetos to kids on an L.A. street corner, chatting up a TMZ camerman as he walks his dogs shirtless in Venice Beach early one morning (watch it at TMZ), doing a post-LIVE! R&K web interview with Kelly Ripa for her Fashion Finder website (Mike's a fashion hound too and you can watch the clip HERE), him and his buddy doing an on-air imitation of K-Fed and Britney Spears' two boys as hip hop stars, and even getting Ozzy Osbourne's autograph tattooed onto his chest during a live KROQ morning show interview (you can watch the video below as well).  Soaking up Mike's energy this morning has convinced me that not only must he be an incredible person to have as friend, but he is absolutely 100% irresistible to watch.  I've worked in film for a good ten years and I consider myself to be somewhat of an expert now in spotting the talent of rising stars.  I'm also a fan of Kelly Ripa (another great example of a genuinely rock solid human being with a phenomenal spirit matched only by her beautiful outlook on life) which means I'm well aware that the chair to her right will soon be vacant when Regis dances off into the stars this coming November.  So the mere thought of waking up every morning to my daily hour of LIVE! With Kelly And Mike gives me goosebumps beyond belief (sorry Mario Lopez, you seem like a great guy but Mike was made for that chair).  If the production team over at LIVE! knows what's good for them they will make the official offer to Mike very soon before someone else snatches up this incredible talent.  Anything short of this would be just plain psycho.
You can follow Mike Catherwood on Twitter and learn more about his radio show with Dr. Drew (including podcasts) over at Loveline.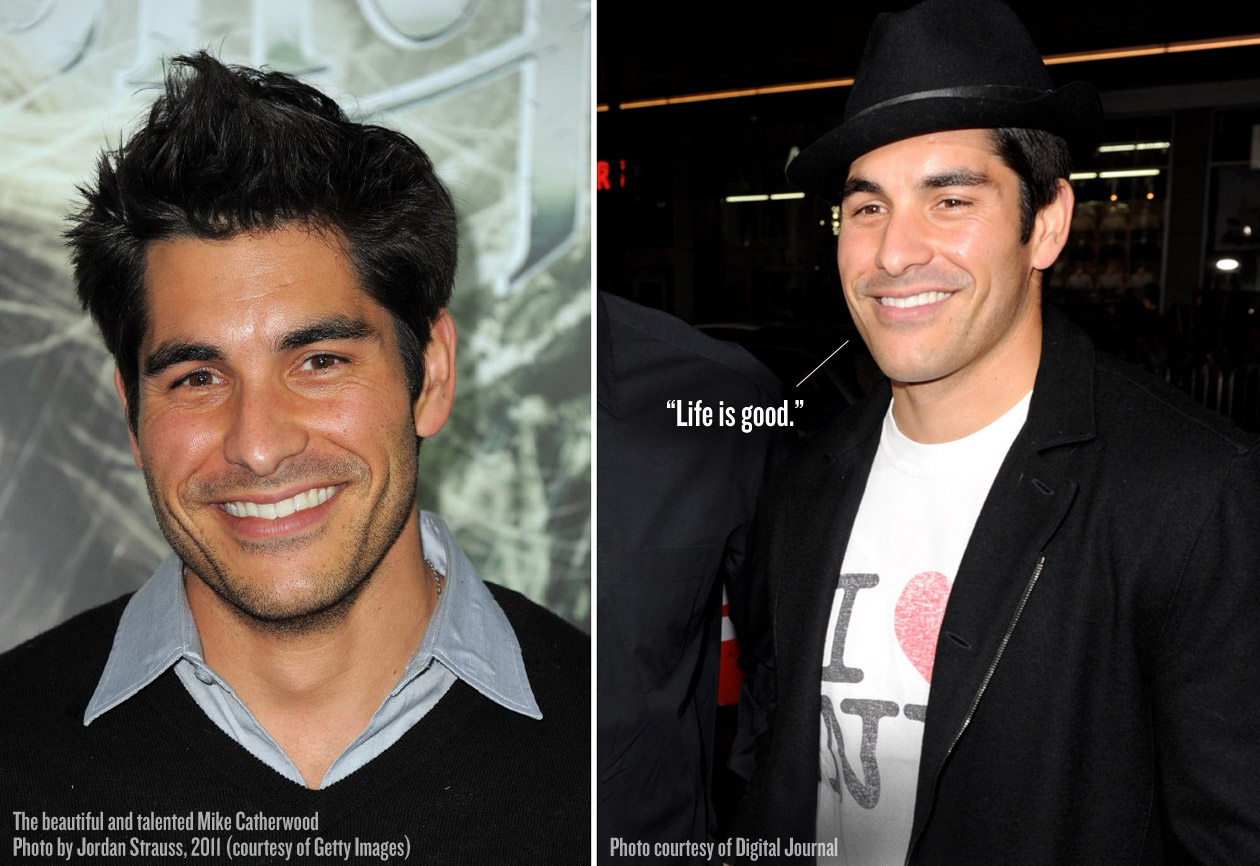 Sources: LIVE! With Regis and Kelly, KROQ, Kelly Ripa's Fashion Finder, Loveline (photo courtesy of Getty Images and Digital Journal).