First publised in The Playlist (February 21, 2011) by Kevin Jagernauth..☛..One of the long running concerns/complaints about the Oscar awards are that no one under the age of 30 cares about them. Recent moves to expand the Best Picture category to ten nominees, in a bid to let in more popular, mainstream options have been in attempt to lure a younger demographic, however, it appears that any attempts at being fun are strongly discouraged.
In an interview with Entertainment Weekly, Academy Executive Director Bruce Davis reveals that they turned down reclusive, mysterious artist Banksy's request to appear at the Oscar ceremonies in disguise saying, "The fun but disquieting scenario is that if the film wins and five guys in monkey masks come to the stage all saying, 'I'm Banksy,' who the hell do we give it to?" Yeah, that would be a real tragedy. God forbid anything out of line with usually, stodgy, stuffy and dreadfully boring Oscar ceremonies dare to happen or be worth talking about the next day.
Nominated for Best Documentary, Exit Through The Gift Shop was an audience and critical phenomenon and more importantly for TV ratings types, one of the new films nominated outside of Inception that appeals to valued and elusive demographic that the Academy is so desperate to snag (which is pretty much why James Franco and Anne Hathaway are hosting the show this year). Embracing the Banksy's mystery and the teasing trickery of the film itself would only be a boon to an awards show that while very much respected, also has the reputation of being about as much fun as a starched shirt. Allowing Banksy to show up and do this thing in disguise would at least get people a) interested in the documentary category and b) tuning in to see what exactly he might do if he wins. Instead, it seems the Academy are trying to keep the industry outsider….well….out.
And that's really quite a shame considering that the camera shy and corporation-skewering Banksy is more than game to take part in the Oscar festivities. In a statement (via Metro) Banksy said, "I don't agree with the concept of award ceremonies, but I'm prepared to make an exception for the ones I'm nominated for. The last time there was a naked man covered in gold paint in my house, it was me." Ha. Well, Bruce Davis still has about a week to come to his senses, but for now we'll just have to wait and see if Banksy can crash the ceremonies or one of the high falutin' after-show parties. But the Academy can't completely stop him, as the artist has been hitting the LA-area pretty hard in the week are so. You can check his latest work via Capturing Banksy by clicking HERE.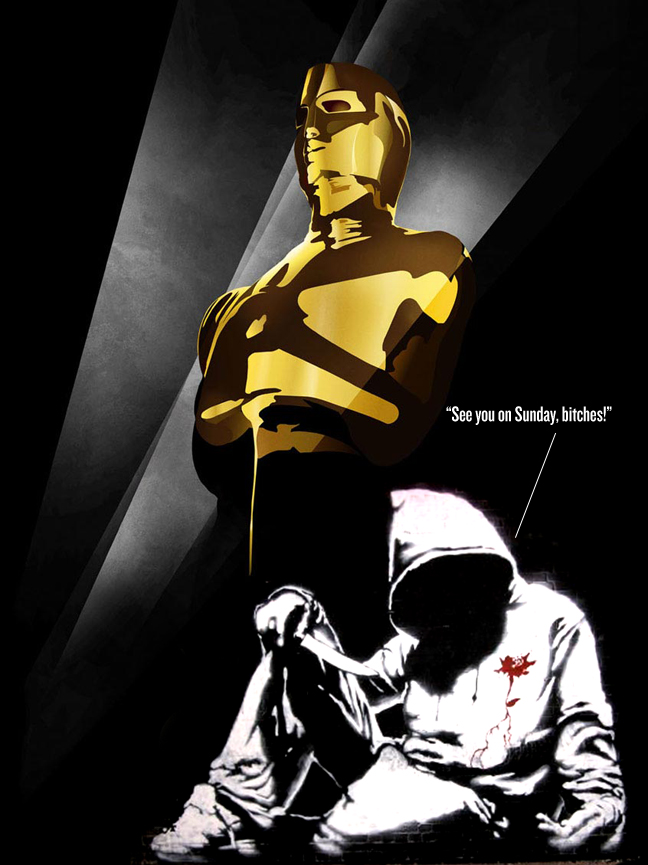 Source: The Playlist