A rare pink diamond has smashed the world record for a jewel at auction, selling for more than $46m to well-known London gem and jeweller, Laurence Graff.  Graff paid $46,158,674 for the 24.78-carat "fancy intense pink" diamond, which he immediately named The Graff Pink.
"It is the most fabulous diamond I've seen in the history of my career and I'm delighted to have bought it," Graff said in a statement released by auction house Sotheby's, which offered the stone at its Geneva sale.
The sale price was almost double the $24.3m paid by the same buyer for the blue 35.56-carat Wittelsbach-Graff diamond in 2008.  "This is the highest price ever bid for a jewel at auction," said David Bennett, the head of Sotheby's jewellery division, to applause from the auction room in Geneva's luxury Beau Rivage hotel.  "Everybody was surprised it went that high," said Mart van Drunen, a jeweller from Amsterdam. "He clearly wants to have all the rarest diamonds in the world."
Rich buyers from developing countries have entered the high end of the market in recent years, but experts say emerging middle classes – particularly in India – are doing as much if not more to lift prices.  Ongoing doubts about the stock market have also helped drive up the value of gold and precious jewels, said van Drunen.  Four bidders competed for the pink diamond, which was last sold 60 years ago by the New York jeweller Harry Winston. The seller chose to remain anonymous, said Sotheby's.  Graff had the blue diamond recut after purchase, to the displeasure of purists who considered it an act of vandalism against a unique object. It was not immediately known whether he planned to alter the pink diamond, which Sotheby's says has a flaw unnoticeable to the naked eye but may be graded as internally flawless after re-polishing.  Sotheby's said the overall value of the jewels sold at the same auction was $105.1m, also a world record for a single sale. The auction included items once belonging to Christina Onassis, the daughter of the Greek shipping tycoon Aristotle Onassis, and Cristina Ford, the second wife of Henry Ford's grandson Henry Ford II.  "I think this tells you a bit about the health of the market," Bennett told reporters after the sale.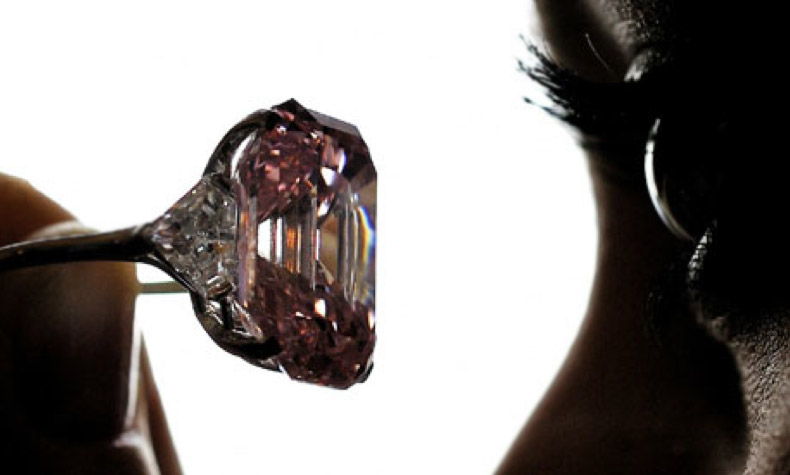 Source: The Guardian