At a time like this, it can be difficult to remember the bustling, crowded world of fashion. There was once a time when crowds packed into exhibition halls to watch models strut their stuff on catwalks, displaying the latest creations by icons of the fashion world. Now, however, things are very different for the fashion industry. Of course, that doesn't mean there won't someday be a return to normality, or something approaching it. One of the most recognisable and well-attended fashion events is, of course, the London Fashion Week, which happens twice a year and showcases more than 200 designers to fashion aficionados everywhere. With this event going digital in 2021, we thought it was a great opportunity to take a look at the history of London Fashion Week and where it might go next!
A quick overview
Before we get into the history of London Fashion Week, let's take a look at how the event stands today. The London Fashion Week is held each February and September, and is generally attended by fashion retailers and influencers. It's considered one of the "Big Four", alongside the New York, Paris, and Milan fashion weeks. Don't let us do all the talking – take a look at this great infographic from Betway for more info!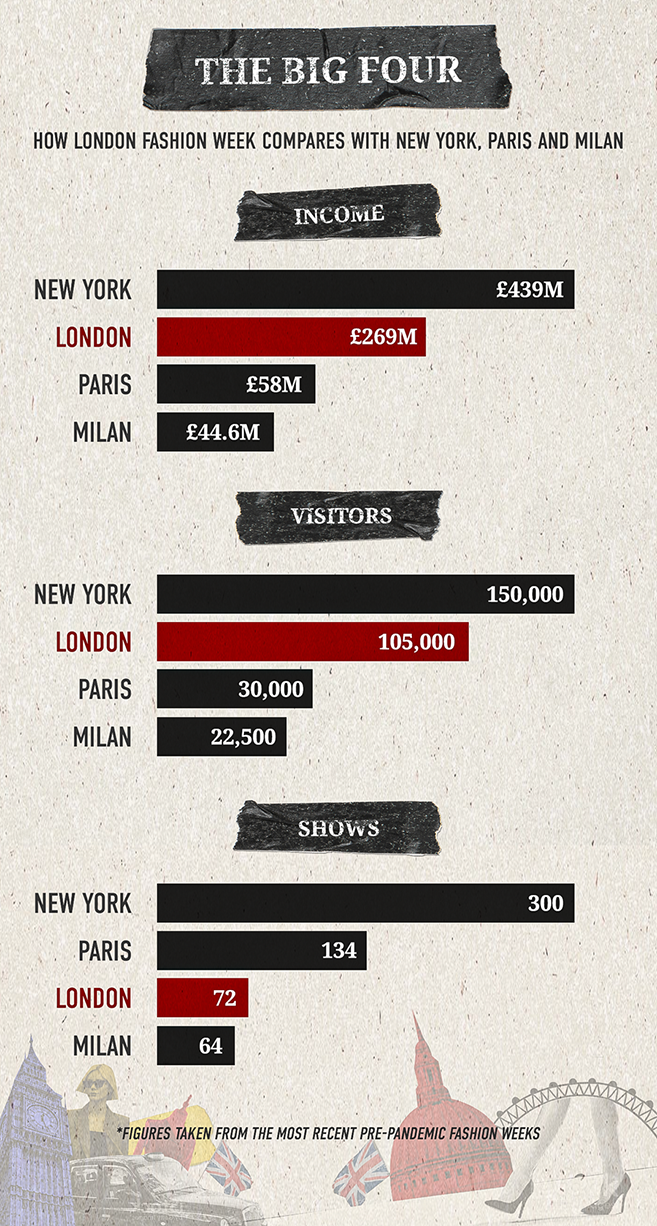 .
The first London Fashion Week
The very first London Fashion Week event took place in 1983. It was organised by the British Fashion Council as a way to showcase British designers and talent to the media in a fashion world that was, at the time, dominated largely by European and American efforts. In 1984, the London Fashion Week event had just 15 catwalk shows with designs by 25 designers. The first venue for the London Fashion Week was the Kensington Commonwealth Institute car park – a deceptively swanky location, despite its somewhat prosaic name.
Throughout the 1980s, the London Fashion Week event would play host to a number of soon-to-be-iconic designers. Famed creator John Galliano got his start at the London Fashion Week; he would later go on to introduce a then-unknown Kate Moss to the world in 1989. Other designers famed for being showcased at the London Fashion Week event include Jasper Conran, Betty Jackson, and Tanya Sarne's classic line Ghost. As you can see, the London Fashion Week is not to be sniffed at when it comes to demonstrating iconic fashions and brands.
The 1990s
The 1990s would play host to a rather troubling economic downturn for the fashion industry, as well as for many other industries. As such, the 90s were a somewhat more subdued time for London Fashion Week. Fashions began to reflect the more economically conservative habits of consumers; hemlines grew longer, and the London Fashion Week downsized its event to just a smattering of designers in order to reflect difficulties with putting on larger and more "ritzy" events. Perhaps appropriately, the 1992 London Fashion Week show was held at The Ritz, and was host to only a small number of designers.
However, let it never be said that the 1990s were a low time for fashion. Stella McCartney and Alexander McQueen, two iconic designers whose lines continue to be highly sought-after to this day, held their first shows in the London Fashion Week during the early-to-mid 1990s. In addition, the Britpop movement – which arguably hit its apex with the Spice Girls – got some hardly-needed exposure at the LFW in 1999, when designer Julien Macdonald employed the services of Mel B to show off his new designs on his catwalk.
The 2000s
For much of the 2000s, the London Fashion Week thrived, buoyed by a rebounding economy and artists pushing the limits of what could be considered fashionable. Of course, around 2007, there was another significant economic crash, but that didn't prove off-putting to massive brands like Burberry, Paul Smith, and Matthew Williamson, who all showcased at LFW in 2009. Around this time, partly due to the rise of UK hip-hop and partly due to changing trends in the fashion world, "street style" became de rigeur; you were just as likely to see models in street-inspired clothing and simple styles as you were to see them in the kind of ostentatious outfits previously favoured by designers.
Today
Right now, London Fashion Week is experiencing a sea change. Thanks to the Covid-19 pandemic, LFW has had to change and adapt with the times; it's not really possible to host the kind of events for influencers and media that used to be commonplace. In September 2020, the LFW event still took place, but it limited audiences massively and felt more austere than previous years. This year's event will take place entirely through live streaming, and will also be the first LFW to be fully gender-neutral, meaning that clothing won't be showcased in terms of menswear or womenswear any longer.
London Fashion Week has been growing steadily more ethically concerned as the years have gone by, mirroring the concerns of the fashion industry at large. In 2020, ethical brands were the watchword of the Week, with recycled material georgettes and corozo nut biodegradable buttons featured on models' clothing. What the future holds for LFW is unclear, but it's obvious that in a changing world ever more focused on ethics and inclusivity, London Fashion Week will have to adapt – as will the designers featured in the show – in order to keep up. 
Photo courtesy of Jaime London Boy via Flickr
.
.