Getting into shape can often be a difficult and lengthy process and there are a high number of fitness regimes to choose from, but many of these can be difficult to sustain and also offer variable results. Rugby players manage to remain extremely fit and toned using a number of different techniques and even if you aren't about to enter a scrum, it can hugely beneficial to follow one of them. It's also a great way of sculpting your body and increasing your core strength as well as building up your overall resistance to injury.
Whichever code of rugby you prefer to play, similar levels of fitness are required. 2017 Super League Grand Final Champions Leeds Rhinos have a team of players who never let their levels drop and their success required unbelievable levels of effort and stamina. Wigan Warriors are the 7/2 favourites in the rugby betting markets for the 2018 season and they must ensure their players remain at their peak throughout the 30-plus game campaign if they are to come out on top. It is an impact sport and playing every week has huge implications on the body and mind. Every Super League side must prepare to come away with a high proportion of bumps and bruises after 80 minutes of intense play. There are a number of key exercises which can be implemented into a daily routine and we take a look at some of the crucial components of a rugby player's fitness regime.
Box Jumps
Box jumps are a great way of increasing strength and will allow players to create more power which is absolutely vital on the pitch. This is a great exercise for beginners and can be performed either at home or in a gym. The box is used to increase power and leverage using every single muscle in the leg and they are far more effective than using a step. These should be performed in multiples of ten and budding rugby players should be comfortable enough to do them three to five times a week.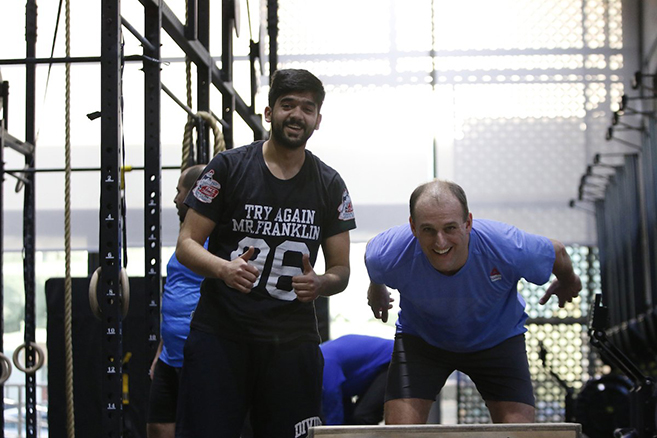 Dumbbell Split Squat
These will quickly build up leg muscles and the inclusion of the weights allows your arms to benefit too. Knees should be lowered virtually to the ground and being fairly low impact, these can be completed on a daily basis.
Chin Ups
Chin-Ups are a great way of increasing strength in the arms and once mastered, these are quick and straightforward to perform several times per week.
Deadlift
This is arguably one of the hardest on the list and requires total focus. Deadlifting will help the lower back and shoulders and is a great way of helping stay clear of troublesome injuries on the pitch. There is no rule to say that you have to lift from the ground and it can be made significantly easier by raising the platform on which the weights reside.
Intermittent Sprinting
The perfect way of keeping lean and burning fat is to combine the above exercises with intermittent sprinting. It will help you burn off calories, helping metabolism and is also easy enough to execute. Professional players regularly take part in tag rugby matches or sprinting drills which is a great way of keeping fit.
There are many other exercises which can be included in a daily ritual such as squats, cleans and leg presses but it is absolutely vital to stay disciplined and imperative that you don't give up after a week. Results will begin to show over time and those who are wishing to take up the game can benefit from arriving in good shape and having a regular routine which helps burn fat and build up important muscle groups.
(NOTE: Going into a sport as physical as rugby, your body needs to be in peak physical condition. Discovery Learning have some of the best personal trainers around to make sure you are in perfect condition).
Image sources: Rugby AM via Twitter, Interval Cross Training via Twitter.