The start of a new year is always a great time for debate among gamers. Whether we are looking back on the big successes of the last 12 months or taking a peek into our crystal balls to predict what is next for gaming in the future, there is so much to both reflect on and look forward to in the weeks ahead.
When it comes to discussions about the most significant gaming successes in recent years, a few names undoubtedly spring to mind. From the inspired AR of Pokemon Go which brought a new form of mobile gaming to the masses to the runaway success of PlayerUnknown's Battlegrounds, so many new titles have captured the public's imagination. Another title which simply cannot be ignored in this regard is definitely Overwatch.
Released in May 2016, the team-based multiplayer online first person shooter from Blizzard has been a huge success across the Windows, PlayStation 4 and Xbox One formats. Named eSports Game of the Year at the eSports Industry awards just months after its launch, it has become incredibly popular and even reached the landmark figure of 35 million players last October. All of this means that Overwatch has become one of gaming's brightest new hopes and, with two major developments taking place in 2018, all eyes are on the whether the game can push both its own profile and the industry to a whole new level.
.
Overwatch League
Take the eSports world for instance. Professional gaming is looking very healthy at the moment, with figures from SuperData Research revealing global revenues from the industry stood at an incredible $1.5 billion for 2017 and are expected to grow by 26 per cent in the next three years. It is an area which boasts major multimillion dollar prize money, major sponsors like Audi and Intel and even a fully-fledged betting scene you can see as sites such as Bets.io offer odds on all of the latest competitions. However, despite its impressive standing, eSports is yet to fully break through into the mainstream consciousness.
There is a major hope that Overwatch could change all of that, with a brand new eSports competition based around the game launching this month. The Overwatch League essentially takes its cues from more traditional sports as it will be the first eSports competition to revolve around city-based teams, with nine of the franchises involved being based in the US and a team each coming from the UK, South Korea and China. The action will initially be split across two divisions – a Pacific and Atlantic league – with the best sides then progressing to a play-offs stage. The eventual winners will not only be named the overall league champion but will also get a cool $1 million bonus for their efforts.
Much anticipation is building around the event, with Pete Vlastelica, CEO of MLG Gaming, telling Mail eSports that the league is using broadcast teams with experience in traditional sports and is aiming to develop storytelling related to teams and players "unlike anything that's been seen in eSports". He added that turning competitors into stars will ultimately be one thing which will help to "drive the success of the league".
Another thing which may drive the league's success could be the involvement of big star names from outside of the eSports bubble. Big-name celebrities are known to have invested in sides involved in the competition, with San Francisco Shock's roster reveal video featuring contributions from Shaquille O'Neal and even actress and singer Jennifer Lopez. Such participation perhaps reflects the high expectations that the Overwatch League could well be the competition that finally brings eSports to the masses.

.
Big-Screen Debut
The launch of the Overwatch League is not the only major development taking place this year related to the game, with one of the title's best-loved characters set to cement her position as a true gaming star with an appearance in a forthcoming movie blockbuster.
Expected to be released in the US in March, Ready Player One is the new film from Steven Spielberg which is based on the bestselling book of the same name by Ernest Cline. Starring Tye Sheridan, Simon Pegg and Mark Rylance, the film will follow its young hero Wade Watts as he immerses himself in a virtual reality world to locate an Easter Egg which has been left behind by the system's creator.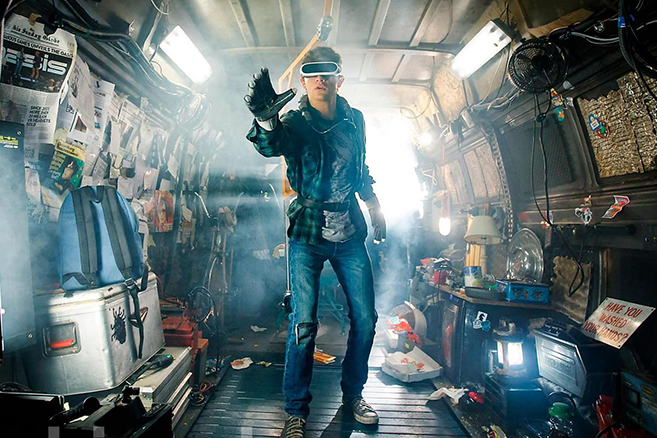 The book is famous for its raft of pop culture references, from links to Canadian prog-rock legends Rush to Ridley Scott's iconic Blade Runner, and there's much anticipation regarding how Spielberg would make similar homages in the new film. There was a lot of excitement then when a recent trailer highlighted some of the many characters from the big screen, TV, comic books and gaming which would be making an appearance in the movie, with cars from Back to the Future and Mad Max being featured alongside DC Comics characters like Harley Quinn and Deathstroke, as well as Freddy Krueger, Lara Croft and Street Fighter's Ryu. However, among these classic characters was an addition which took many by surprise – Overwatch's very own Tracer.
The inclusion of the character is perhaps a testament to just how huge Overwatch has become in the short time since its launch and, while questions remain about the size of the character's role in a movie stuffed with much-loved names, her inclusion alone may be enough to pique interest and further raise the profile of Overwatch and gaming in the eyes of the general public.
.
Going Mainstream?
With both Ready Player One and the launch of the Overwatch League, 2018 is undoubtedly a huge year for Overwatch. The title has already been a huge success in the gaming world, but could Tracer have what it takes to join a select few such as Lara Croft and Mario in becoming a genuine pop culture icon? In addition, could the game's rising profile and its new traditional sports-like competition have what it takes to transform gaming and finally bring eSports to a mainstream audience? It is certainly going to be fun few months finding out.
Feature image source: @PCGamesN via Twitter; Ready Player One image source: : @teasertrailer via Twitter