George Washington, the nation's first President, was also one of the wealthiest men to hold the office. His Virginia plantation, "Mount Vernon," consisted of five separate farms on 8,000 acres of prime farmland. Washington made significantly more than subsequent presidents: his salary was 2% of the total U.S. budget in 1789.  24/7 Wall Street has examined the finances of all forty-three presidents. This article provides net worth figures for each in 2010 dollars. Because a number of presidents, particularly in the early 19th Century, made and lost huge fortunes in a matter of a few years, the number for each man is based on his net worth at its peak. In the case of each president we have taken into account hard assets like land, estimated lifetime savings based on work history, inheritance, homes, and money paid for services, which include things as diverse as their salary as Collector of Customs at the Port of New York to membership on Fortune 500 boards. Royalties on books have also been taken into account, along with ownership of companies and yields from family estates. The net worth of the presidents varies widely. George Washington was worth over half a billion in today's dollars. Several presidents went bankrupt.
The rise of inherited wealth in the early 20th Century contributed to the fortunes of many presidents, including Theodore Roosevelt, Franklin D. Roosevelt, John F. Kennedy, and both of the Bushes. The other significant change to the economy was the advent of large professionally organized corporations. These corporations produced much of the oil, mining, financial, and railroad fortunes amassed at the end of the 19th Century and the beginning of the 20th. The Kennedys were wealthy because of the financial empire built by Joseph Kennedy. Herbert Hoover made millions of dollars as the owner of mining companies.
The stigma of making money from being a retired president also began to disappear. Calvin Coolidge made a large income from his newspaper column. Gerald Ford, who had almost no money when he was a Congressman made a small fortune from serving on the boards of large companies. Clinton made millions of dollars from writing his autobiography. 24/7 Wall Street performed an analysis of presidential finances based on historical sources. Most media evaluations of the net worth of presidents have come up with a very wide range, a spread in which the highest figure was often several times the lowest estimate. Most sources provided no hard figures at all. Most of these efforts have focused largely on the analysis of recent chief executives. That is because it is much easier to calculate figures in a world where assets and incomes are a matter of public record. One of the most important conclusions of this analysis is that the presidency has little to do with wealth. Several brought huge net worths to the job. Many lost most of their fortunes after leaving office. Some never had any money at all.
Presidential salaries have also partially contributed to these presidents' net worths.  For instance, President Obama's and President George W. Bush's salaries are/were $400,000 plus paid expenses and benefits (including $50,000 in non-taxable expense accounts).  President Clinton is responsible for the $400K salary, but before his new law went into effect, Clinton was making $200,000 (a sitting president cannot give himself a raise; raises can only be applied to subsequent presidents).  This raise was the first since 1969 when the presidential salary was boosted from $100,000 to $200,000.  You can see the full list of presidential net worths by clicking HERE.  Here are some highlights:
George Washington (1789-1797): $525 Million.  His Virginia plantation, "Mount Vernon," consisted of five separate farms on 8,000 acres of prime farmland, run by over 300 slaves. His wife, Martha Washington, inherited significant property from her father. Washington made significantly more than subsequent presidents: his salary was two percent of the total U.S. budget in 1789.
Thomas Jefferson (1801-1809): $212 Million.  Jefferson was left 3,000 acres and several dozen slaves by his father. "Monticello," his home on a 5,000 acre plantation in Virginia, was one of the architectural wonders of its time. He made significant money in various political positions before becoming president, but was mired in debt towards the end of his life.
Abraham Lincoln (1861-1865): Less Than $1 Million.  To the log cabin born. Lincoln served as an attorney for 17 years before his presidency. He owned a single-family home in Springfield, Illinois.
Theodore Roosevelt (1901-1909): $125 Million.  Born to a prominent and wealthy family, Roosevelt received a significant trust fund. He lost most of his money on a ranching venture in the Dakotas and had to work as an author to pay bills. Roosevelt spent most of his adult years in public service. His 235-acre estate, "Sagamore Hill," sits on some of the most valuable real estate on Long Island.
Franklin Delano Roosevelt (1933-1945): $60 Million.  Roosevelt had wealth through inheritance and marriage. He owned the 800-acre "Springwood" estate as well as properties in Georgia, Maine, and New York. In 1919, his mother had to bail him out of financial difficulty. He spent most of his adult life in public service. Before he was president, Roosevelt was appointed assistant secretary of the navy by Wilson.
John Fitzgerald Kennedy (1961-1963): Although he never inherited his father's fortune, the Kennedy family estate was worth nearly $1 billion dollars. Born into great wealth, Kennedy's wife was oil heiress. His Father was one of the wealthiest men in America, and was the first chairman of the SEC. Almost all of JFK's income and property came from trust shared with other family members.
Richard Milhous Nixon (1969-1974): $15 Million.  Nixon was born without any inheritance, and was a public servant for most of his life including a term as a Senator from California. "Tricky Dick" made significant sums from series of interviews with David Frost and book advances. He sold his New York townhouse to the Syrian ambassador to the U.S. and purchased a large home in Saddle River, NJ. At various times, Nixon also owned real estate in California and Florida.
James Earl Carter, (1977-1981): $7 Million.  Carter was the son of a prominent Georgia businessman. He was a peanut farmer for almost two decades. Carter left office deeply in debt, but made substantial sums from writing 14 books. Part of a family partnership that owns 2,500 acres in Georgia.
Ronald Wilson Reagan, (1981-1989): $13 Million.  Reagan had no inheritance, but his first wife, an actress, had her own money. He was a movie and television actor for over two decades. "The Gipper" owned several pieces of real estate over his lifetime, including 688-acre property near Santa Barbara, California. Reagan was highly paid for his autobiography and as a GE spokesman.
George Herbert Walker Bush (1989-1993): $23 Million.  Bush was the son of Prescott Bush, a Connecticut Senator and successful businessman. Aided by his friends in the financial community, he made a number of successful investments. One of his major assets is his home and 100+ acre estate in Kennebunkport, Maine.
William Jefferson Clinton (1993- 2001): $38 Million.  Clinton was born with no inheritance, and he made little significant money during 20 plus years of public service. After his time in White House, however, he made a substantial income as an author and public speaker. Clinton received large advance from autobiography. His wife, the secretary of state, has also made money as author.
George W. Bush (2001-2008): $20 Million.  Bush was born into a wealthy family. Over ten years, he made substantial sums of money in the oil business. The largest contribution to his net worth was the profitable sale of the Texas Rangers.
Barack Hussein Obama (2008-present): $5 Million.  Obama is the grandson of a goat herder. He is a former constitutional law professor and civil rights attorney. Book royalties constitute most of Obama's net worth.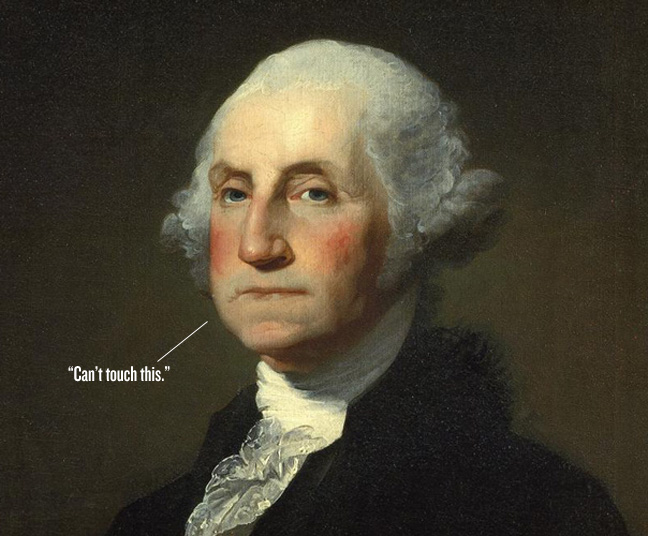 Source: The Huffington Post