There's been much talk this past week about Tom Ford's re-entry into the world of women's fashion with his stunning (and highly exclusive) fashion show that was just released online a few days back.  The show actually happened in mid-September and here's an article published by WWD from September 14, 2010 which profiled the event:
Tom Ford:  Film Director – check.  Fashion Designer – check.  Entrepreneur – check.  Is he also this decade's Helmut Lang?  That's Helmut, as in the man who single-handedly changed the international fashion system because its then-current schedule didn't work for him.
In a conversation on Monday (September 13, 2010), the morning after his no-photographers-allowed show (except those hired by the house) that nevertheless had the entire industry buzzing as instantly as one can say tweet, Ford looked as handsome as he did the night before. Then, he had stood next to one of the pair of huge dark vases, his soldierly posture in counterpoint to the perfectly meandering tree branches (bare magnolia branches with pink cymbidium orchids individually attached, to be precise) that flanked the modernist fireplace of his Madison Avenue store, the spot from which he narrated the fashion show that marked his return to the women's arena.  Ford is well known for his savvy, but even by his sky-high standards, this was a coup: a genuine hot ticket filled with magnificent clothes that felt like the party of the season. It ran completely counter to the more-is-more, huge-venue, any-and-all-celebrities-welcomed, beam-instantly-around-the-world current that defines so much of fashion today. And everyone lucky enough to be there lapped it up.  Yes the clothes were news: gorgeous, commercially viable, unmistakably Tom Ford sexy.  Karen Katz, who assumes the chief executive officer slot at Neiman Marcus Group Oct. 6, called it "amazing."
Though the collection will make its debut for spring only in Tom Ford stores, Neiman's and Bergdorf Goodman have secured it for fall 2011.  "It was more than we could have ever imagined," Katz said. "The suits were remarkable; the fabrics and details, just beautiful. The special evening pieces were extraordinary, but as a retailer, to see the suits is so important. The presentation was unique and so special — I'm just sorry more of our team didn't get to see it. We were overwhelmed. It exceeded our expectations by a lot."  Unlike those collections of Ford's legendary Gucci/YSL reign, this was not of the single-focus school of staging a show. Rather, it celebrated individual style, a point Ford made by casting a lineup of real women.  Make that "idealized versions" of the real customers he's targeting (not even he can convince you completely that Beyoncé Knowles is just BeBe from the block), a lineup that included a rainbow of ages, ethnicities and–drumroll–body types. (Mind you, he didn't exactly cast a house, but not everyone had the body of Chanel Iman.)
But if you're reading this now, chances are you already knew all that. The bigger news is that Ford plans to put the X (as in X, you're out) back into the notion of exclusivity. Thus, while he has released a few stingy ambience photos, including the one seen here, that's going to be it for months. Save for phone photos his guests may have gotten away with, he will remain in complete control of all images until he deems their release in the interests of the consumer.  "This fashion immediacy thing…if you can see them and press a button and they can be shipped to your house, I get fashion immediacy.…I don't get the need for this immediacy. In fact, I think it's bad."
Well, that was several months ago, and now the show has been released in full and certainly had me salivating at what was clearly the show of the year featuring runway models Beyoncé, screen icon Marisa Berenson from "I Am Love", Rita Wilson, and Julianne Moore:
[youtube]http://www.youtube.com/watch?v=4-mEF9uMdRU[/youtube]
.
This all seems to be in course with Ford's new direction in rejecting certain norms of the fashion industry.  In his latest collaboration with French VOGUE, Tom lashes out at the young and predictable, and embraces the old and unpredictable: "I am tired of the cult of youth. The cultural rejection of old age, the stigmatization of wrinkles, grey hair, of bodies furrowed by the years. I am fascinated by Diana Vreeland, Georgia O'Keeffe and Louise Bourgeois, women who have let time embrace them without ever cheating. Society today condems this, me, I celebrate it. For this session of fine jewellery, I imagined a man and a woman who had been together for a long time, faithful to each other and always incandescent with desire."
Bravo Tom!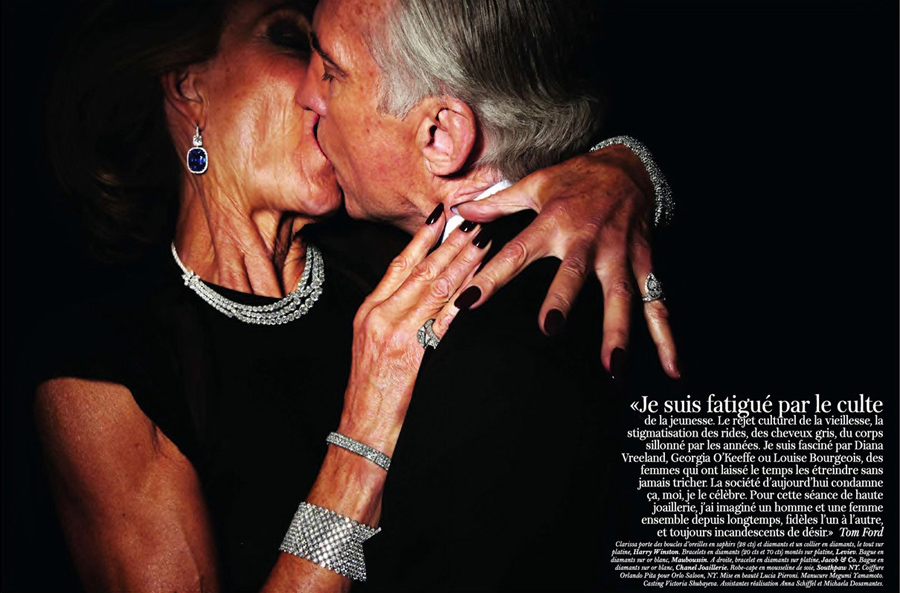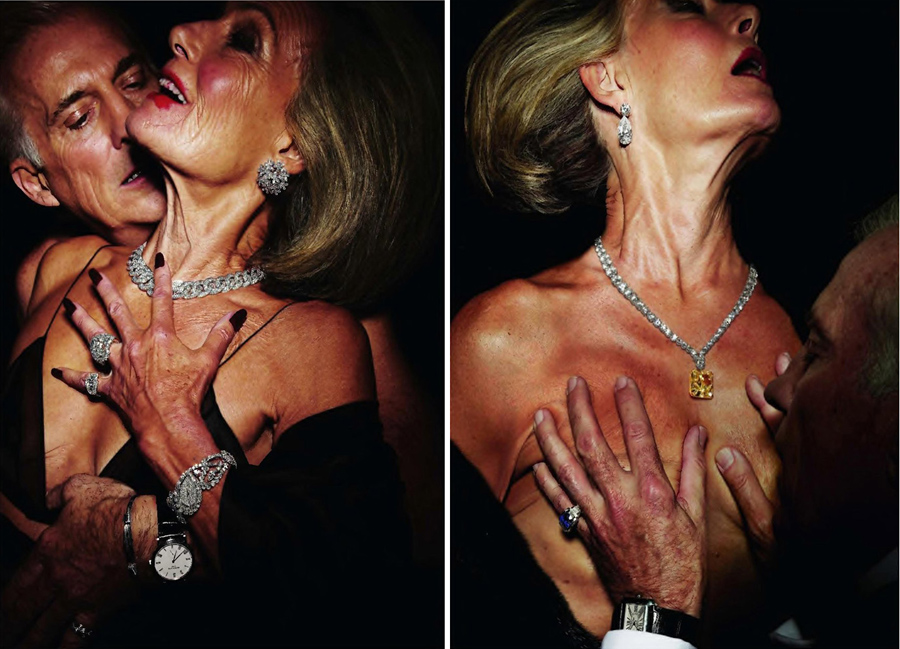 Sources: WWD,