Polish composer and pianist Frédéric Chopin (1810 -1849) was much more than a master of his craft — he was one of the very first superstars in music. He spent the bulk of his final years in Paris, and was as renowned for his music as he was for his politics and his high-profile love live with countless women. In other words, he melted as many hearts as he broke and was a seminal figure of the Romantic era.
During his final days, the virtuoso pianist's condition was deteriorating from tuberculosis, and with each passing hour his biggest phobia in life was growing more and more ominous — his borderline paranoiac fear of being buried alive. He asked for his sister Ludwika to be by his bedside, and to her he made his final request. To avoid being buried alive he asked her to make sure she removed his heart from his body and have it buried in his native Poland while his body would remain in Paris. In the hours after his death his sister did just that. She took the heart and placed it in a crystal vase filled with cognac to preserve it. She secretly transported it to Poland, keeping it under her cloak to avoid any inspection point. His heart and vase were buried in the Holy Cross Church in Warsaw underneath a small monument. The funeral for his body was held at the Church of the Madeleine in Paris as Mozart's Requiem was performed. His body was later buried at the famed Père Lachaise Cemetery.
Chopin's heart's shrine in Warsaw became a rallying point for proud Polish nationalists, which is why during WWII the Nazis stole the crystal vase and removed it from the country. They also strictly banned any performance of his music. When the war ended the Nazis returned the vase to the shrine. In 2014 a team of scientists unearthed the vase to make sure it hadn't cracked, leaked, and dried up the heart. Luckily it was found to be in perfectly preserved condition in his sister's cognac where it remains today.
.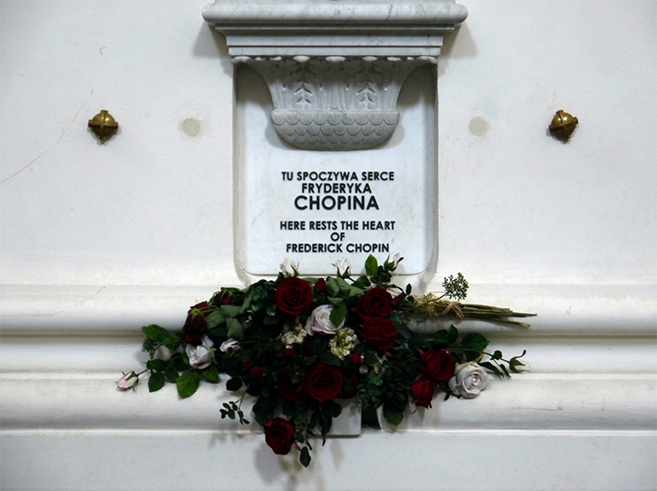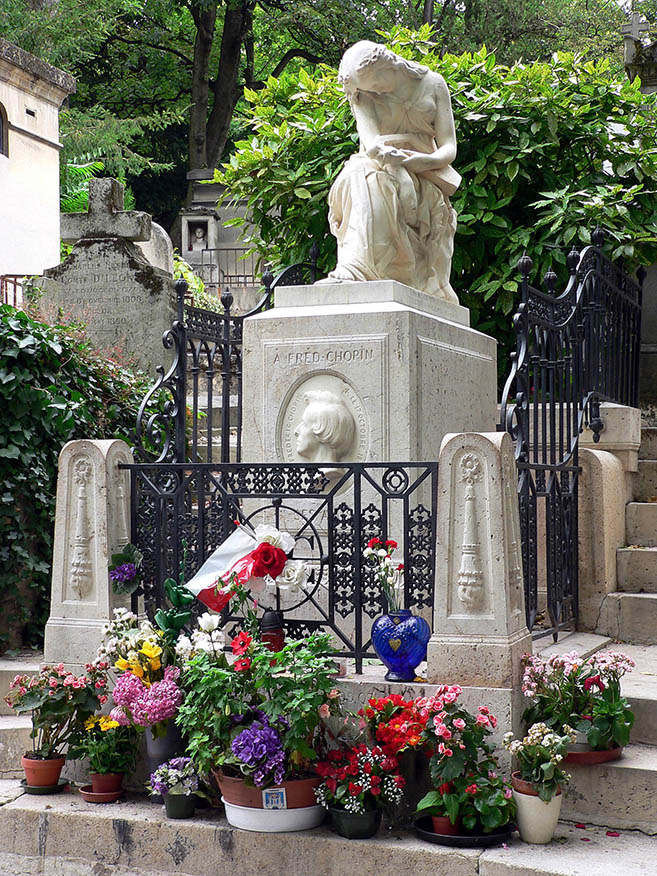 Images: Distanek on Flickr, Wikipedia 1, Wikipedia 2