Gambling in Macau has been legal for more than 150 years, but turn the clock back to the pre-millennium era, the city's casino reputation was at an all-time low. It was considered seedy, dangerous and oft-controlled by the Triads. Wind the clock forward to the present day and Macau is almost unrecognizable. It's a city that's undergone one of the quickest transformations on the planet, becoming one of the most glamorous and sought-after gambling and holiday destination for locals and tourists alike.
Macau has a rich and proud history. Once leased to Portuguese sea merchants as a trading post, the city adopted many Portuguese and Mediterranean traditions alongside its Chinese roots. This Special Administrative Region of China was handed back to the People's Republic by Portugal in 1999 and it has since flourished, rising to become the "Vegas of Asia".
The Macanese government sparked a flurry of interest in the region when in 2002 it granted casino operating concessions to a string of the world's biggest casino brands, namely Wynn, Las Vegas Sands and the Galaxy Entertainment Group. Just four years later, it was officially confirmed that Macau had surpassed the Las Vegas strip in becoming the world's largest gambling hub, based on overall casino revenues. Casino revenues hit $6.95bn in 2006, with revenues in Nevada's desert strip coming in at around $6.5bn.
So, what has Macau's casino scene got to offer and can its casino and poker rooms maintain this momentum as we approach another decade?
.
Popular casinos in Macau
There are more than three dozen casinos now in operation in Macau, all of which offer exclusive, vibrant fun on their casino floors, as well as luxurious accommodation. A number of these casinos are also geared towards those who won't blink at the thought of adding an extra zero to their bets. The Wynn Palace casino is undoubtedly the Park Lane and Mayfair of the Macau Monopoly board. At a cost of $4bn, some might say that it darn well should live up to its investment. There's five-star entertainment wherever you look here, from the majestic fountains and sculptures to the Michelin-starred Japanese restaurant and the exclusive 100-table high-stakes poker room.
.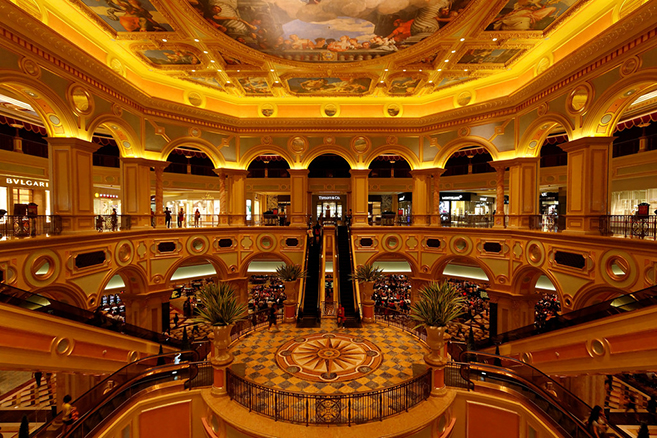 .
The Venetian Macau is the firm rival to Wynn Palace in the casino stakes. They particularly go head-to-head with their poker rooms. While the Wynn is home to largely high-stakes cash games, the Venetian has gone the other end of the spectrum and opened a high-end room for players of all levels, both in terms of experience and bankroll size.
The poker rooms are very often oversubscribed across Macau, so if you want to sit down for an evening at a table, be sure to make a reservation. Such is the demand for poker in Macau today that many of the poker rooms are open 24/7, along with the casino floors.
.
The leading casino games among the locals
Casino tourism in Macau is an incredible boon for the local economy. In fact, it makes up around 50% of the city's entire revenue. As it is the "Monte Carlo of the Orient", Macau's visitors were traditionally comprised of people from China's mainland and Hong Kong. As Macau has been and remains still the only legal place to gamble in China, it's unsurprising that the Chinese ventured here most weekends to get involved in their favourite table games.
In Macau, baccarat has long been one of the most popular games played at the tables. As a concept, the game of baccarat hasn't really taken off outside of Asia, with the locals enchanted by the fact that this card game is all down to fate and not an ounce of skill. Macau's casinos subsequently offer very high limits for their players to wager for the chance to double their money and really win big. Pachinko is another game that Macau's casino visitors flock to play at the slot lounges. This pinball-style game is another luck-based game that keeps the locals coming.
Pai Gow Poker is a relatively recent addition to Macau's card game scene. Invented in 1985 based on the original game of Pusoy, it was simplified to appeal to the masses in the Macanese casinos. The concept is to create two poker hands out of the seven cards you're dealt – a five-card and a two-card hand that must beat the dealer's. Texas Hold'em poker has also fast developed a reputation in Macau for having some of the biggest and juiciest games and tournaments, attracting some of the biggest poker pros to this small island including Phil Ivey and Tom Dwan. Some of the tournaments at The Venetian Macau have been known to have buy-ins of up to $5,000. But other types of poker are popular too, with the Wynn Macau and Babylon Casino offering Omaha pot-limit games, and more.
.
Other emerging casino games in Macau
A few years ago, there was a slight downturn in casino revenues in Macau, due largely to the global economic downturn and the ever-stringent anti-corruption regulations placed upon the industry by the Chinese authorities. Nevertheless, 2017 showed signs that Macau was rebounding and rebuilding and at the beginning of February 2018, the city registered its 18th successive profitable month.
So, what games will emerge unscathed on Macau's casino floors as we approach the next decade? Head out onto any casino floor tonight and you'll still find a sea of baccarat tables. Regardless of what anyone may tell you, baccarat is very much alive and well on this island. It's a game that the Chinese are simply besotted by and they're unlikely to give it up anytime soon. Meanwhile, the world's biggest cash games are still being held in Macau's poker rooms, usurping any of the high-stakes poker games held in Sin City. As Chinese casino-goers increasingly recognize the appeal of skill-based card games, it will continue to attract more elite poker players, alongside affluent Asians that simply love to gamble.
Slot machines have by no means been the star attraction on Macau's casino floors, but that all might be about to change in the coming years too. While slots generated only 4% of casino revenue in Macau in 2013, there has been an influx of new machines in recent years, many which have a higher payout percentage than their older counterparts, attracting the Chinese tourists more readily.
Whether Macau really can step up to the mantle as the world's casino capital is up for debate. There's no doubt that for the whole entertainment package, Vegas still reigns supreme, famed for its musician residencies, live sports events and premium shopping. One thing's for sure, Macau has cleaned up its act in the post-millennium era and it's sure to cement itself as the "Vegas of the Far East" in the years to come.
Image sources: 1) "Macau | Outside The Venetian" (CC BY-SA 2.0) by travel oriented Bright lights, big city: Macau is bold and brash and we love it; 2) "The Venetian Macao Resort Hotel" (CC BY 2.0) by Dennis Wong, A grand statement: The Venetian Macau
.