It was the summer of 1982 and Eddie Van Halen was chilling at home in L.A. The phone rang and Eddie asked, "Who is it?" The voice on the other end replied, "It's Quincy!" Eddie asks, "Quincy who?!" And the guy says, "Quincy Jones!" Eddie instantly screams, "Fuck off!" and hangs up the phone. This happened four times before Eddie Van Halen realized it wasn't a prank call, and it was indeed Quincy Jones calling him.
Quincy was reaching out because he was in the middle of producing a brand new album by Michael Jackson which he knew was going to be big. He explained to Eddie how the album — which still had no working title — was going to "save the recording industry" (which was tanking at the time), and he wanted the guitar legend to do a solo on one of the tracks called "Beat It". Jones wanted to include a rock song on the album in the vein of the Knack's "My Sharona", and although Jackson had never previously been interested in rock, Jackson later said, "I wanted to write a song, the type of song that I would buy if I were to buy a rock song … That is how I approached it and I wanted the children to really enjoy it — the school children as well as the college students." Jermaine Jackson has suggested the inspirational seeds for "Beat It" and its accompanying video came from the Jackson family experiencing gang activity in Gary, Indiana. "From our front window, we witnessed, about three bad rumbles between rival gangs."
Eddie was initially reluctant to do the solo work on the track because he had a deal with his bandmates that they would never do any side gigs or solo projects. In the end, the lure of one of music's most prolific producers proved too big to resist. Because his bandmates were out of town, Eddie made the decision to go ahead and do it on the down-low. He told Quincy he would agree to do the solo on three conditions: 1) he would never be credited for the work because he didn't want other members of Van Halen to find out about it, 2) he didn't need to be paid because it was just a favor so all he wanted was a case of beer in return, 3) Eddie also asked for Michael to "teach him how to dance someday."
When Eddie arrived at Westlake Audio in West Hollywood (the legendary studio at 8447 Beverly Boulevard where Thriller was produced and recorded), he also came equipped with some of his own beer. He got to work right away, even though Michael was working with Steven Spielberg and producer Kathleen Kennedy in a recording studio down the hall where he was doing some voice work for an E.T. The Extra-Terrestrial side project.
"Steven Spielberg and Kathy Kennedy had me help out on a record they were doing with Michael Jackson called The E.T. Storybook Record," says sound effects guru Bruce Cannon in an interview with The Telegraph. "[That record] was produced by Quincy Jones, and Bruce Swedien was like his mixer. It was Michael narrating — I'm only laughing because he was very emotionally involved when he was performing, reading the lines — at times he almost breaks into tears telling parts of the E.T. story." So as Eddie was busy prepping his solo in Studio B, Jackson was in a puddle of tears lost in the world of E.T. in Studio A.
When Quincy played the original track that they wanted him to solo over, Eddie told them it was impossible. "The funniest thing of all was I actually rearranged the song," Van Halen tells CNN. "The section they wanted me to solo over was just … there were no chord changes underneath, so I had to rearrange the song. Then Michael came in and I said, 'Oh, I hope you don't mind but I changed your song.' And he listens and he goes, 'No, I really like that high-fast stuff you do!'" Jackson gave Van Halen 100% creative control over the solo and any rearrangement Van Halen needed to do to make it work.
But perhaps the craziest part of the story came during the actual recording of the solo. Just as Eddie was peaking during the recording, engineers watched in shock as they saw his monitor speaker explode in flames. One engineer exclaimed, "This must be REALLY good!" [Wikipedia] The blast seems all too fitting considering Van Halen's solo on "Beat It" is regarded as one of the greatest guitar solos of all time.
On the record, right before Van Halen's guitar solo begins, a noise is heard that sounds like somebody knocking at a door. It is reported that the knock was a person walking into Eddie's recording studio. Another story has claimed that the sound was simply the musician knocking on his own guitar. The sound, however, is that of Jackson knocking on a drum case, as he is credited in the album's liner notes.
The entire process for Van Halen took 2 hours from in-the-door to out-the-door, and the recording of the solo itself took 20 minutes. The rest, as they say, is music history. Later on when his bandmates found out about it, they were the exact opposite of mad — they actually told him he was a fool for not asking for a commission when he agreed to do it. "I was a complete fool, according to the rest of the band, our manager and everyone else," Van Halen says with a chuckle. "I was not used. I knew what I was doing — I don't do something unless I want to do it."
On a recording footnote, the intro for "Beat It" was pulled directly from an automated sample of the early Synclavier synthesizer and sampling system. "Oh boy — the intro synth was a stock Synclavier patch, any Synclavier will make that sound," recording engineer Bruce Swedien tells Musicradar.com. "We liked it but we wanted everything to be unrecognisable, unique, so we didn't want to use that sound, but Michael loved it and made us keep it."
The video for "Beat It" cost $150,000 to produce, and it was directed by Bob Giraldi. Initially, "Billie Jean" director Steve Barron was scheduled to direct it, and Barron and Jackson's original concept for the video was to have it set on a slave ship. Giraldi's gang concept eventually won out, as it reflected the original genesis of the song — the gang culture that Jackson and his brothers had witnessed as young boys in Indiana. As a matter of fact, real members of the Bloods and the Crips made cameos in the video.
The lyrics of "Beat It" are about defeat and courage, and have been described as a "sad commentary on human nature". The line "don't be a macho man" is said to express Jackson's dislike of violence, whilst also referring to the childhood abuse he faced at the hands of his father Joseph.
Thriller was released on November 30, 1982 and remains the best-selling album of all time.
.
QUINCY JONES INTERVIEW (FAST FORWARD TO 1:14 MARK):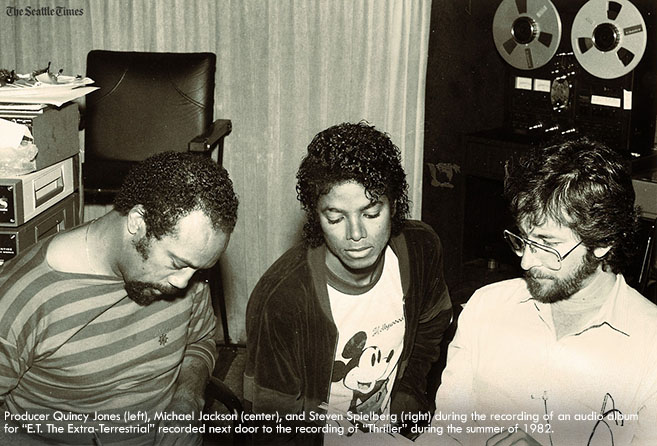 SYNCLAVIER SAMPLE (FAST FORWARD TO 3:30 MARK: