Under the rule of Canada's Emperor "Palpatine" Harper, the Great White North has come to resemble something out of the Dark Sith Empire in Star Wars. As unprecedented cracks eat away at his Conservative party in the wake of the NDP's phenomenal election sweep in Alberta earlier this month, and as outrage grows over his obsession with the Canadian oil industry, his unconscionable disregard for the environment, and his peddling of the Orwellian "Secret Police" Bill C-51, insiders believe that Harper is poised to call a snap election out of desperate fears to save his collapsing government.
The Ottawa Citizen writes: "Suddenly, Stephen Harper has a raft of new reasons to want an early campaign and, even more precisely, to fear a later one. Most fundamental of all is a weakening economy." SHD adds: "The time is right. Nearly a decade of the Conservatives economic promises are falling apart. Household debt just hit another all time high, job quality is the lowest it has been in 25 years and thousands of workers are being laid off in the tarsands. The Conservatives placed all our eggs in one oily basket, which has slipped from their fingers, as oily baskets are prone to do."
The Financial Post says job quality in Canada has free-fallen to a record low, with CIBC financial insiders pressing a serious red alert warning that there is no relief in sight. The National Post writes: "The federal Conservatives have bet the farm, tractor, livestock and kitchen sink on the assumption that Canadians are anxious to smite evil-doers, and that the populist loathing of miscreants will supersede all else ahead of the federal election."
Adding to Harper's perfect storm is his staff's involvement in a growing scandal surrounding Senator Mike Duffy. CTV News writes: "NDP Leader Thomas Mulcair raised the documents during question period Thursday, demanding answers about the PMO's (Prime Minister's Office) involvement in the Duffy scandal. 'The Duffygate cover-up was orchestrated right in the Prime Minister's office. That's what these RCMP court documents prove,' he said."
Since taking office on February 6, 2006, Prime Minister Stephen Harper has also silenced 10 government watchdogs. You can take action by visiting VoteTogether.ca, by using the hashtag #HarpersRecord on Twitter and Facebook, and by following Lead Now on Facebook to stop Bill C-51 from becoming law. And be sure to visit ShitHarperDid.ca to watch a terrifying video of how Canada's top secret Death Star-like surveillance system is even worse than what the Academy Award-winning documentary Citizenfour explained.
Perhaps the brightest hope Canadians have for change lies in NDP leader Thomas "Obi-Wan" Mulcair. You can learn more about Mulcair by visiting ThomasMulcair.ca, by following him on Twitter at @ThomasMulcair, and by watching the videos below.
.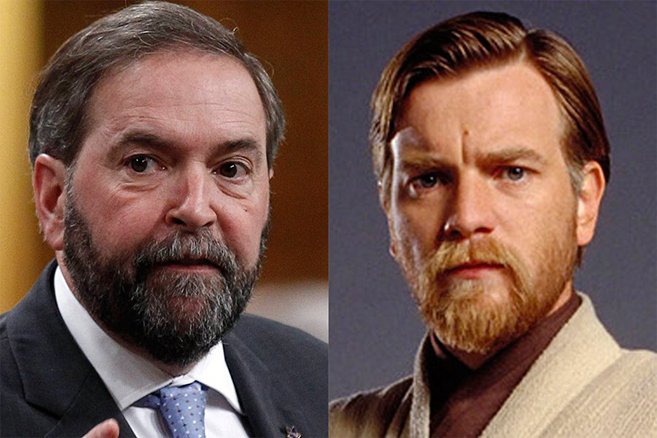 Better now, this photo is. RT @davewilsonmla: .@ThomasMulcair #MayThe4thBeWithYou #nspoli pic.twitter.com/KUk5TNymZN

— Tom Mulcair (@ThomasMulcair) May 4, 2015