Nigel Kennedy (born in Brighton, England on December 28, 1956) is widely regarded as one of the most preeminent violin virtuosos in the world.  People come from thousands of miles away just to see Kennedy on stage, and his recent performance at The BBC Proms in London this past Saturday was no exception.  From far and wide, Kennedy's fans turned out to see his performance of "Bach At The Proms" and he did not disappoint.  The Proms (founded in 1895, and more formally known as The BBC Proms) is the world-renowned annual 8-week summer season of daily orchestral classical music concerts and other events held predominantly in the Royal Albert Hall in London (NOTE: "Prom" is short for "promenade concert", a term which originally referred to outdoor concerts in London's pleasure gardens, where the audience was free to stroll around while the orchestra was playing). Never one to shy away from speaking his mind, Kennedy took the opportunity to lash out at what he calls "cult of authenticity" that he feels is destroying the breadth of Bach's genius.  His frustration centered squarely on the stiff classical tradition which trains almost all musicians to play Bach in the same technical way.  The Guardian published a recent article about his comments made at Proms, and the following is an excerpt:
In a broadside at fellow musicians, he said that some were sidelining Bach into "a rarefied and effete ghetto" while others were turning "philosophical masterpieces" into "shallow showpieces". He despaired at musicians who have "learned the same technical way [and who] all play the same technical way".
… He is particularly irritated by the soullessness of contemporary Bach interpretations, which he says lack passion, fire and dynamism. He also excoriates "so-called authentic" interpretations that use period instruments to re-create sounds that he claims early composers would think "unbelievably blinkered". According to Kennedy, "specialists are pushing Bach into … a ghetto, which leaves many people feeling that Bach's music is merely mathematical and technical. I see it as my job to try to keep Bach in the mainstream and present his music with, rather than without, its emotional core."
The full story is a terrific read, and includes his dismissal of "star conductors as egocentrics more interested in money and prestige than developing a musical relationship with an orchestra. He even questioned whether conducting was an art, asking: 'Why would you want to stand there waving a stick when you could be playing an instrument?'" To read the full article be sure to visit the Guardian. Nigel Kennedy's performance of "Bach At The Proms" is scheduled to air September 9th on BBC4.   As of today, no footage has been released of the performance, but I've attached this terrific example of Kennedy in fine form as he performs Bach at a previous concert from a couple years ago, as well as a video of his stunning cover of The Doors' "Riders Of The Storm". To read the Guardian's review of his performance CLICK HERE.  To listen to more of Nigel's work check him out on MySpace and Last.fm, and be sure to also visit The BBC Proms' home page at BBC.co.uk/proms.
SEE ALSO: Bach's 1749 Latin Mass Has Me Doing Pirouettes In My Bathtub
SEE ALSO: Renegade Violinist Hahn Bin Is The Future Of Classical Music
SEE ALSO: Maxence Cyrin Releases Classical Piano Covers Of Beyoncé, The Pixies, And Daft Punk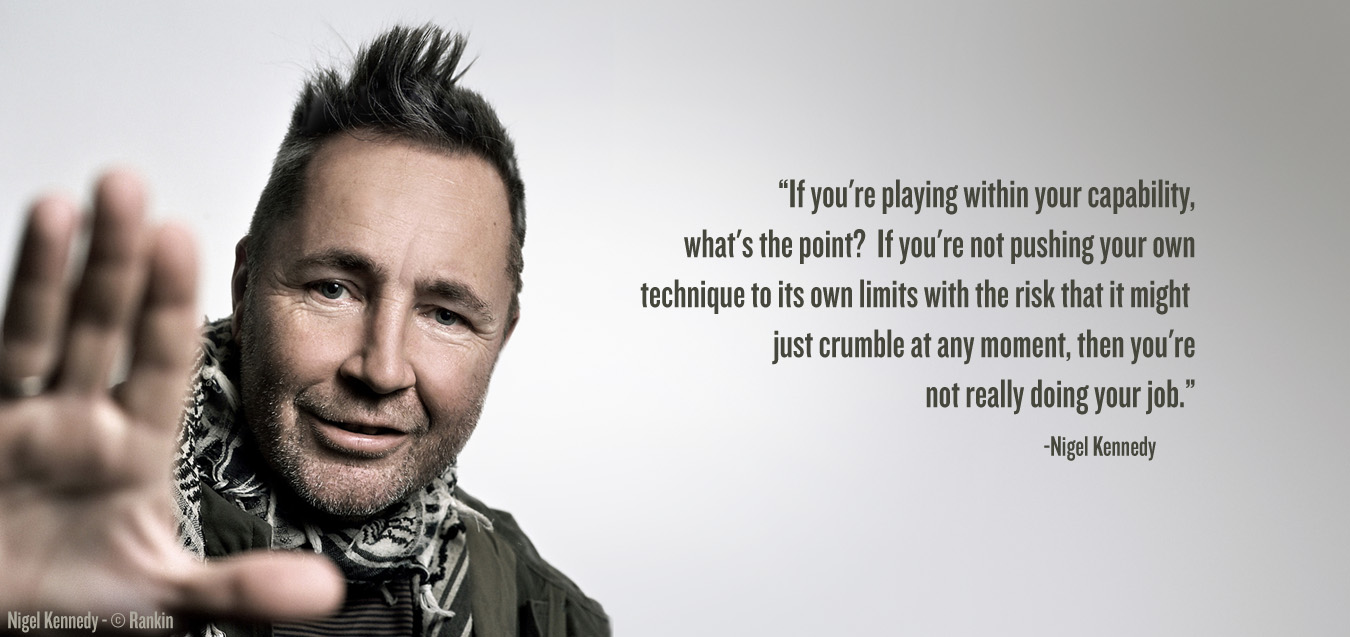 Source: Guardian