Yesterday on This Week, Christiane Amanpour sat down with Gloria Steinem for a short interview about her beginnings in investigate journalism (her first major assignment occurred in 1963 where she worked undercover for 3 weeks as a Playboy Bunny and detailed the mistreatment of women in Hugh Hefner's clubs).  Steinem also elaborated on why she thinks America is not yet ready for a female President, most of which hinges on her intriguing connection to the fact that the majority of children in the country are raised by women.  The interview is part of the promotion for HBO's newest documentary GLORIA: IN HER OWN WORDS which airs August 15th.  The following are excerpts from the HBO press release for the documentary:
She was a feminist at a time when many dismissed women's rights as a joke.  She chose not to marry in an era when women were wives and mothers.  And she did it all with wit, style and grace. An intimate biographical portrait of Gloria Steinem, an enduring feminist icon for more than 40 years, GLORIA: IN HER OWN WORDS   profiles a crusader whose singular focus has been the fight for women's equal rights in the U.S. and around the world.  Combining recent and archival interviews that showcase her compassion and sharp sense of humor, the film debuts Monday, August 15 (9:00-10:00 p.m. ET/PT), exclusively on HBO. GLORIA: IN HER OWN WORDS   chronicles Steinem's emergence as a driving force in the modern women's liberation movement.  She recalls beginning her career as a journalist in New York City in the early 1960s and making headlines with an expose on the working conditions of Playboy Bunnies, noting, "I learned what's it's like to be hung on a meat hook."
GLORIA:  IN HER OWN WORDS   also explores Steinem's early days.  Born in 1934 in Toledo, Ohio, she studied tap dance as a child and watched her mother give up a career as a journalist to have children.  Her parents had a rocky marriage and ultimately divorced.  Steinem, who attended Smith College, wonders whether devoting so much of her time and energy to the women's movement was a way to avoid the kind of suffering her mother experienced. The film also looks at the challenges Steinem has faced in later years.  Diagnosed with breast cancer soon after turning 50, she underwent surgery and radiation.  "The cancer served a real purpose, making me a little bit more conscious of time," she observes.  Taking a break from public life after decades of traveling nonstop, Steinem "hit bottom" and began to look internally, writing the self-esteem book "Revolution from Within" in the early '90s.  Interviewed at the time, she noted, "Being a social activist can be a drug that keeps you from going back and looking at yourself."  And after decades of remaining single, she married entrepreneur David Bale – father of actor Christian Bale – in 2000, but he died after they had been married just over three years.
To learn more about the documentary be sure to visit HBO.  For all things Christiane Amanpour, including the always interesting weekly roundtable discussion with George Will and others, visit This Week.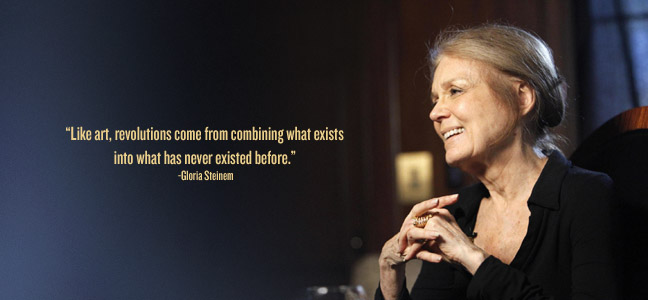 Source: ABC News