After the first 15-20 minutes of The TODAY Show is over, sometimes I turn down the volume just to have the screen on in the background so I can focus more on posting. This morning I did just that, and had a laugh-out-loud moment a few minutes ago when I looked at the TV and saw video of George Clooney with the caption on the bottom of the screen reading: "George Clooney Named As Witness In Silvio Berlusconi Trial".  MOUUAAAAAHAHAHAHA!!!!!!!!!!!!!!!!!!!!!!! Here's what I read on People's website:
George Clooney has been named a witness for the defense in the sensational, high-profile prostitution trial of Italian Prime Minister Silvio Berlusconi. But before Clooney is asked any questions by the lawyers, he has one of his own: Why me? "It seems odd since I've only met Berlusconi once and that was in an attempt to get aid into Darfur," he tells PEOPLE in a statement. In a case generating international headlines, Berlusconi, 74, is accused of paying for sex with a 17-year-old Moroccan girl called Ruby, then trying to use his power to cover it up. He has denied the charges and the trial is set to begin on April 6 in Milan. According to the Associated Press, Clooney, who has a villa on Lake Como, Italy, was on a list of witnesses presented Tuesday because the actor was reportedly seen – along with his Italian girlfriend Elisabetta Canalis – at one of Berlusconi's parties.
Yeah, sure George, you only met him ONE time.  I'll bet you went to each and every one of those "Bunga Bunga" parties as the Italian media has so affectionately labelled them. But what we'd all like to know: when you were at these parties did you ever get one of those bodacious Italian teenage girls to "silvio" your "clooney"?  MOUUAAAAAHAHAHAHA!!!!!!!!!!!!!!!!!!!!!!!  Soccer superstar Cristiano Ronaldo has also been called as a witness for Bersusconi's defense as well.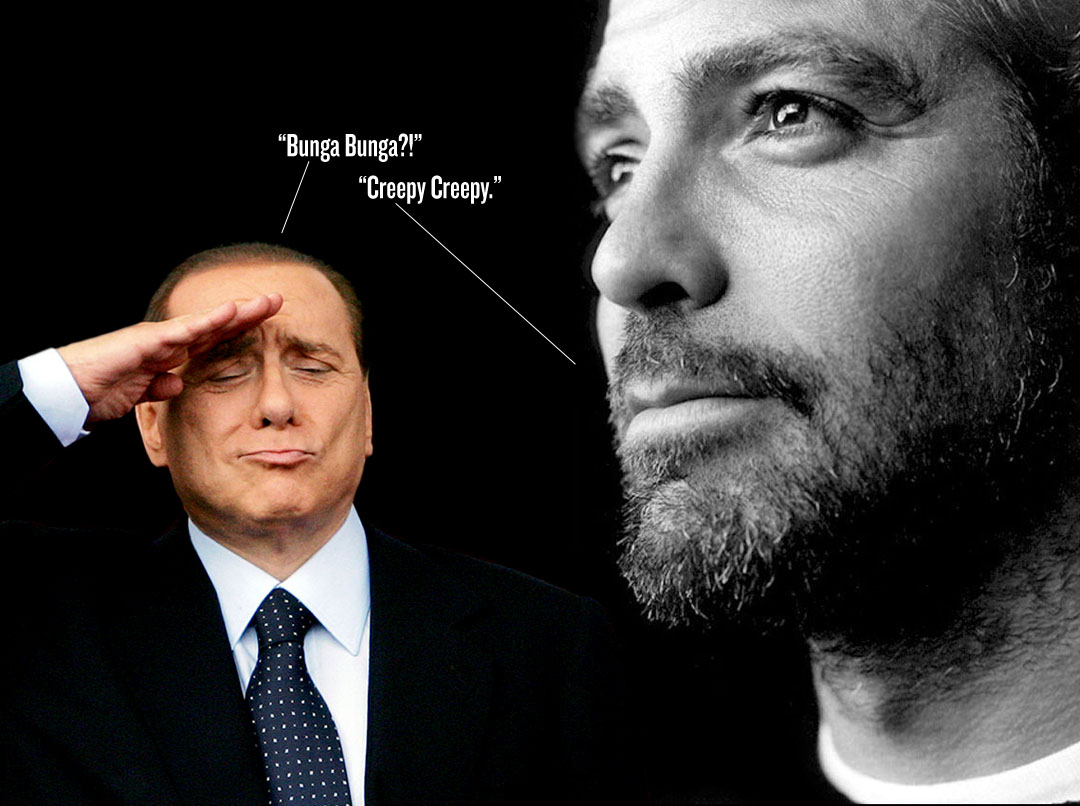 Source: People