Kottke just posted this amazing piece of filmmaking created by Stephen Van Vuuren.  Stephen assembled REAL PHOTOGRAPHS taken by the Cassini Orbiter as it passed by Saturn.  Here's what I pulled off Stephen's Vimeo page:
Not-for-profit animated IMAX film in early production by a single filmmaker. Visit OutsideInTheMovie.com to make a tax-deductible contribution to support the film. I hope to present this clip at the international IMAX show (GSCA Expo) next month. I'm very excited to present the first test from "Outside In" that actually represents real footage in progress from the film. Camera moves are still being tweaked and this is cropped version as IMAX-sized stuff does not play well online. But thanks to the new version of Adobe After Effects, "Outside In" can be made as I have always envisioned. Much thanks to everyone who has supported and contributed to this. This is the beginning, just a taste of incredible things to come. This is fly-through of this photograph – photojournal.jpl.nasa.gov/​catalog/​PIA11141 – only a little brightness and contrast has been made to balance the moons with saturn's body. Do note that several thousand layers of many Cassini photographs were animated to make the fly-through work without any 3D CGI. The saturation is off due to lack of Flash Player ICM support. This is still a work-in-progress and it's an art film, not a science film, but as new image data comes down I will tweak this shot for improved accuracy.
The complete Cassini space probe was launched on October 15, 1997, and after a long interplanetary voyage it entered into orbit around Saturn on July 1, 2004. On December 25, 2004, the Huygens probe was separated from the orbiter at approximately 02:00 UTC. It reached Saturn's moon Titan on January 14, 2005, when it descended into Titan's atmosphere, and downward to the surface, radioing scientific information back to the Earth by telemetry. This was the first landing ever accomplished in the outer solar system. On April 18, 2008, NASA announced a two-year extension of the funding for ground operations of this mission, at which point it was renamed to Cassini Equinox Mission. This was again extended in February 2010 with the mission now continuing until 2017. Cassini is the fourth space probe to visit Saturn and the first to enter orbit.
Be sure to visit Kottke for more great finds like this. To learn more about the Cassini missions click HERE. To learn more about filmmaker Stephen Van Vuuren you can visit his Vimeo page HERE page or his main website HERE.
NOTE: WAIT FOR THE FULL-FRAME, FULL-COLOR VIDEO STARTING AT AROUND 1:00. AND TRY AND REMEMBER THIS IS DESIGNED FOR AN IMAX SCREEN (NOT YOUR BROWSER WINDOW) SO USE YOUR MIND'S EYE.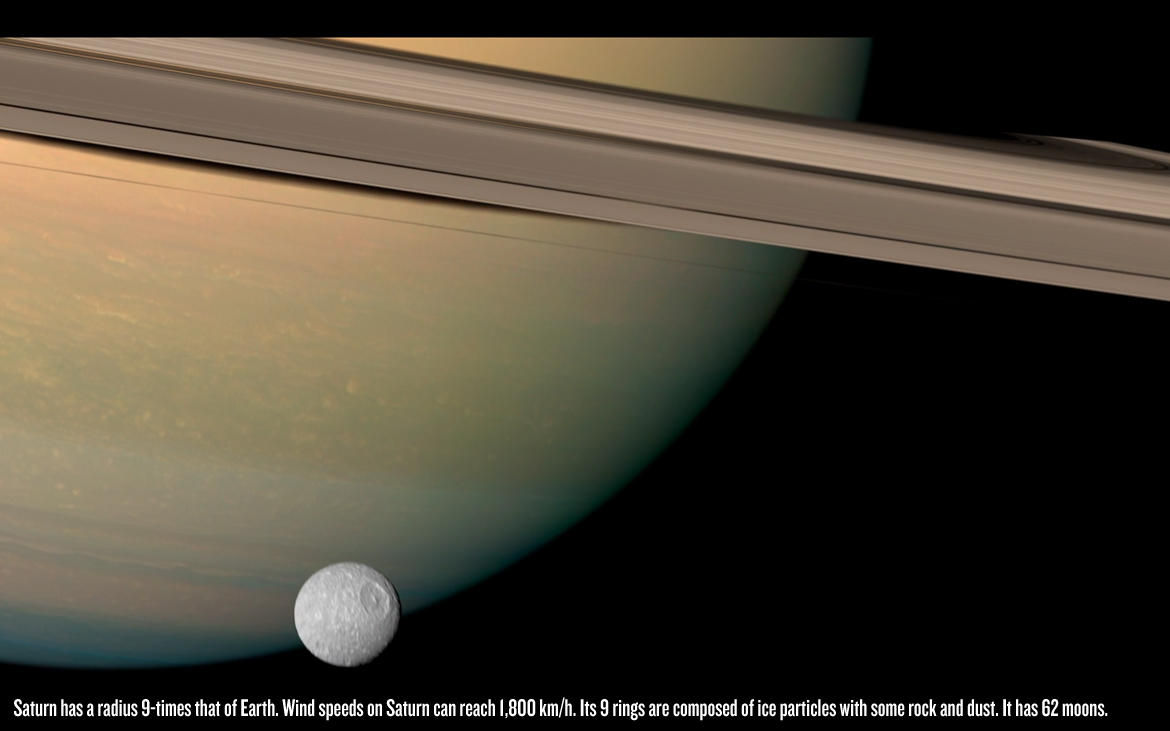 Source: Kottke