JR, a semi-anonymous French street artist, uses his camera to show the world its true face, by pasting photos of the human face across massive canvases. At TED2011, he makes his audacious TED Prize wish: to use art to turn the world inside out.  Here's some background on JR:
Working anonymously, pasting his giant images on buildings, trains, bridges, the often-guerrilla artist JR forces us to see each other. Traveling to distant, often dangerous places — the slums of Kenya, the favelas of Brazil — he infiltrates communities, befriending inhabitants and recruiting them as models and collaborators. He gets in his subjects' faces with a 28mm wide-angle lens, resulting in portraits that are unguarded, funny, soulful, real, that capture the sprits of individuals who normally go unseen. The blown-up images pasted on urban surfaces – the sides of buildings, bridges, trains, buses, on rooftops — confront and engage audiences where they least expect it. Images of Parisian thugs are pasted up in bourgeois neighborhoods; photos of Israelis and Palestinians are posted together on both sides of the walls that separate them. JR's most recent project, Women Are Heroes, depicts women "dealing with the effects of war, poverty, violence, and oppression" from Rio de Janeiro, Phnom Penh, Delhi and several African cities. And his TED Prize wish opens an even wider lens on the world — asking us all to turn the world inside out. Visit insideoutproject.net.
I must admit I overlooked JR before today.  I had seen a few works of his scattered in various news publications but just blew him off as another artist.  Then today my friend Jennifer told me I absolutely must watch JR's TED Talk (his very first since winning the 2011 Ted Prize).  After hearing his speech just now (watch it below) I not only think he's one of the most exciting visual urban artists working today, but I have a strong feeling he is a huge game-changer in how the world sees and understands art and its relationship to human rights. You won't believe what this man has done unless you watch this video, so do yourself a huge favor and take a 24-minute break right now. The video is even worth watching just for his incredible stories alone.  JR has infused his work into so many underpriveleged countries around the world, and he often finds himself confronting suspicious locals (and even drug lords) who are one breath away from harming or even kidnapping him and his team.  His amazing energy, however, wins over the suspicious every time with an almost Jedi-like style of subversive communication.  After watching his TED Talk I can no longer tell which is more beautiful: JR's art, or JR's amazing spirit.
And don't forget to find out what JR's TED Prize Wish is and how you can help him realize it (just click HERE).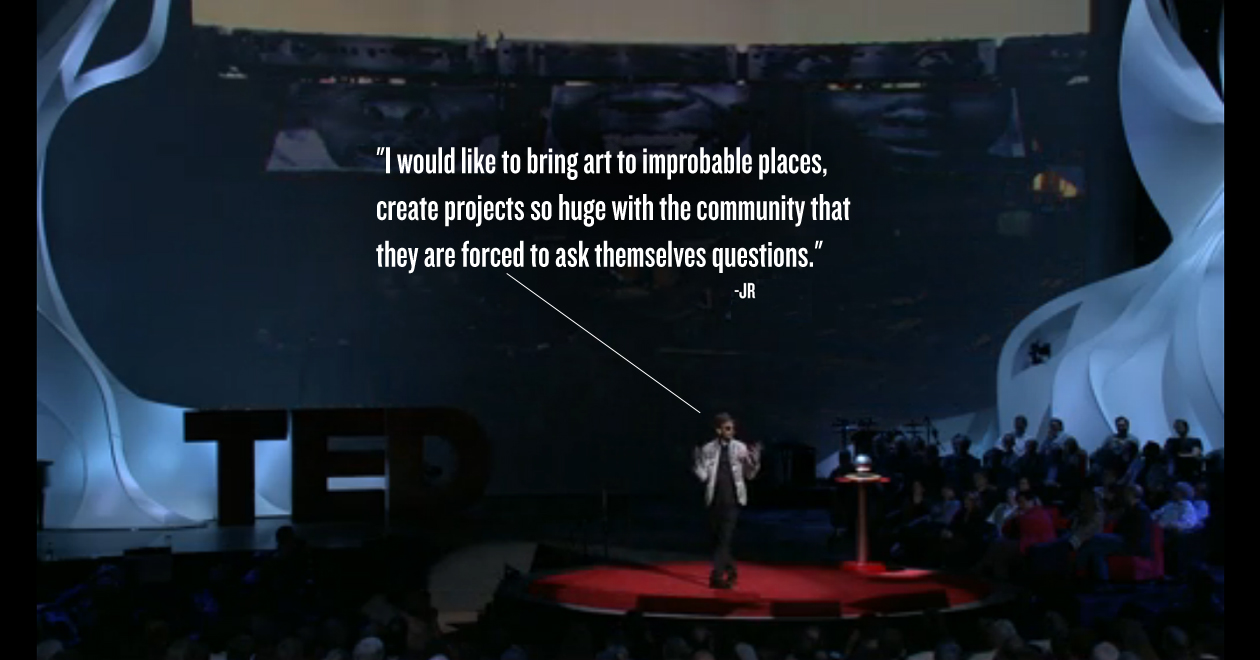 Source: TED