First publised in the Guardian (March 2, 2011) by Xan Brooks..☛..Steven Spielberg looks set to oversee WikiLeaks: the Movie (the project is as yet untitled) after securing the screen rights to WikiLeaks: Inside Julian Assange's War on Secrecy, the book by Guardian journalists David Leigh and Luke Harding. Reportedly conceived as an investigative thriller in the mould of All the President's Men, the film will be backed by DreamWorks – the studio founded in 1994 by Spielberg, Jeffrey Katzenberg and David Geffen. Leigh and Harding's book charts Julian Assange's turbulent life and times, from his itinerant childhood through to the creation of the WikiLeaks website in 2006. It also provides the inside story of Assange's explosive partnership with the Guardian newspaper and the release, last December, of over 250,000 secret diplomatic cables. Alan Rusbridger, editor-in-chief, Guardian News & Media, said:
"The Guardian's unique collaboration with WikiLeaks led to what some have described as one of the greatest journalistic scoops of the last 30 years." Discussing the proposed film, Rusbridger added: "It's Woodward and Bernstein meets Stieg Larsson meets Jason Bourne. Plus the odd moment of sheer farce and, in Julian Assange, a compelling character who goes beyond what any Hollywood scriptwriter would dare to invent."
In addition to snapping up the Leigh and Harding bestseller, DreamWorks have also secured rights to another book, Inside WikiLeaks, by Assange's former colleague, Daniel Domscheit-Berg. This has led insiders to speculate that DreamWorks executives are planning a heavily fictionalised thriller that cherry-picks from a variety of sources. "A good template for what they are thinking is 'The Social Network', where Aaron Sorkin not only used the Ben Mezrich book 'The Accidental Billionaires' as a resource, but gathered actual testimony from the lawsuits filed against Mark Zuckerberg that detailed the formation of Facebook and provided high drama," suggests Mike Fleming of the industry website Deadline Hollywood. "That allowed the film to be made without a rights deal from Zuckerberg."
Spielberg's picture is the most prominent of a number of WikiLeaks movies currently at various stages of development. These include a documentary by the award-winning film-maker Alex Gibney, director of Enron: The Smartest Guys in the Room, along with a mooted biopic, based on a New Yorker article by Raffi Khatchadourian and co-produced by HBO and the BBC. Now in its embryonic stages, the DreamWorks version still requires a scriptwriter, a director and a cast. It may also need an ending, with all the evidence suggesting that the story of Julian Assange has some way left to run.
Reviled by his foes as a "high-tech terrorist", Assange is currently fighting an extradition order to Sweden to face accusations of sexual abuse. This week, he reportedly lashed out at his former collaborators at the Guardian, who, according to Private Eye editor Ian Hislop, he accused of being part of a "Jewish conspiracy" against him. There seems little doubt that Assange's life story provides enough red meat for dramatists. But the final act has surely yet to be written.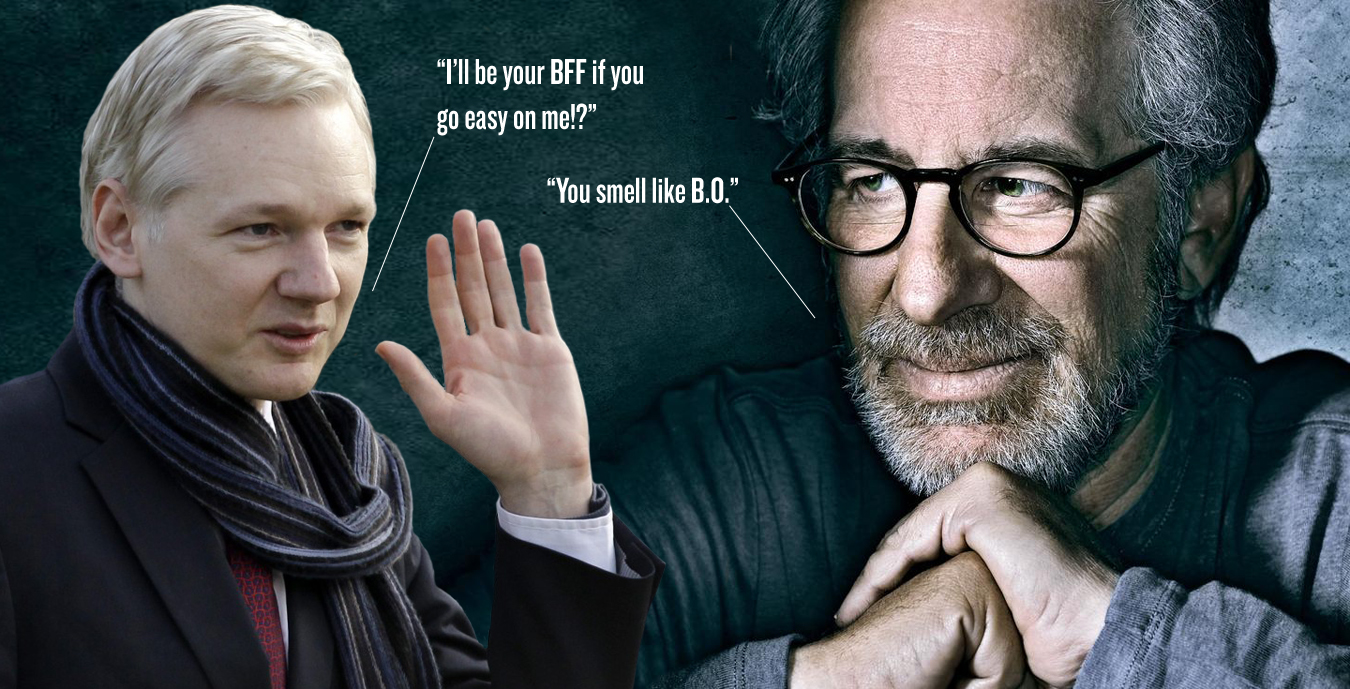 Source: Guardian