WOW. I'm speechless.  I was just watching an interview with one of my most favorite people in the world, Jeanne Beker (click HERE to read about the night I finally got to meet her), and she was talking about the shocking video that is starting to go viral this morning which shows John Galliano's anti-semitic rant against a neighbouring table at a Paris cafe.  Jeanne has been a champion and personal friend of John's for years now, and to hear her heartfelt sadness, disappointment, and new revulsion towards the man was something I never thought I'd see, so I knew the video must be terrible (her parents were survivors of the Holocaust). I eventually tracked down the video, watched it, and could not believe my eyes and ears.  I was literally the biggest John Galliano fan up until 8 minutes ago.  I can't even believe what I just saw actually.  I gave John the benefit of the doubt last week when this story broke, but this video is simply terrible and proves that he actually is a fucking idiot.
There are moments where I find myself surprised just how swiftly one can lose a lifetime of respect for someone you've held in such high regard for so long.  John is an immensely talented man, but he clearly needs some help.  Maybe he can learn from this and grow as a human being.  Only time will tell, John, but you've definitely got a long way to go.  Unbelievable.
TO WATCH THE SHOCKING TIRADE CLICK HERE (WARNING: THIS VIDEO CONTAINS EXPLICITLY OFFENSIVE LANGUAGE AND DEEPLY HURTFUL ANTI-SEMITIC REMARKS.  EXTREMELY NSFW).
SEE ALSO: Christopher Hitchens Destroys Mel Gibson (And John Galliano) In Brilliant UCLA Lecture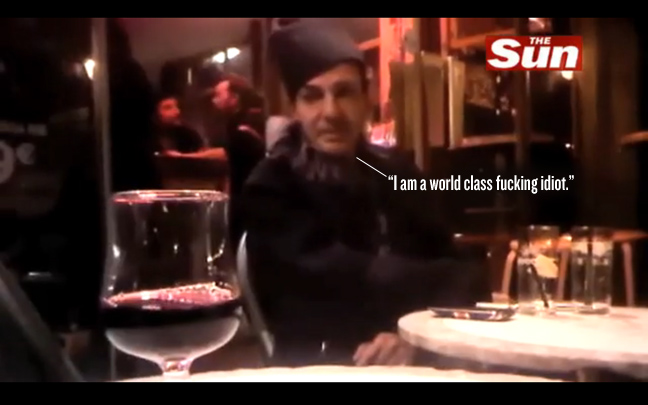 Source: Fashionista