First publised in The Guardian (February 20, 2011) by Helen Pidd..☛..I fear I have wounded James Franco's manhood. "Is that you?" I had asked, referring to some film in his new art exhibition that features a closeup of a penis emitting an arc of urine. "You think that's what I look like?" he spluttered. I don't know, James – didn't you wear a prosthetic for MILK? "That's a 75-year-old man!" he says, before pointing out, with good humor, the grey hairs I had failed to notice. If you go to Berlin and check out Franco's first European exhibition, at the hip gallery Peres Projects, you should probably know that that's not his bottom you can see defecating in On Masculinity and Me, either. He does feature in a lot of his art, though. "Everything I do, I look for opportunities to collaborate with people," he says. And if that means persuading others to go to the toilet on camera, so be it.
It is not easy to get time with Franco. He has just finished promoting 127 Hours, Danny Boyle's climbing and amputation film for which he's up for an Oscar; his Allen Ginsberg biopic HOWL is out this Friday (in England); he has half a dozen other films in the pipeline (including, allegedly, a Wizard of Oz prequel); he is presenting the Oscars on Sunday with Anne Hathaway; and there are some directing projects in the offing. Plus he's doing a PhD in English at Yale; a course in digital art at the Rhode Island School of Design; he's just published his first collection of short stories; oh, and he's recording an album with a drag artist called Kalup Linzy. Nonetheless, he has taken time out of his ridiculous schedule to fly to Berlin to talk about his first solo art show, The Dangerous Book Four Boys, which, as well as 19 films and various installations, features pages of the bestselling Dangerous Book for Boys with scribbles all over them. I had been promised 30 minutes with the 32-year-old polymath – but only, said gallery owner Javier Peres, if I kept on-topic. So only the art. Not the films. And none of the tittle-tattle. So no chance to ask about the cover shoot he did for the "transversal" style magazine Candy, which featured him in full drag. Or him recently teasing a journalist by saying, "Maybe I'm just gay" when asked why he had taken three gay roles in three years: as the young lover of the congressman Harvey Milk in MILK, as Ginsberg in HOWL, and as the poet Hart Crane in the just-wrapped The Broken Tower. (For the record, given his warm response to two friends of mine who introduced themselves to him at the afterparty with the killer line, "We're Swedish and we're sisters", I think it is fair to say he is appreciative of the female form. Note to lawyers: nothing happened, and anyway, his sexuality was never really in doubt; he has apparently been in a relationship with the actor Ahna O'Reilly since 2006.) In the end, I get 12 minutes and 31 seconds in a noisy backroom. Franco, dressed in outdoorsy walking shoes, black jeans and aviator jacket, is sitting on a crate of beer. Unnervingly, we are surrounded by fans, including one dressed as Spider-Man, who take pictures throughout our conversation. Later, Madonna, in town to try to persuade distributors at the Berlin film festival to buy her latest directorial effort, turns up at the opening.
So how do his artist colleagues feel about the attention being paid to his art? Jealous as hell, one imagines. "No," he says. "My friends that are artists have been great and very, very supportive." Anyway, he says, "considering I'm getting to collaborate with all of my favourite artists, I would say they like something about it." Aha – the attention and the money? "No. They like the ideas, I guess." As the title suggests, The Dangerous Book Four Boys is primarily concerned with boys' stuff. So in the film Toys and Books, you see, erm, toys and books being peppered with machine-gun bullets. And in Plastic, you see a wendy house blown up, apparently with the help of the Spider-Man special effects team. Then there is the poo, the wee, and what appears to be (and I could have interpreted this wrongly) a spot of bestiality in Goatboy, and gang rape in Feast of Stephen. In my favourite, Star Trek, models of Kirk and Spock act out a homoerotic fantasy, until Kirk discovers that Spock lacks testicles and orgasms via his finger. Franco is an intense conversationalist. He would never have lost the stare game at school. He never gives trite, easy answers.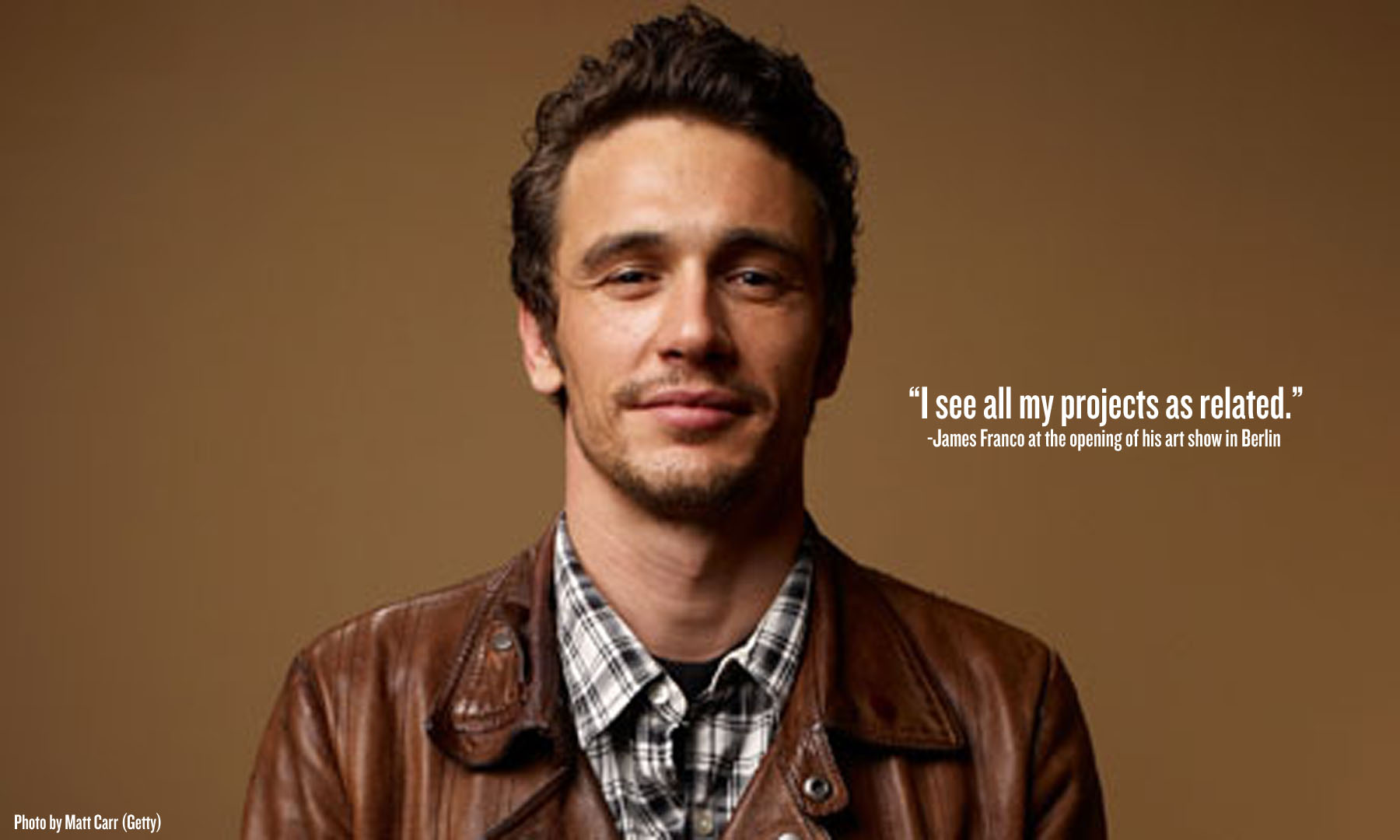 Asked what he gets from art that he doesn't get from film, he launches into an interesting, somewhat Brechtian explanation about creating video installations that remind the spectator the film is a confection, rather than a reflection of reality itself. "In a normal commercial narrative film, I'm playing a character in order to support the imaginary world of that film. I'm acting in such a way that people will believe in that world, right? And if I act in a way that draws attention to the fact that I am a performer in a commercial film, usually people will consider that bad acting. But if I do it in this context, I can act in all sorts of ways. I can act badly, I can act silly, I can draw attention to the fact that it's all a performance." And a lot of it is silly. He covers his face in shaving foam for no obvious reason in one film, and puts on a grotesque wolf mask and daft voice in another. A New York Times review of the show, which premiered in New York last year, called Franco's work "a confusing mix of the clueless and the halfway promising". Judging from the guestlist in Berlin, however, his art is being taken very seriously. Halfway through our interview we are interrupted by two grey-haired men who turn out to be none other than Hans Ulrich Obrist, director of the Serpentine Gallery, and Klaus Biesenbach, curator-at-large of Moma in New York.
Franco once said he doesn't get much out of acting because it's a director's medium: the actor has little or no creative input. But he insists that he doesn't primarily enjoy making art because here he's in control. "It's not like working with a great director like Danny Boyle or Gus Van Sant is a bad thing – it's actually great. And more and more, I would say, I look for opportunities to collaborate with people. So whether I'm directing, or doing an art show, or acting in a film, I am most inspired when I am collaborating with someone. So I don't necessarily like to be my own boss. I think what I like is to be part of the conversation, all the way through the piece." As I viewed the exhibition earlier in the day, I overheard Peres talking to two men – art dealers or buyers, I assumed – about the price of the works. A video piece called Double Third Portrait was, said Peres, "Forty." I took this to mean $40,000. He later tells me a Franco original costs between $5,000 and $50,000. But does it matter to Franco that his art sells? "No," he says. "I'm in a fortunate position where we don't have to worry about that too much. I mean, it's nice. It's nice when people I respect, you know, like the work. That's really great. But I'm not depending on this show to make my living." I've always wondered, I tell him, whether he packs so much into his life because he's one of those people who thinks they will die young. He will be 33 in March, the age Jesus was supposed to have carked it.
So what is he bad at? He lets out a big sigh. "No, I actually don't think that I . . . I think there are a lot of people who pack a lot into our lives. For whatever reason, it looks like I'm doing more." But, he says, "I see all these things as related. And if they are not fully integrated, I am looking for ways to integrate them and have them all influence each other. So for me, it's not like, 'Well, I've ticked THAT off my list.' In most contemporary art schools, they really push you to try different disciplines. Maybe you will be accepted as a painter. But it wouldn't be unheard of for a painter to make a video or a performance. They really encourage cross disciplines. It's just a little more unusual in the film world when people cross into a different job – although when an actor becomes a director, somehow that's accepted. But when you do something else, it feels more extreme. For me, it's just searching for the right kind of outlet for each subject matter or form of expression."
Franco's multitasking has become so notorious that a feature in Rupert Murdoch's new iPad paper, The Daily, recently listed "Things James Franco Can't Do". These included: give birth, become prime minister of Canada, etc. So Franco, what are you crap at? "I'm crap at . . ." he pauses to laugh, before offering: "I'm not the best dancer. I'm not the best singer, either." Not that it has stopped him making what he describes as "Motowny" music with Kalup Linzy. There is, apparently, little limit to what the man can do. Though he probably will not expose his genitals.
Source: The Guardian