LONDON (February 8, 2011) Daily Mail by Caroline Westbrook..☛..With her bouffant hair, neat businesslike clothing, pearl necklace and slightly bemused expression, you could almost be forgiven for thinking that the woman in the photo is Baroness Thatcher herself. But in fact it's actress Meryl Streep, bearing an uncanny resemblance to the politician in her new film role The Iron Lady. And the actress – who has been nominated for a staggering 15 Oscars and won the award twice – could well be in line to make it a hat-trick with this latest film.
At 62, Meryl is 23 years younger than Baroness Thatcher, although there are just nine years difference between her age now and the age Thatcher was when she became Britain's first female Prime Minister in 1979. The Iron Lady, which has just begun filming in London, chronicles Baroness Thatcher's rise to political power in a male-dominated world, and promises to be an "intimate portrait of an extraordinary woman." Fellow Oscar-winner Jim Broadbent co-stars as Denis Thatcher, while Alexandra Roach and Harry Lloyd will play their younger incarnations. Richard E. Grant, Anthony Head and John Sessions are among the other co-stars, while the film is directed by Phyllida Lloyd CBE, who previously directed Streep in the big screen version of musical Mamma Mia! Meryl described the task of playing Thatcher as "a daunting and exciting challenge. I am trying to approach the role with as much zeal, fervour and attention to detail as the real Baroness Thatcher possesses,' she added. 'I can only hope my stamina will begin to approach her own!"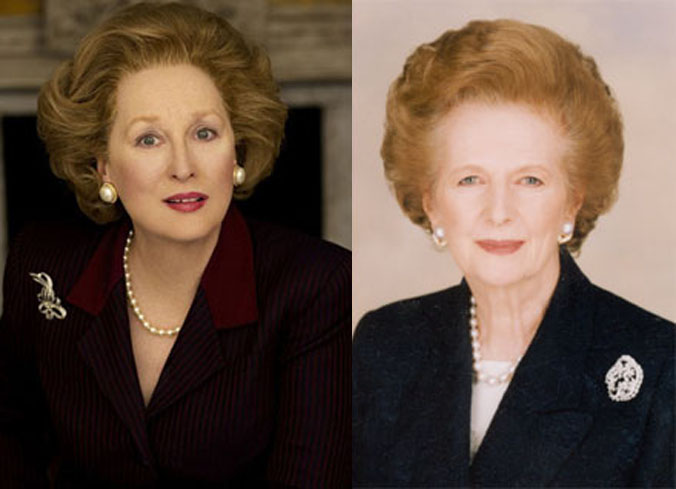 It's not the first time that Baroness Thatcher has been portrayed onscreen. British actress Lindsay Duncan played the former Conservative leader in the 2009 TV drama Margaret, which chronicled the period in 1990 when Thatcher was forced out of office. And actress Andrea Riseborough portrayed her as a young woman in 2008's Margaret Thatcher: The Long Walk To Finchley, about her attempts to break into parliament, and her early relationship with Denis.
Margaret Thatcher, who is now 85, was born Margaret Roberts in Grantham. She became Leader Of The Opposition in 1975 and was named Prime Minister on May 4 1979. Thatcher was in power from 1979-1990 and guided the country through such momentous events as the Falklands War in 1982 and the Miners' Strike of 1984. She eventually resigned in 1990 and was replaced by John Major. Meryl Streep, who is widely regarded as one of the finest actresses of her generation, received her 15th Oscar nomination in 2010 for her role as chef Julia Child in Julie and Julia. She has won two Academy Awards, best supporting actress for Kramer vs Kramer in 1979 and best actress for the 1982 film Sophie's Choice. Other films for which she has been nominated include Doubt, The Devil Wears Prada, The Bridges Of Madison County, Postcards From The Edge and The Deer Hunter.
Source: Daily Mail