Shooting began earlier this week on Roman Polanski's "Carnage," a film adaptation of the Tony Award-winning play "Gods Of Carnage" by Yasmina Reza. Stars Kate Winslet, Jodie Foster, John C. Reilly and Christoph Waltz have traveled to Paris to the shoot the film about two sets of parents that come together to hash it out after their children get into a playground fight. True to the title, the meeting eventually turns out bad for all as the parents begin to attack and turn on each other. Winslet and Waltz play husband and wife Nancy and Alan, while Foster and Reilly as Penelope and Michael.The film is being produced by Said Ben Said through SBS Productions with ICM repping sales in the U.S.
The plays has been adapted for the screen by both Reza and Polanski. It premiered in 2006 and landed on Broadway in 2009 to rave reviews: according to Ben Brantley of the New York Times, the play is "a study in the tension between civilized surface and savage instinct… a satisfyingly primitive entertainment with an intellectual veneer." The original cast included Jeff Daniels, Hope Davis, Marcia Gay Harden and James Gandolfini. Polanski said about the material, "As soon as I saw the play I thought it would make an exciting movie…It's a challenge to make a film in real time, without a single ellipse."
Winslet has HBO movie "Mildred Pierce" coming out later this year, and she will also been seen inSteven Soderbergh's much anticipated "Contagion." Foster has "The Beaver" coming out this year, a film that she directed, and it was recently announced that she would join Matt Damon and Sharlto Copley in Neill Blomkamp's "Elysium." Waltz is looking to gain some credibility back after starring as the villain in the terrible "Green Hornet" movie, but he also has "Water for Elephants" and "The Three Musketeers" coming out this year. Reilly also has a few projects this year, including the comedy"Cedar Rapids" that just premiered at Sundance and Lynne Ramsay's "We Need to Talk About Kevin" with Tilda Swinton. Needless to say, the cast is a great one and should be able to recreate a theater-like atmosphere on the screen. No word yet on a release date but maybe if Polanski hustles, a Venice/TIFF premiere?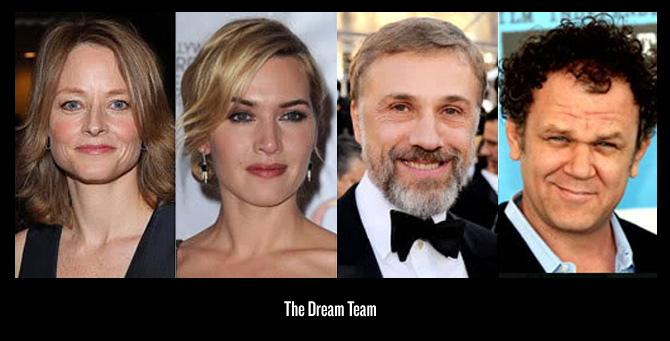 Source: The Playlist