Arch Daily has an update on the construction process of the upcoming International Conference Center in Dalian, China, designed by renowned Viennese architecture firm Coop Himelb(l)au.  Below you will find images of the 117,000m² project with its 2,500-seat capacity conference hall, its 1,600-seat grand theater and opera house, and the exhibition center.  The building is on track for its scheduled completion later this year.  Here are some details about this extraordinary building:
Recognizing the transformation the seaport city is currently experiencing, the design of the new
center aims to reflect the modern future of Dalian as well as its important past in the trade industry. The site, which is the terminal point of the future extension of the main city axis (as well as the natural daylight input) determined the careful orientation of the building. The programs and facilities are arranged to establish a kind of urban structure with 'squares' and 'streets' which facilitates user orientation as well as informal meeting places in the generated interstitial spaces. The entire building volume is wrapped in a spatially multifaceted skin that resembles a shell-like form. Pulled and bent on all three axis, the subtly shifting surface intends to mimic the forces of the sea. Designed with sustainable principles in mind, the building incorporates a number of systems to minimize energy consumption including the use of seawater and its thermal energy to cool the interior during the summer and warm up during the winter through heat pumps.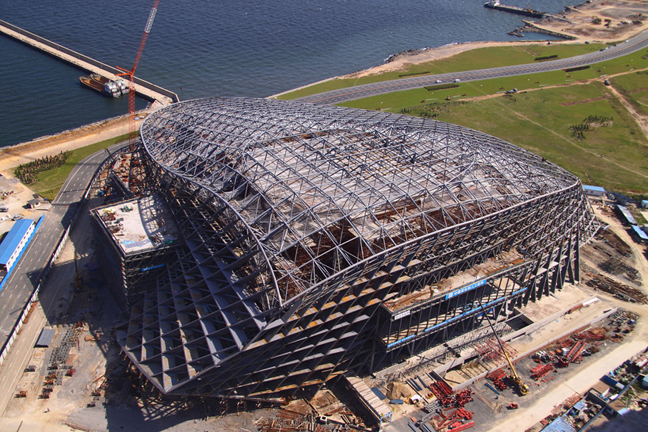 Source: Arch Daily