LONDON | The Guardian (published on January 19, 2011): HMV boss Simon Fox has called in expert debt advisers from accountancy firm KMPG to help implement a radical cost-reduction programme ahead of a key loan covenant test due to be carried out by the group's lending banks in April. Fox has admitted that meeting the test would be "tight", and has already outlined dramatic plans to shut almost one in 10 HMV shops and 20 Waterstone's stores in order to cut the retailer's rent bill. Further emergency measures include the sale of a store on Oxford Street for £14m and a halving in the group's dividend, saving a similar sum. The appointment of KPMG comes as HMV executives are braced for more meetings with credit insurers as the group struggles to persuade them to support the business, which is Britain's biggest high street music and book retail chain. Fox is expected to meet Altradius, one of the three main players in credit insurance, by the end of the week. The insurer has already shaved about 20% off the value of sums owed to HMV suppliers that it is prepared to insure in the event of HMV going bust. The difficult meeting follows similar talks with other insurers, the largest of which, Euler Hermes, is said to have cut the amount insured by 50%-70%. One HMV supplier, who asked not to be named, has written to music labels demanding they step in to provide cover after his insurer "removed all cover on HMV Group from 12 January".
If HMV looks likely to miss its covenant test it would be forced into crisis talks with its banks, led by Lloyds Banking Group and Royal Bank of Scotland. The business is still profitable, so HMV ought to be able to strike some kind of deal that would ensure it does not collapse into insolvency. Meanwhile, however, an increasing number of analysts, insurers and credit rating groups are casting doubt on the prospects of HMV's survival. A report by small rating agency Riskdisk, seen by The Guardian, shows the group rating as "suspended". Its risk assessment simply states:
"This company appears financially valueless."
Many HMV suppliers strongly disagree. Peter Lassman, chief executive of wholesale group Lasgo Chrysalis, said: "They enjoy our full support. We are not at all concerned." Another supplier, who also asked not to be named, suggested a reduction in credit insurance was unlikely to see the big labels and publishing houses cause problems for HMV. "There is going to be some serious brinkmanship from Simon Fox now. The labels are in a Catch 22. He can say [to labels]: 'You need me. If you lose me you are going to have to talk to the supermarkets – and you know how difficult they are'." For years it has been clear that HMV Group is in a tight spot. The market for DVDs and CDs, which generates 70% of HMV's British sales, is in slow decline. Moreover, supermarkets and online retailers have muscled in and snatched great chunks of market share. For a time, however, the full scale of the challenges was masked as HMV stores happily picked up business in the wake of other high street failures – most notably Woolworths and Zavvi, which went bust in rapid succession two years ago. As a result HMV and Waterstone's were able to claim they were the last high street stores of their kind standing. For a while this delivered some short-term benefits, but these easy gains have seen the business linger too long in a fading trade.  The fact that HMV takes only 10% of its sales online and Waterstone's 5% shows just how far behind consumer trends the group has fallen. In the wider market almost 39% of CDs are purchased online and 34% of DVDs. Meanwhile, the group continues to operate from a huge retail empire, operating 412 HMVs, 10 Fopp stores, and 311 Waterstone's. In many cases, the same shopping centre will have more than one HMV outlet.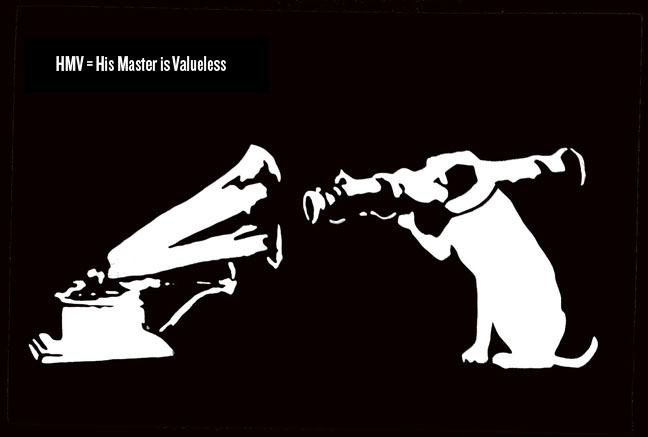 HMV is a British global entertainment retail chain and is the largest of its kind in the United Kingdom & Ireland (379 HMV stores and 313 Waterstone's stores), Canada (116 stores), Hong Kong (5 stores) and Singapore (2 stores). It is listed on the London Stock Exchange and is a constituent of the FTSE SmallCap Index. Acquisitions by the HMV Group include Waterstone's in 1998 from W.H. Smith, the music retailer Fopp in August 2007, and selected Zavvi retail outlets in February 2009. Simon Fox has been Chief Executive Officer since 28 September 2006. For this role he is paid an annual salary of £493,000 ($788,202US). HMV stands for His Master's Voice, a painting created in 1899[5] by Francis Barraud, A.R.A., of the dog Nipper listening to a cylinder phonograph. For advertising purposes this was changed to a wind-up gramophone, and eventually used simply as a silhouette.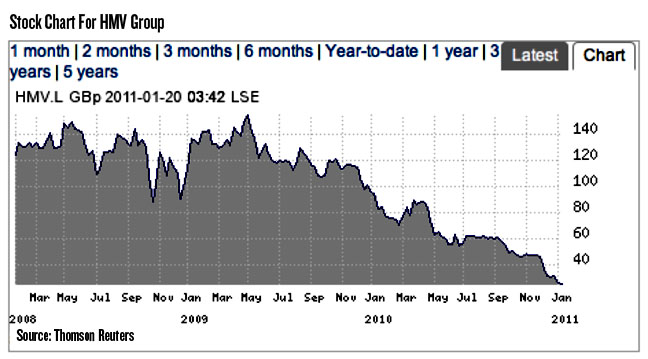 Source: The Guardian