In 2007 the architecture office Subarquitectura was presented with a challenge.  The challenge was put forward by client Arco Design & Projects and it brought these architects the task of having to construct a house with a public programme of social relation, associated with the private life of a large family.  The site is a sloping plot of land with privileged views of the mountains outside Madrid, Spain. Their initial approach was seeking poetry within works of engineering; the outcome was sculptural motion.  The architectural minds behind Subarquitectura put the domesticity of the project aside and concentrated on creating a design which has as two distinct points of reference that were the engine for the concept: 1) a nearby motorway intersection and 2) "changes of direction".  They wanted to create a form were you could be in a public atmosphere and with just a turn and a change of direction you are within the privacy of your personal quarters.  Through these concepts, the essence of cyclical movement and the magic existence of three numbers produced the result were form does not follow function. The magic numbers are none other then 360°.
As a structure the shape is characterised by the architects as a loop similar to that of what skaters and gymnasts produce while creating precise motions up in the air.  Through the curvatious shape of the structure it generates a larger space in the areas with privileged views.  The form is united acting as one with the landscape on one side, and then turns back on itself and becomes isolated and private. This is also incorporated interiorly, as the layout is designed so as the distance towards the end increases so does the degree of intimacy.  At the midpoint, there is a mediatheque, isolated and completely dark, 100% technology, 0% landscape.
To learn more about this house, as well as to see more photos, click here.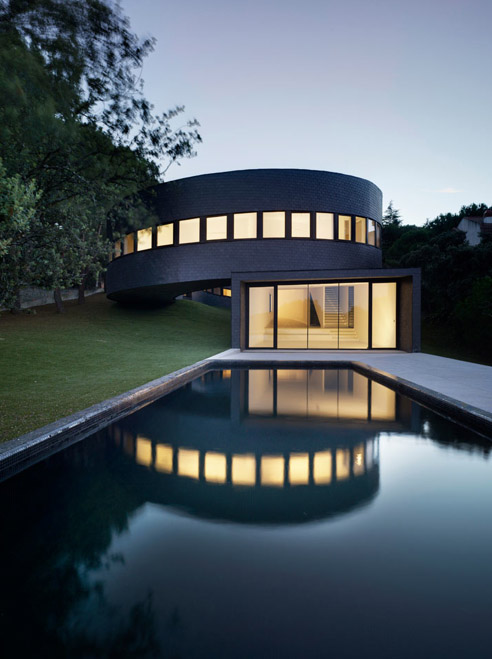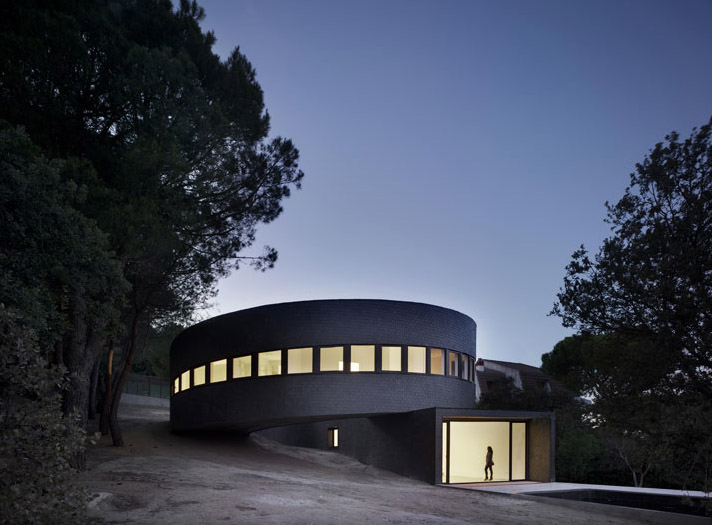 Source: Yatzer