In 1916 Kennard Thomson, an engineer and urban planner working for the city of New York, submitted a proposal for a massive engineering project that would fill in the East River to merge the borough of Brooklyn with the borough of Manhattan.  The costs would be astronomical, but the economic benefits would quickly surpass the expenses:
By Dr Thomson's estimates, enlarging New York according to his plans would cost more than digging the Panama Canal – but the returns would quickly repay the debt incurred and make New York the richest city in the world. He then goes on to describe how he would reclaim all that land. The plan's larger outlines: move the East River east, and build coffer dams from the Battery at Manhattan's southern tip to within a mile of Staten Island, on the other side of the Upper Bay, and the area in between them filled up with sand. This would enlarge Manhattan to an island several times its present size.  Proximity and easy access to the new Battery would increase the total land value of Staten Island from $50 million to $500 million. "This would help pay the expenses of the project," Dr Thomson suggests.  The project would also add large areas of land to Staten Island itself, to Sandy Hook on the Jersey shore just south of there and create a new island somewhere in between. The East River, separating Manhattan from Queens and Brooklyn, would be filled and replaced by a new canal east of there, slicing through Long Island from Flushing to Jamaica Bays.
Read his full 1916 proposal here.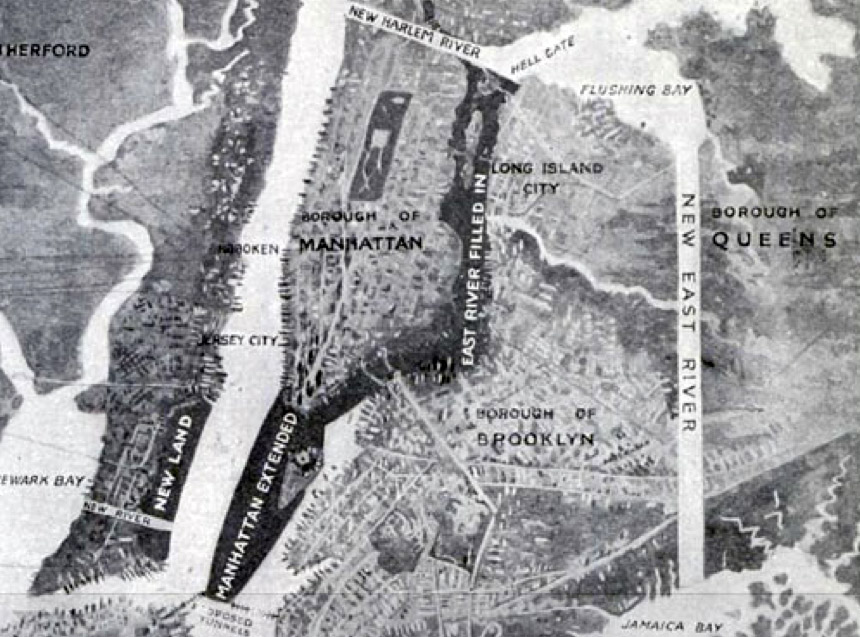 Source: Boing Boing