Angelina Jolie has been very outspoken about her past usage of cocaine and heroin, so any stories relating to her past come as no surprise.  What is interesting, however, is when there's video proof of this behaviour.
According to reports by many news sources including The Daily Mail, Jolie's drug use peaked around the year 2000.  At this time she was doing press for her soon-to-be Academy Award-winning performance in "Girl Interrupted".  Jolie's former drug dealer, Franklin Meyer told The Daily Mail:
"He says he met the star two to three times a week after that, either at the hotel or her apartment so she could buy drugs from him.  Meyer says: 'She would generally spend about $100 each time. That would buy maybe half a gram of coke and a 10th of a gram of heroin.'"
Meyer explained that before and after Jolie recorded her interview with Charlie Rose in 2000 for "Girl Interrupted" she came to his hotel room to take cocaine.  The Daily Mail continues:
During the interview with Charlie Rose, Jolie talks about how hard it was to be free of her drug-addicted characters in both "Gia" and "Girl, Interrupted".  She says, 'They became friends of mine and they were parts of me.'  At times, Rose had to ask her to repeat herself or explain what she meant due to the speed with which she was talking and jumping from one subject to the other.
Jolie has spoken about her drug use in the past, and in an interview in 1998, she said: "I've done just about every drug possible. Coke, heroin, ecstasy, LSD, everything. The worst effect, for me, was pot. I felt silly and giggly, and I hate feeling like that.  I remember taking LSD before I went to Disneyland. I started thinking about Mickey Mouse being a short, middle-aged man in a costume who hates his life. Those drugs can be dangerous if you don't go into it positively. I gave them up long ago."
Watch the full Charlie Rose interview with Angelina Jolie here: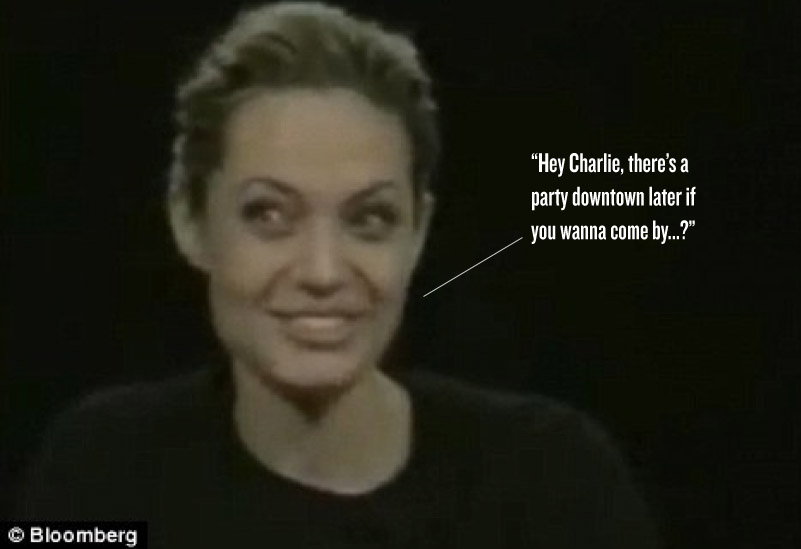 Source: The Daily Mail