The Winchester House is a well-known California mansion that was under construction continuously for 38 years, and is reported to be haunted. It once was the personal residence of Sarah Winchester, the widow of gun magnate William Wirt Winchester, but is now a tourist attraction. Under Winchester's day-to-day guidance, its "from-the-ground-up" construction proceeded around-the-clock, without interruption, from 1884 until her death on September 5, 1922, at which time work immediately ceased.  The cost for such constant building has been estimated at about US $5.5 million (if paid in 1922, this would be equivalent to over $71 million in 2010).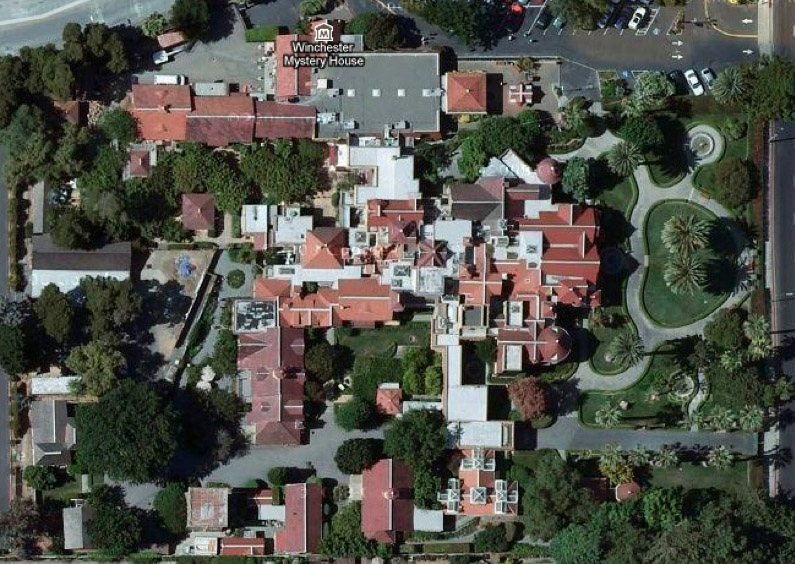 The Queen Anne Style Victorian mansion is renowned for its size and utter lack of any master building plan. According to popular belief, Winchester thought the house was haunted by the ghosts of individuals killed by Winchester rifles, and that only continuous construction would appease them. It is located at 525 South Winchester Bouleavare in San Jose, California.
Deeply saddened by the deaths of her daughter Annie in 1866, and her young husband in 1881, and seeking solace, Winchester consulted a medium on the advice of a psychic. The "Boston Medium" told Winchester that she believed there to be a curse upon the Winchester family because the guns they made had taken so many lives. The psychic told Winchester that "thousands of people have died because of it and their spirits are now seeking deep vengeance."  Although this is disputed, popular belief holds that the Boston Medium told Winchester that she had to leave her home in New Haven and travel West, where she must "build a home for yourself and for the spirits who have fallen from this terrible weapon, too. You must never stop building the house. If you continue building, you will live forever. But if you stop, then you will die."
The June 1937 issue of Modern Mechanix relates the story from then-current accounts as follows: "Winchester and the baby girl died suddenly and Mrs. Winchester, stunned by the tragedy, fell into a coma so serious that physicians despaired of her life.  "Finally she recovered and, at a friend's suggestion, visited a medium. During a seance, according to those familiar with her story, she received a communication from her dead husband in which he said: 'Sarah dear, if our house had not been finished, I would still be with you. I urge you now to build a home, but never let it be finished, for then you will live."
Another version of the story says that after the deaths of her daughter and later her husband, she consulted a medium who told her that she must build a house and never cease building it, otherwise the spirits that killed her family members would come after her, too. After that she began construction on the maze-like house full of twists, turns, and dead ends, so that the spirits would get lost and never be able to find her.  Winchester inherited more than $20.5 million upon her husband's death. She also received nearly 50 percent ownership of the Winchester Repeating Arms Company, giving her an income of roughly $1,000 per day, none of which was taxable until 1913. This amount is roughly equivalent to about $22,000 a day in 2010. All of this gave her a tremendous amount of wealth to fund the ongoing construction.
[youtube]http://www.youtube.com/watch?v=yiQrrdb3WIA[/youtube]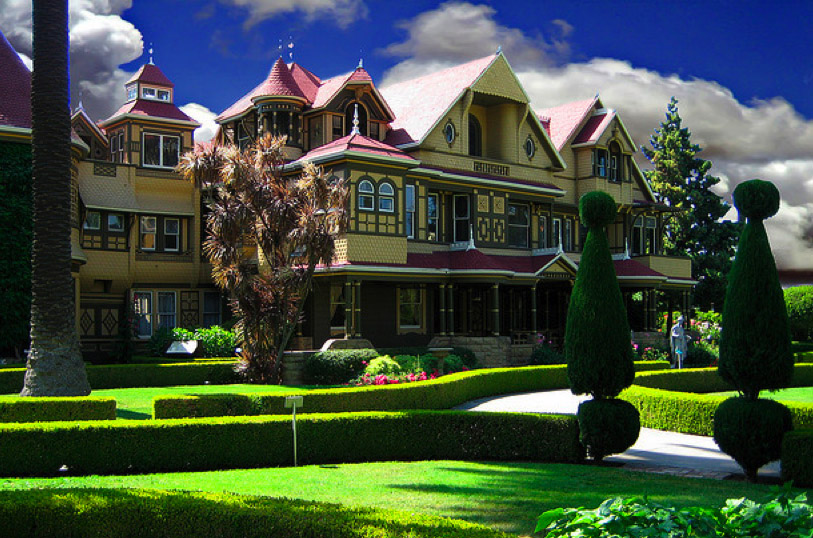 Source: Wikipedia