Steve Jobs is planning to demolish his 1920s Spanish Colonial Revival mansion, located in Woodside, California.  In its place, the Apple CEO will erect a simpler, single-family abode. Gizmodo has the scoop on this "pared down modernist home," based on plans submitted to the Woodside Town Council. A few details:
The Bohlin Cywinski Jackson architectural firm will oversee the project. (BCJ has been responsible for several Apple Stores, including the one in Shanghai and the one on Fifth Avenue in New York.)  The new estate will feature a floor-plan half the size of the existing manse and will include a vegetable garden, illuminated stone walkways, a three-car garage, five spacious bedrooms, and a generous helping of windows and deck space.  The price tag is an estimated $8.45 million (keep in mind Steve Jobs ranked #42 on this year's Forbes 400, a list of the richest people in the U.S.).  "The conceptual plans," writes Gizmodo, "depict more of a small private retreat than any towering glass-and-steel tech chapel or totem of wealth."
View a sample blueprint below. Get additional blueprints and information about Steve Jobs' plans for his new home on Gizmodo.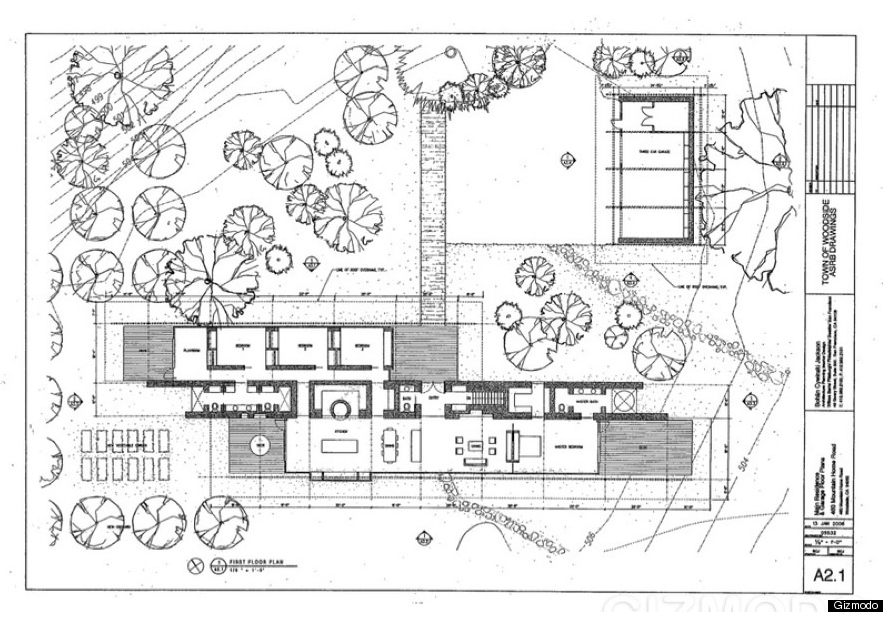 Source: The Huffington Post