Ronan Farrow (December 19, 1987) is the 25-year-old son of Mia Farrow and her former spouse, Woody Allen.  Or, maybe not.  In a preview for the upcoming November issue of VANITY FAIR, Farrow reveals for the very first time that Ronan, her only biological child with Woody Allen, may not be Woody's at all.  "Farrow discusses her relationship with Frank Sinatra, telling VF's Maureen Orth that Sinatra was the great love of her life, and says, 'We never really split up.'  When asked point-blank if her biological son with Woody Allen, Ronan Farrow, may actually be the son of Frank Sinatra, Farrow answers, 'Possibly.'  No DNA tests have been done.  When Orth asks Nancy Sinatra Jr. about Ronan's being treated as if he were a member of her family, Sinatra answers in an e-mail, 'He is a big part of us, and we are blessed to have him in our lives.'"
Bombshell indeed.  But in my opinion, no DNA tests are needed to sort this out.  Anyone with half a brain can tell just by looking at photos of Ronan that Ol' Blue Eyes is 100% for sure his daddy — look at those eyes!  And those lips too!  Much the same as Tom Hardy, I can't help but dream of dipping those lips in some sugar and sucking on them like gummy bears for hours on end.  But I digress.  Ronan: Frank Sinatra's obviously your dad, and you don't need to hear it from Maury Povich's mouth for confirmation.
But this is just the beginning of Ronan's fascinating story.  Not only is he stunning to look at, he also has a brilliant mind as well.  Brace yourself, folks, for the bio of the century: Ronan is a human rights activist, freelance journalist, lawyer and government official, and served as a foreign policy official in the Obama Administration, founding the State Department Office of Global Youth Issues and reporting to Secretary of State Hillary Rodham Clinton as the United States' first Special Adviser for Global Youth Issues during the Arab Spring revolutions.  Clinton highlighted Farrow's work and the youth engagement policy they designed in a 2012 speech in Tunisia.  He assumed this role following two years as the State Department's Special Adviser for Humanitarian and NGO Affairs in the Office of the Special Representative for Afghanistan and Pakistan.  Farrow's writings have appeared in the Los Angeles Times, the International Herald Tribune, the Wall Street Journal and other publications, focused primarily on human rights issues in the Horn of Africa.  He has appeared as a frequent commentator on major networks and as an expert witness before the U.S. Congressional Human Rights Caucus.  Farrow has spoken extensively on engaging with marginalized people such as youth and women's groups, including in recent commencement addresses at Dominican University of California and Bard College at Simon's Rock (later selected by the Huffington Post as one of 2011's top ten commencement speeches).
In 2008, Ronan Farrow was awarded Refugees International's McCall-Pierpaoli Humanitarian Award, for "extraordinary service to refugees and displaced people."  In 2009, he was named by New York Magazine as their "New Activist" of the year and included on its list of individuals "on the verge of changing their worlds".  In 2010, Harper's Bazaar named him their "up-and-coming politician" of the year.  Forbes Magazine ranked him number one in Law and Policy on their "30 Under 30" Most Influential People list for 2012. He was included again in 2013.  Farrow is a graduate of Bard College, Yale Law School and is a Rhodes Scholar (the Rhodes Scholarship is the world's most prestigious scholarship.  Some other famous Rhodes Scholars include Bill Clinton, Naomi Wolf, and Terrence Malick).  Ronan Farrow is also one of my Future Husbands, thank you very much.
So yes, we all know Ronan is now the most brilliant and gorgeous man on the face of the Earth, but get this — he has an awesome sense of humor to boot.  Five hours ago, Ronan tweeted: "Listen, we're all 'possibly' Frank Sinatra's son."  Love it.  You can follow Ronan Farrow on Twitter, Facebook, Tumblr, and Instagram.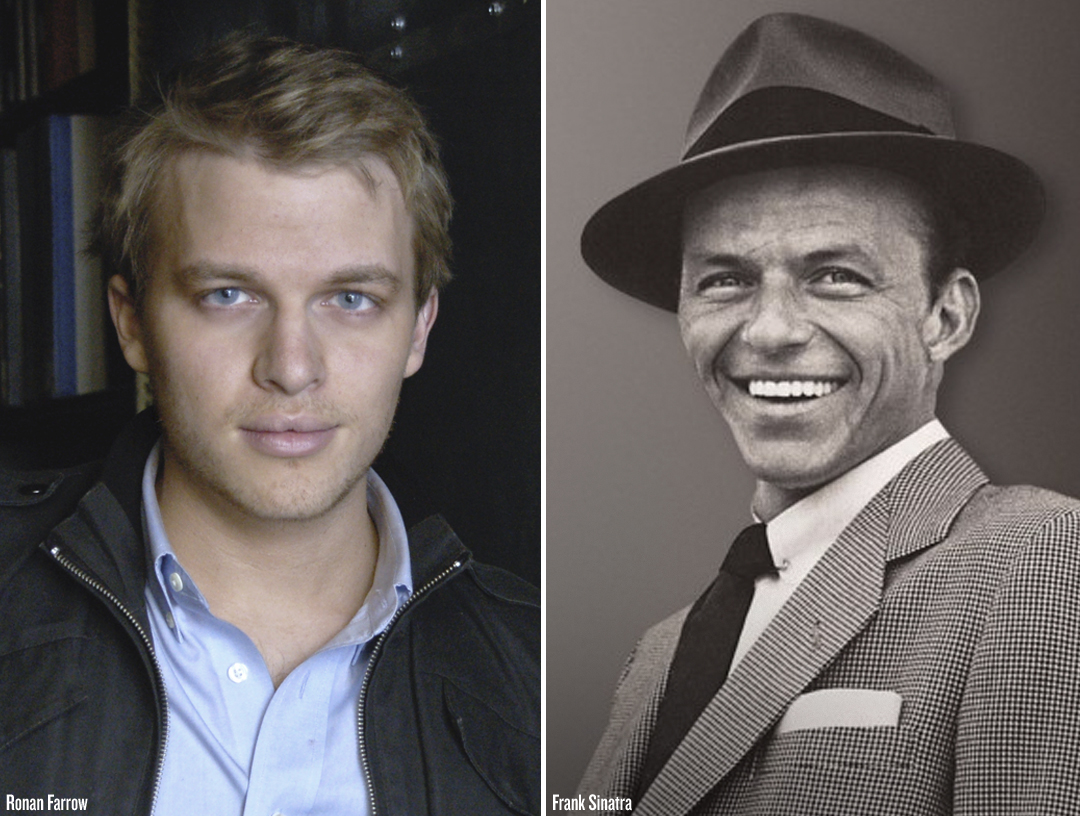 Listen, we're all *possibly* Frank Sinatra's son.

— Ronan Farrow (@RonanFarrow) October 2, 2013