It simply doesn't get any better than Chris Ware.  From his groundbreaking book Jimmy Corrigan: The Smartest Kid On Earth to everything he's done with the Acme Novelty Library series, the guy is simply unstoppable.  I know of no equivalence for this man's work: the elegance, power, emotion, and atmosphere that Ware packs into each and every cell is astonishing.  The first time I read Jimmy Corrigan I can remember so many moments moments where I had to pause in order to take in the enormity of his accomplishment.  I just discovered on Kottke that Chris Ware was recently at a comic book festival in Copenhagen and sat down for an extremely rare interview.  Here's a small excerpt:
MATTHIAS WIVEL: In case some of you are not familiar with Chris Ware's work, I'll just briefly introduce it. Just now, this book [holds up copy of Jimmy Corrigan]has been published in Danish. This is his first full-length graphic novel and it came out in 2000 in the original language and is now out in Danish. It's called Jimmy Corrigan: The Smartest Kid on Earth or Jimmy Corrigan – Den klogeste dreng i verden, and we will be talking primarily about that. Since then, of course, Chris has done a lot of other work — he's very prolific, working on several projects concurrently, and we'll be talking a little bit about them too. His work has been very influential on younger cartoonists in America and internationally, so Jimmy Corrigan is a very significant book finally to have out in Danish. It grew out of serialization.

CHRIS WARE: Yeah, I was doing a weekly newspaper comic strip in the early 1990s for a free weekly paper that had movie advertisements and personal ads in it and stuff like that. I was still in art school when I started it and I thought this story would only last maybe about three months or so, just a few episodes, but because I had absolutely no idea what I was doing at all, and I am a terrible writer, it got completely out of hand and it ended up lasting for seven years, which is why when you read the book, the first 100 pages or so are completely insensate and it's very poorly written, which I apologize for — I didn't really think of a way to try and fix that, but that's just the way it is. And then I serialized it in a comic book called The Acme Novelty Library in the 1990s, and then it was eventually published in hardcover form in 2000 by Random House and Pantheon Books.

MW: It's interesting how a lot of these so-called graphic novels of the '90s were originally serialized, because of course that was the format, that was the tradition in comics, and so this form grew out of a long process of making it up as you went along.
CW: Yeah, I think that writing is a means of thinking and of creating. I couldn't plan anything piece by piece in script form before I drew it. The drawing is as much the writing, if not more the writing, as the actual words themselves. As far as serialization goes, that goes back to the early days of novel-writing; even Dostoyevsky and Charles Dickens' books were serialized, and they were written on sort of a panicked weekly deadline basis, and they are sort of episodic when you read them, so it's a proud tradition of the poor writer trying to feed his family, basically.
You can read the entire interview if you jump over to The Comics Journal. Chris also just created a new poster for the film Uncle Boonme Who Can Recall His Past Lives, the Palme d'Or-winning film from the Cannes Film Festival.  You can see the poster as well as the gorgeous trailer by clicking HERE. And for your viewing pleasure, I've included a few samples of Chris Ware's genius below.  And once again, if you've never read one of his books you owe yourself the favor of finding one as soon as possible.
NOTE: CLICK ONCE TO ENLARGE, CLICK AGAIN TO ZOOM IN.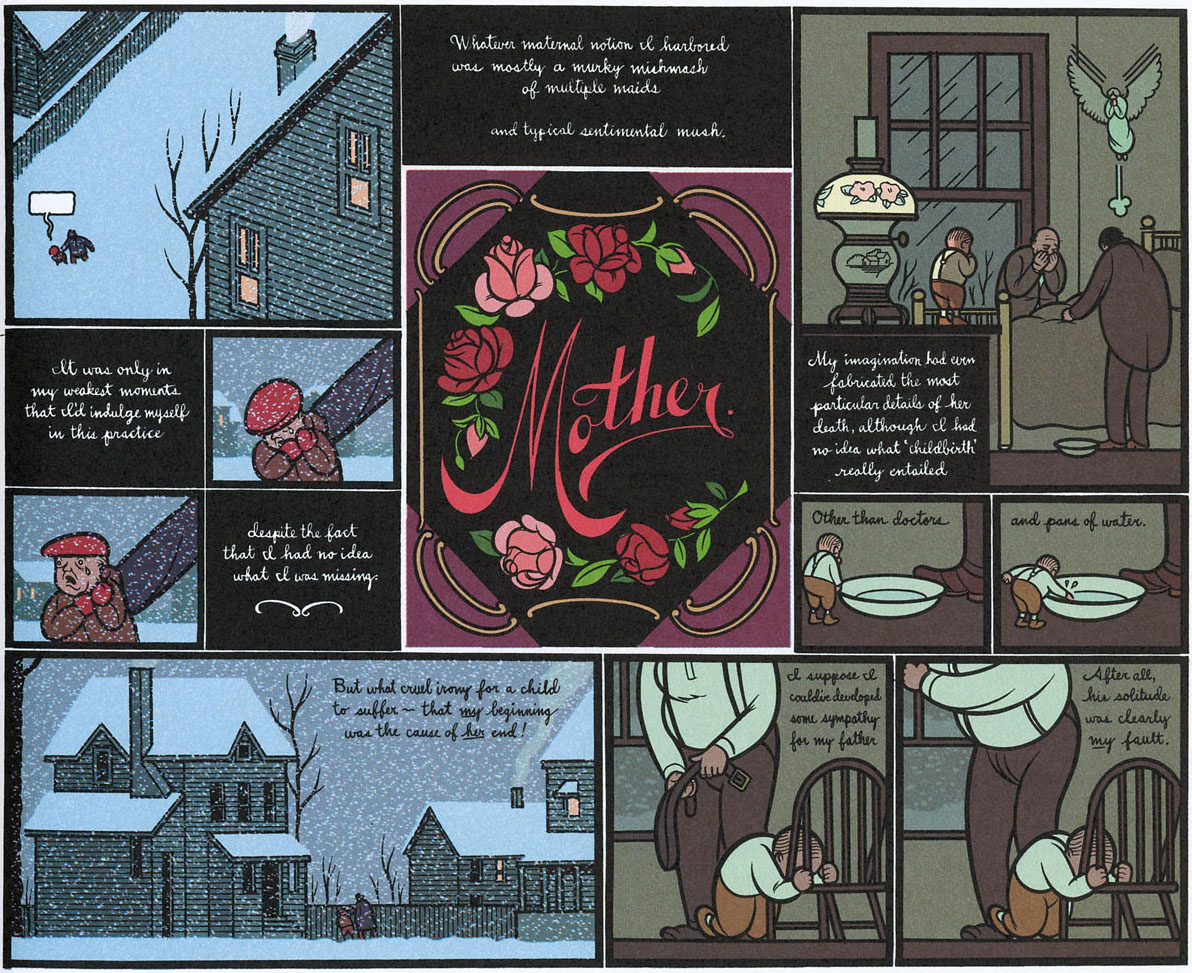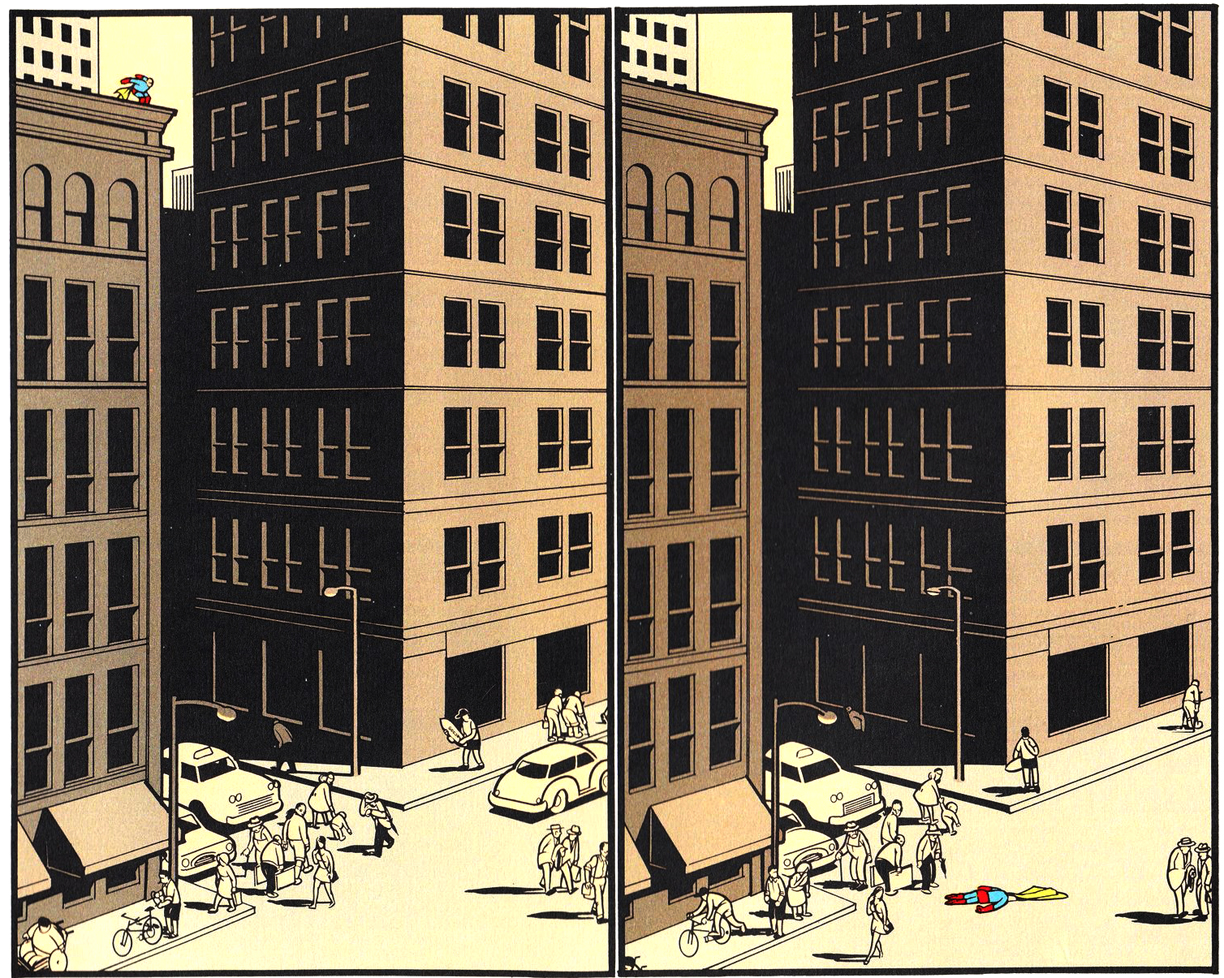 Source: Kottke