First publised in The New York Times (March 3, 2011) by Kim Severson in Hillsborough, North Carolina..☛..The two contenders in the great North Carolina truffle wars could not be more different.Susan Rice Alexander, the showy newcomer, lives by the fifth hole of a golf course and is married to an orthopedic surgeon. Franklin Garland, the eccentric veteran, lives with his wife at the end of a rutted dirt road. Ms. Alexander has a personal photographer and runs garden club tours through her 10,000-square-foot home, feeding them truffle-laced grilled cheese sandwiches. Mr. Garland has 20 canaries and a mermaid statute in the house he built himself, and likes to mix chopped truffles into ice cream from Costco. But they are both after the same thing: cultivating the black Perigord truffle, an elusive crop that could bring $800 a pound — if anyone can figure out how to really make a go of it.
Over the past few years, the two have sued and countersued in Orange County Civil Superior Court over business plans, trade secrets and the sale of specially inoculated trees that grow truffles on their roots. Their case has been in and out of mediation. Now, they are at a standoff, waiting for the court to decide who was wrong."I really have to be careful, because I don't want to make slanderous statements," Mr. Garland, 59, said. "He thinks I'm trying to steal his business," said Ms. Alexander, who does not disclose her age. The fact is, neither is digging up that many truffles. Although about 80 orchards make up the tiny North Carolina truffle industry, the harvest this year was probably not even 50 pounds, said Jane Morgan Smith, the recent past president of the North American Truffle Growers Association (☝) and one of the first people to grow them successfully in the state. Still, if the fungus comes, the payoff could be huge.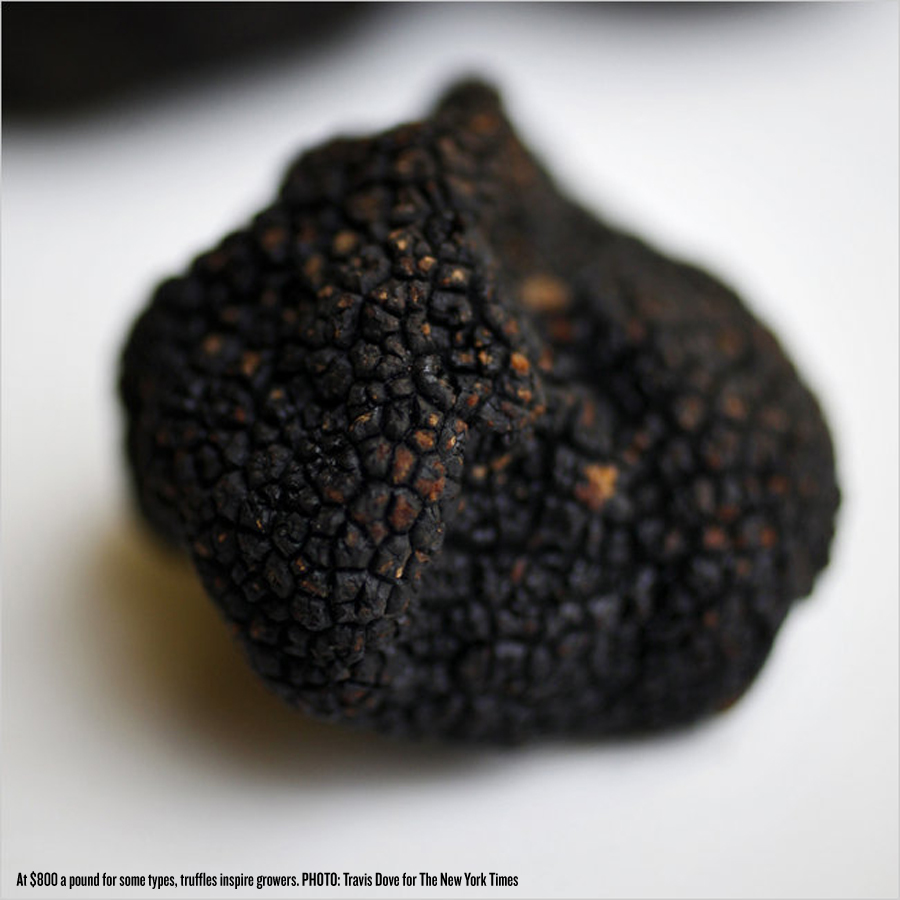 Truffle orchards could help replace tobacco as a crop and preserve farmland. Cooks who embrace local food could stop looking to Europe for their truffle fix. And the two warring truffle growers could make hundreds of thousands of dollars just by digging around the roots of their trees. An acre of trees cultivated to grow high-quality black Perigord truffles (the Tuber melanosporum, nicknamed the black diamond) can produce at least 75 pounds. Even at a wholesale price of about $600 a pound, a truffle farmer could earn $45,000 an acre. That is, if the truffles can be coaxed to grow. A $20 sapling whose roots have been inoculated with truffle spores can take 5 to 10 years to actually produce a truffle. There is weather and disease to contend with. "I used to call this an extremely stupid high-risk investment," said Mr. Garland, who owns Garland Gourmet Mushrooms and Truffles (☝) with his wife, Betty.
With its mushroomy, musky aroma, hard-to-find nature and reputation as an aphrodisiac, the truffle has since ancient times been one of the great mysteries of the culinary world. In France and Italy, the most desirable ones grow wild underground. To find them, truffle hunters use specially trained pigs and dogs who are attracted to the pheromones ripe ones throw off. The very best white ones from Italy can command thousands of dollars a pound, gladly paid by chefs and connoisseurs. The market is essentially like a Wild West operation, populated with cagey truffle hunters and savvy brokers who set the prices each season. A chef who is not paying attention might get stuck with low-grade Chinese truffles or lesser European versions. Mr. Garland has been growing truffles in fits and starts since the 1980s. Similar efforts are going on in other states, including California, Oregon and Tennessee, but he and other growers believe the soil conditions and moderate climate in North Carolina will make the state the truffle capital of the United States.
Not everyone is so sure. Local chefs give North Carolina mixed reviews. "They don't seem to have a lot of quality control," said Andrea Reusing, chef and owner of the Lantern (☝) restaurant in Chapel Hill. And actually getting them can be maddening. "We need to start calling them wacky truffles on the menu," she said. "There is a certain kind of spaciness to whole thing." Still, there is hope in these orchards. And that is why the fight is on. Mr. Garland bills himself as the "truffle czar." A few years ago, he showed Martha Stewart (☝) how to hunt them and cooked her a truffle omelet. This weekend, he will be treated like a star at the National Truffle Fest (☝) in Asheville, which he and his wife started three years ago. He has developed a secret method to attach spores carrying the same DNA as the wild French version onto the roots of live oaks and filberts, the kinds of trees truffles prefer. He sells the saplings for about $20 each to hopeful landowners, who plant them and then have to wait for five years or more before the roots bear fruit. He also acts like a broker, buying truffles from people who bought his trees and selling them to chefs. "I value my education, but in reality I wish I had gotten into truffles before I had gone to college," said Mr. Garland, who holds a psychology degree from Carnegie Mellon University. "I'd be a multimillionaire."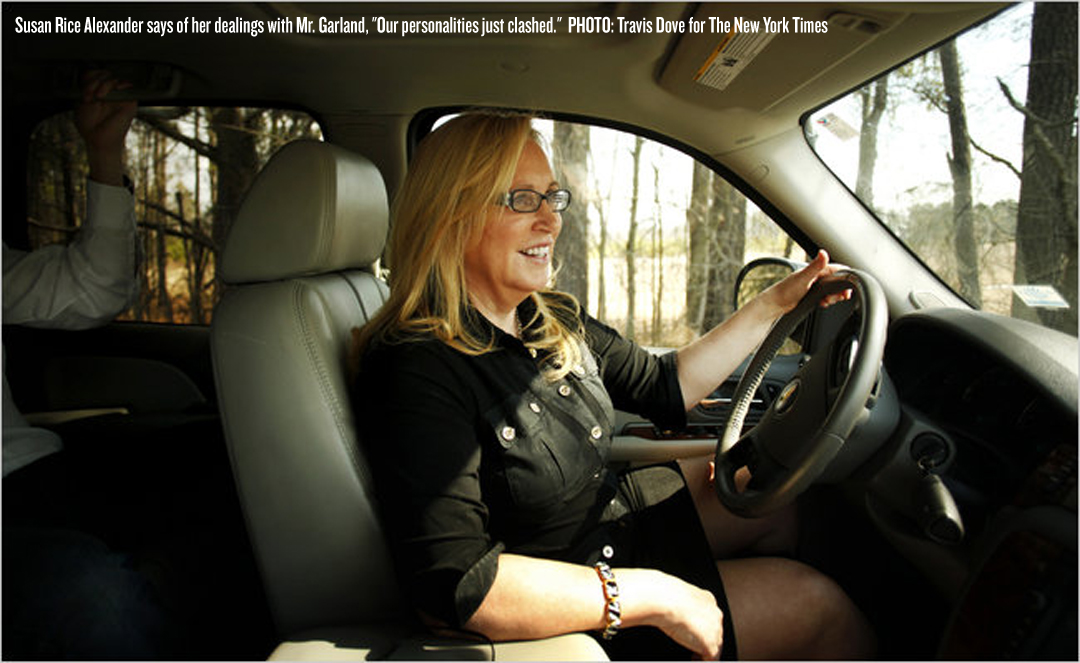 Ms. Alexander drove to his greenhouse in 2005 to learn about truffles. She bought 6,000 of his trees for $100,000, wrote a business plan, and decided to grow the nation's largest cultivated truffle orchard on part of 300 acres of former tobacco land she owns about an hour away, near Pinehurst. In his suit, Mr. Garland claims that in 2007 Ms. Alexander promised to buy 20,000 more of his inoculated saplings. She even paid $45,000 toward the purchase. There was talk of investors and stock, he said in an interview. But she ended up not wanting them, and Mr. Garland says he was stuck with more saplings than he could sell. The suit also claims that she did not pay the Garlands for the help they gave her setting up her business, Black Diamond French Truffles (☝). Ms. Alexander says there was never a contract to buy those trees, and she wants her $45,000 back. "Our personalities just clashed," she said.
Ms. Alexander began buying inoculated saplings from a competitor and importing truffles to sell fresh and to put into a line of salt, oil and truffle popcorn. "My whole thing is to bring it out to everyone," she said. "I want to bring it to the secretary whose boss is having a pound of truffles so she can have the oil or the salt." She sells her products to Whole Foods, whose regional produce manager, Brent Demarest, believes that North Carolina truffles will have great appeal to the fast-growing local food movement. And with more people growing them, the price will come down, he said. But that could take years. And in the meantime, the North Carolina food community remains skeptical. "Yeah," said Nancie McDermott, a Chapel Hill cookbook author and teacher, "and we've learned to spin straw into gold, too."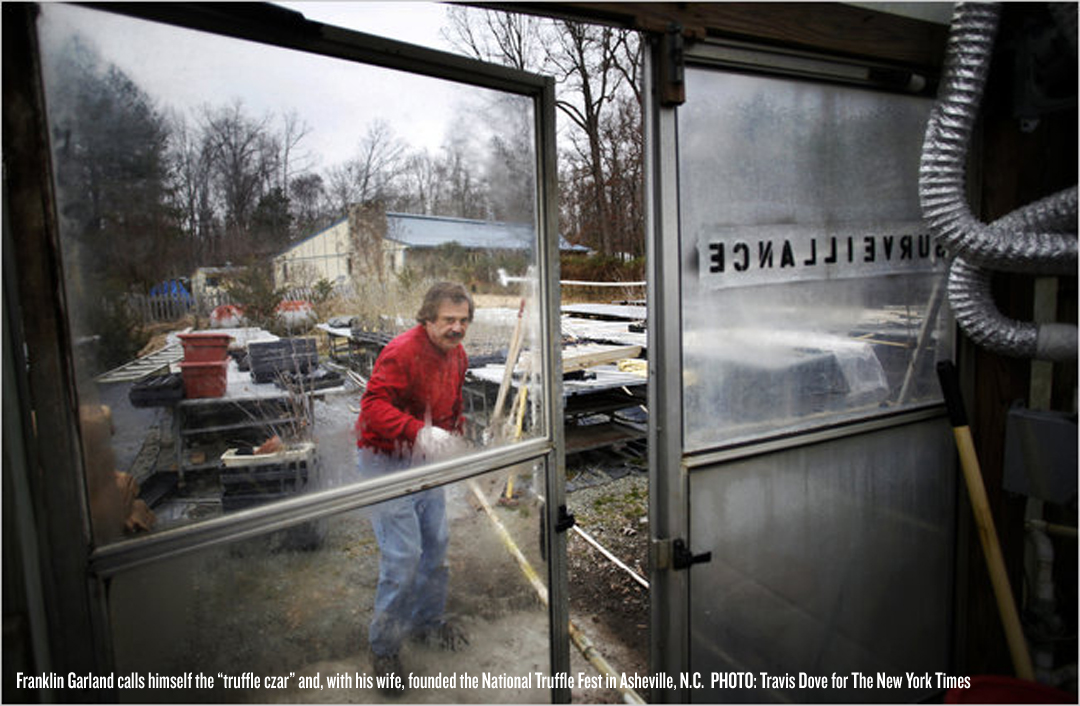 Source: The New York Times